Pirates of the Caribbean: Dead Man's Chest
proved to be one of the most ambitious projects that Industrial Light and Magic had tackled in their illustrious thirty year history, featuring right at a thousand visual effects shots -- almost triple the number of
The Curse of the Black Pearl
. Virtually everyone at ILM was toiling away on the movie at its peak, using their digital wizardry to bring to life creatures as varied as the mammoth, monstrous Kraken to a tiny hermit crab that Bootstrap Bill munches on. I recently had a chance to visit ILM's offices in San Francisco and chat about the extensive effects work in
Dead Man's Chest
with several of the folks there, including animation supervisor Hal T. Hickel, visual effects art director Aaron McBride, and creature model supervisor Geoff Campbell.
Dead Man's Chest
introduced a slew of new characters to the franchise, chief among them Davy Jones, the captain of the Flying Dutchman. Davy and seventeen of his transmogrified crew were digital creations that had to blend in seamlessly with the flesh-and-blood actors. Davy in particular was a lead character, constantly subjected to revealingly bright lighting and unforgivably tight close-ups that would highlight even the slightest flaw in the effects work. With the added challenge of 46 writhing tentacles in his beard, it goes without saying that he commanded a great deal of ILM's attention.
Conceptual art of Davy Jones
The movements of a computer-generated character such as Davy would traditionally be recorded by an actor in a motion capture suit as he darts around a meticulously controlled studio environment. The filmmakers would shoot plates without the actor in the frame, and then the CGI beastie would be inserted into that blank space in post-production. With a highly expressive actor like Bill Nighy in such a prominently featured role, it didn't make sense to slap Nighy in spandex and have him run around by himself in a mo-cap studio. Nighy donned a pair of gray 'pajamas' with reference dots placed around the suit and his face, and his performance was captured entirely on-set as he interacted with the other actors. Not only does this improve the performances of the rest of the cast since they have someone physical to interact with, but it also gives the animators a highly detailed reference. As creature model supervisor Geoff Campbell noted, "Bill Nighy was such a great actor to work with because he is so unpredictable, and he uses a full range. He uses his face more than any actor I've seen in communicating so many different emotions."
Bill Nighy, before and after as Davy Jones
"The closer you get to really real, the more glaring the omissions become, " said animation supervisor Hal Hickel. "The last few percentage points of realism really become glaring because everything else is working." It's a small but significant difference. "There's a phrase coined by a Japanese professor called the
Uncanny Valley
. He was studying the emotional response that people had to robots. At one end of the spectrum, you might have really simple, abstract, industrial robots, and as they got more and more human -- towards, say, C-3PO or something -- people's emotional response to them went up and up and got better and better. And then when they become very real, like rubber skin and hair and glass eyes and everything, suddenly there was a deep fall-off because they become creepy. It's like an animated corpse."
Animation supervisor Hal T. Hickel
The same holds true for ILM's digital effects, and if Davy Jones' eyes didn't look completely convincing in a close-up, the audience would be distracted into realizing that they're staring at a computer effect. Make-up was caked around Bill Nighy's eyes as a fallback; in case ILM couldn't render the perfect eyes digitally, they could just composite Bill's into their computer creation -- but as it turns out, such a step wasn't necessary.
One of the many challenges with Davy Jones was posed by his dozens of flopping tentacles. The team at ILM wanted the tentacles' curling and movements to reflect Davy's mood, not just lifelessly bob around, but they didn't want an animator to have to manually manipulate each and every one frame-by-frame either. To that end, their programmers added a sort of inter-tentacle motor to automatically move them around. Additional effort went into giving the tentacles a sticky, viscous quality so they wouldn't slickly slop around as if they were coated in cooking oil.
While attacking Davy Jones' serpentine beard, Hickel had a tough time finding reference material of octopi wriggling their tentacles; there are miles and miles of film shot in the ocean, but Hickel and his team needed to see how an octopus writhed out of the water. Seems kinda ironic that a megabudgeted flick with effects that would've been inconceivable even a few short years ago would turn to a Godzilla movie for inspiration, but that's precisely what Hickel did. "In
Godzilla vs. King Kong
, there's this little Polynesian island, and in one of the scenes, they built a miniature of the village. They turned loose this very large red octopus -- a real octopus -- and it's crawling around on top of this miniature village, crushing it. Just amazing. So, I got the DVD and showed it to the animators and the creature TDs [technical directors] and everything. 'See how the webbing stretches here? See how the tentacle curls up and slops over? It's not like a snake, and it's not like an elephant's trunk.' That ended up just being the
best
reference I could find."
Visual effects art director Aaron McBride (with Turtle Guy at far left!)
As he stood in front of a wall plastered with conceptual art, visual effects art director Aaron McBride spoke about the evolution of these characters. Davy Jones and the crew of the Flying Dutchman began life as sketches by artist Crash McCreery and Gore Verbinski's team in Los Angeles, and they were refined at ILM. "What we tried to do was develop a kind of hierarchy to the curse, " McBride noted, "the idea being that the longer that you serve on Davy Jones' crew and on the Flying Dutchman, the more encrusted you become and more calcified and caked with barnacles and sealife. It starts out as a low-level infection kinda like rosacia or acne or boils or something like that, and we got a lot of nice, really nasty reference of that type of thing."
Even though the crew is gradually transforming into creatures as varied as anglerfish, pufferfish, and lobsters, some becoming infused with wreckage and the ship itself, the goal was to make their grotesque appearances asymmetrical...to avoid making their transformations look too gimmicky or obvious. With a thumbs-up from Verbinski to make them as disturbing as possible, McBride dug up some twisted reference material of deformities and skin diseases. "One of the things we looked at for Clanker: there are a couple of moments during the dice game where he's kind of articulating his lines and doing a lot of acting with his mouth and licking his lips in this really kind of uncomfortable way. We decided, 'Okay, we need to sort of resolve and flesh out what his mouth is gonna look like.' So, I found this nasty website of the results of doing chewing tobacco. I used a lot of textures from that, like lip sores and nastiness, and replaced it with gooseneck barnacles and things like that. For his tongue -- 'cause he kept smacking his lips -- I thought it might be unsettling or disturbing to have it be made of oyster meat, so it kind of has a ruffled edge and is semi-translucent."
ILM's offices are located just off the San Francisco Bay, giving McBride and his team easy access to such reference material as crusty piers and barnacles that he could incorporate into photorealistic renderings of these characters' encrusted skins.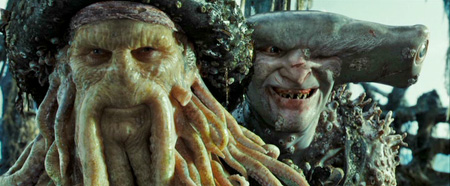 Davy Jones and Maccus
McBride wanted to take advantage of the fact that these characters were being constructed completely in the digital domain, and even though they were roughly humanoid in shape, he played with the proportions so that they couldn't have been played by a small army of actors in suits. He referenced his favorite character, Maccus, the first mate of the Flying Dutchman who's slowly started to transform into a hammerhead shark. "So, Maccus, for example: we really flattened the back of his head so it'd be kinda smooth like the top of a hammerhead shark, and obviously you couldn't fit a guy's cranium into the back of that. And then [we] sorta mash in his nose so you couldn't fit a normal profile in there." To get the look just right, Hickey dug up photos of rugby players with crushed noses.
ILM promises that we'll see more of the crew of the Flying Dutchman in the upcoming
Pirates of the Caribbean: At World's End
, which should have anywhere between six and ten new crewmen, but I did catch a glimpse of a character who didn't make it into
Dead Man's Chest
. Affectionately (and accurately!) dubbed "Turtle Guy", McBride describes him as the perfect cross between Tippy the Turtle and the pirate from those old
Art Instruction School
ads.
McBride also touched on the design of the Kraken and the effort that went into visually conveying how ancient this creature is with an array of anchors and harpoons piercing his tentacles. He pointed out one quick Easter Egg: during the first lingering glimpse of the beast around an hour and a half into the movie, keep a close eye out and you'll see a skeleton trapped on one of his flailing tentacles. That's one of the skeletal models from
The Curse of the Black Pearl
.
Hickey also delved into the two pirate ships newly constructed for the movie. The spiffed-up Black Pearl in
Dead Man's Chest
is a fully functional ship that can move under its own power, while the larger Flying Dutchman is still towed on a barge. Even though the Dutchman is only three-quarters of the way fleshed-out, it's real enough to give side-by-side encounters with the two ships a greater impact. A 1/6th scale miniature of the Black Pearl was used for certain effects, but despite what the term "miniature" probably brings to mind, it still spans an enormous 35 feet. Other effects work included meticulous rotoscoping in the scenes set on the cannibal island, 75% of which required some sort of visual extension. As labor intensive as rotoscoping -- tracing the outline of the filmed image frame-by-frame -- is for those scenes, the team at ILM found it preferable to take that approach rather than string up several hundred yards of blue screen or compromise the impact of a scene by having the camera aimed a little lower.
Creature model supervisor Geoff Campbell
As incomparably talented as the visual effects geniuses at ILM are, they don't always get it right on the first try, and they showed an outtake reel with one character completely nonchalant as his clothes sloughed off him, a cloth simulation with an outfit exploding from the Dutchman's grotesque conjoined twins, and Davy's tentacles spastically flailing around. They also tacked on a couple of gag shots, the first replacing the wheel from one of the movie's more elaborate stunts with a giant Krispy Kreme doughnut, and being part of George Lucas' empire and all, it goes without saying that there's a duel with...yup...lightsabers. Hopefully this footage will see its way onto DVD at some point down the road.
Of course, there's plenty more about the film's visual effects on the recently released two-disc special edition DVD of
Pirates of the Caribbean: Dead Man's Chest
[
review!
], which is in stores now. All of the pictures scattered around this write-up have been culled from the DVD, incidentally.
Many, many thanks go out to Megan, Rosemary, Mac, Amelia, and everyone at ILM and Buena Vista for putting all of this together.
- Adam Tyner.