NOTES FROM SUNDANCE 2012 By Jason Bailey
This was your humble writer's first time braving the coagulation of industry types, actors, hangers-on, and (gasp) Internet film writers at the Sundance Film Festival in Park City, Utah, and it was, well, a bit overwhelming. Much of that is the festival itself; commencing in 1978 as the tiny Utah/US Film Festival, it has since ballooned into America's foremost showcase for new independent cinema (as well as a fine place to go grab a free Clutch bag). A total of 117 feature films were screened this year, in Park City and nearby Salt Lake and Utah; at any given time, a good dozen films could be showing at a variety of movie theaters, performing arts centers, and makeshift venues.
It's a lot to take in, and anyone who has attempted to comprehensively cover a film festival is well-acquainted with the regret that frequently washes over the earnest filmgoer as they try to choose wisely from the overflowing buffet of movies and, inevitably, end up seeing some plodding clunker while everyone else takes in the next indie sensation. Your humble correspondent, in spite of being burned before at other festivals, continues to fall victim to Movie Star Syndrome: selecting the films that feature people I've heard of, and thus missing the tiny, no-budget masterpiece which takes the fest by storm. This year, that film was apparently Beasts of the Southern Wild, spoken of in hushed, awe-struck whispers all week, awarded the Dramatic Grand Jury Prize on Saturday night. I did not see it. But hey, I saw The Words! It's got Bradley Cooper in it!
Alas, regret does no one any good. I may not have seen Beasts or Searching for Sugar Man or Valley of Saints, not just yet, but chances are, I will: that's the great thing about Sundance, that the festival serves as an anointer for the year ahead, and much of what I regret not seeing there has already been picked up, or will in the months ahead, the buzz of the 'dance a feather in its distributor-courting cap. And it's difficult to feel much disappointment when looking over the slate of pictures I did see: smart, nuanced, frequently moving, often hilarious snapshots of an independent cinema scene in full flourish. Here's just a few of the films worth singling out for special attention:
BAILEY'S 5 FAVORITE FILMS OF SUNDANCE 2012:
1. Sleepwalk with Me: Stand-up comic and public radio mainstay Mike Birbirglia channels Annie Hall-era Woody Allen in this moody, thoughtful, and very funny look at a comedian on the rise and a relationship that's going into the ditch. It's not just an Allen riff, though; it announces the arrival of a distinctive and affable filmmaker with a unique comic voice.
2.Safety Not Guaranteed: Colin Trevorrow's time travel comedy is a genuine original, utterly unpredictable and anchored by a marvelous lead performance by the great Aubrey Plaza. There's big laughs (no surprise) in her interactions with a possibly (okay, probably) crazy Mark Duplass, but the story shifts into contemplative pathos and genuine wonder in the third act with such skill that it's almost a sneak attack - you're surprised by how absorbed you've become in this nutty little picture.
3. Room 237: The best movie-lover's movie at the fest, this sometimes uproarious, sometimes ridiculous, entirely fascinating documentary examines the subtext of Kubrick's The Shining, with various theorists, critics, and enthusiasts claiming the horror picture to be everything from an apologia to the American Indian to a confession of Kubrick's involvement in the fakery of the moon landing. The result is a brainy blast, a witty and frisky doc that's a cinephile's dream.
4. The Raid: For sheer moviegoing fun, however, there was no match for Gareth Huw Evans's masterfully constructed, smashingly entertaining Indonesian action extravaganza. The story is simplicity defined (a SWAT squad attempts to infiltrate a mob kingpin's apartment building, and find themselves the targets of a endless army of lowlifes); the draw here is the deadpan humor and hyper-kinetic style, equal parts playfulness and terse, economical thrills. The action beats and gory kills hit the audience like well-aimed fastballs - this is a movie that works you over, and leaves you giddy in its wake.
5. The Surrogate: Summarized (thirty-eight-year-old poet and polio sufferer, confined to an iron lung or gurney, decides to lose his virginity with the help of a hands-on sex therapist), Ben Lewin's seriocomic drama sounds like the kind of movie that could fail in a million different ways; one imagines a maudlin flimflam about the power of positive thinking and human contact, or a teary examination of O'Brien's illness from a movie-of-the-week perspective. It is neither - Lewin dodges those trapdoors with his script's wicked sense of humor, and by enlisting two game and brave actors (John Hawkes and Helen Hunt) who are willing to take some considerable risks. It's a moving, sweet, beautiful little movie.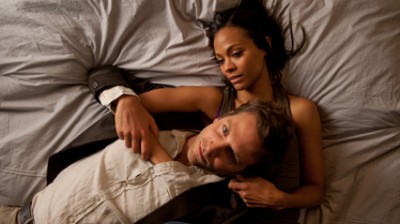 WORST FILM OF THE FEST: The aforementioned The Words, a starry-eyed ensemble piece (Bradley Cooper, Jeremy Irons, Zoe Saldana, Dennis Quaid, and Olivia Wilde all turn up) about literature and truth, or something like that. It's a ponderous movie, tinny and schematic, filled with painfully obvious reveals and wincingly bad writing (a genuine liability in a film that is ostensibly about brilliant and successful authors).
CONTROVERSIES: Early on, the fest's most controversial pictures were Antonio Campos's Simon Killer and Spike Lee's Red Hook Summer, both of which tinker with audience expectation (and, frankly, test audience patience). I came down in the middle on both, admiring their riskiness but unable to overlook their considerable flaws. I didn't see the film everyone was talking about by festival's end, a based-on-a-real-incident examination of power and abuse, Complaince, but I'll get to soon enough: it's been picked up by Magnolia for theatrical release.
GREATISH PERFORMANCES:
Rosemarie DeWitt in Nobody Walks and Your Sister's Sister, John Hawkes and Helen Hunt in The Surrogate, Clarke Peters in Red Hook Summer, Rebecca Hall in Lay the Favorite, Elizabeth Olsen in Liberal Arts, Melanie Lynskey in Hello I Must Be Going, Richard Gere in Arbitrage, Isla Fisher in Bachelorette, and Aubrey Plaza in Safety Not Guaranteed.
FULL LIST OF FILMS REVIEWED AT SUNDANCE 2012:
Escape Fire: The Fight to Rescue American Healthcare
Something from Nothing: The Art of Rap