WHAT'S IT ALL ABOUT?
Just a quick prelude to this review: Herein, somewhat helplessly, I reveal the depths of my prurient soul in my unabashed love for this steamy little thriller. So if you're uncomfortable with the thought of an aging DVD geek getting all hot and bothered about Denise Richards and Neve Campbell and motel-room threesomes and lesbian night-time pool gropings, it's probably best to press that Back button now.
Okay.
A crazy, decadent noir choked with erotic-cheese twists and turns, John McNaughton's Wild Things is the ultimate guilty pleasure—a film with beautiful people deliciously screwing each other over.
It's a slick, smirking B flick of double crosses atop double crosses, with a distinctly 90s sheen, one of those films that you can't help but devour once you catch a bit of it. It glories in lurid implausibility and shameless displays of Denise Richards, and damn, I can watch many scenes in this film frame by kinky frame—and often do. I'm not proud of that admission, but this is one of the most-viewed films in my library.
And now we have an UNRATED version! Holy God. When I heard the news that this baby was coming down the pike, I grinned a nasty grin and imagined the possibilities. More Denise Richards. Perhaps more Neve Campbell (although I doubted it, given the actress's contractual reluctance to shed clothing). More shameless pans up and down bikini-clad bodies. I checked the mailbox feverishly, waiting for the screener to arrive.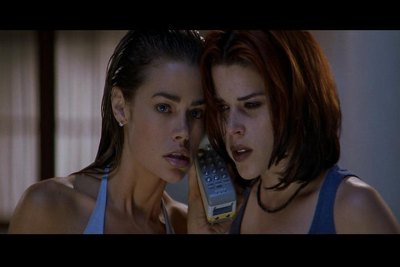 And finally, there it was, in its plain brown wrapper. I hurriedly ripped off the plastic and slipped the disc into the tray. Pressed Play. And sat back to enjoy the film from start to finish…you know, rather than the usual skip-and-scan to favorite scenes.
I tried to experience the loony plot of Wild Things as if for the first time. In a high-rent portion of Florida called Blue Bay, Sam Lombardo (Matt Dillon) is a high-school guidance counselor and sailing-team coach. He's the target of many female students' sexually determined gazes—particularly that of Kelly Van Ryan (Denise Richards). Daughter of former Lombardo flame Sandra (Theresa Russell), Kelly is in the grip of some kind of seething agenda, so it's hardly surprising when, after a bawdy wet-teeshirt car-washing session, she accuses Lombardo of rape. Things go from bad to worse when bad girl Suzie Toller (Neve Campbell) describes a similar encounter with Lombardo, and Sergeant Ray Duquette (Kevin Bacon) and Detective Gloria Perez (Daphne Rubin-Vega) become suspicious. By the time skuzzy defense attorney Ken Bowden (Bill Murray) arrives on the scene, Wild Things has become a twisty, gaudy joyride in which the central mystery isn't nearly as essential to your enjoyment of the film as is McNaughton's willingness to play to his audience's most base instincts.
Wild Things wallows in teasing depravity, never shying away from slow-motion wet skin and other fleshy spectacles. And the naughty near-taboo of the high-school setting—along with the very notion that barely-18-year-old girls are capable of these kind of evil mind games—increases the film's guilty-pleasure factor. This is a totally far-fetched film, and it knows it. When the credits begin to roll, and McNaughton fills in the gaps with scenes we didn't get to see before, we're laughing rather than puzzling it all together. This film's tongue is very much in its cheek. If you go into Wild Things with that perspective, you'll have a fun, sleazy time.

WHAT'S NEW TO THIS CUT?

So, how much more sleaze can you expect in this new unrated cut? Well, I'm here to tell you: Not very much. I'm lucky enough to have two players hooked up to my TV, so I was able to watch the theatrical cut (on the original DVD release) simultaneously with the new unrated cut, and determine exactly when the new cut detoured into new material. Here are the added scenes:

[BEWARE SPOILERS]

0:07—A conversation between Bacon, Dillon, and Rubin-Vega after the school assembly. Campbell appears fleetingly.
Note: No extensions to the infamous car-wash scene!
0:52—Murray and Robert Wagner trade snarky barbs. (Appears as a deleted scene on the original release.)
Note: No extensions to the infamous motel threesome! Aaaaah!
1:10—A nice, nasty extension of the lesbian pool encounter between Campbell and Richards. We get new glimpses of Richards' freed-from-their-confining-bikini-top breasts and Campbell's back. Nothing outrageous here, though, and I'm left wondering why this—the primary erotic extension in the unrated cut—was excised in the first place. Here's a sample screenshot:
1:17—A brief scene of Bacon investigating. Bikini-clad Richards is washing her car and angrily sprays Bacon with the hose.
Note: Thankfully, no new footage of Dillon and Bacon sharing a shower.
1:42—Rubin-Vega has a conversation with a trailer-park denizen.
1:46—This first of two end-credits extensions finds Dillon and Richards snorting cocaine.
1:48—The second end-credits extension is a rather eye-popping shot of Dillon and Richards getting it on. Some groping here, and some general nastiness. Cool!
HOW'S IT LOOK?
Columbia/TriStar presents Wild Things in a frustrating anamorphic-widescreen transfer of the film's original 2.35:1 theatrical presentation. I say "frustrating" because although the case maintains that the film has been "mastered in high definition," I found very few differences between this transfer and that of the original DVD.
Clarity and sharpness are reasonably good—not great—in both, and colors seem to hover at the same general saturation point. Both transfers suffer from identical artifacting flaws: There's shimmering and blockiness all over the place, resulting in an image that's frequently unstable. Yes, both transfers exhibit, at times, that annoying jittery quality of the first release. I also noticed the same level of edge enhancement in both, not severe but mildly distracting. The same source flaws are visible on both prints.
The new DVD does offer a slightly darker image, and that seems to create the illusion of an image that has more depth.
Overall, a disappointing effort, considering the expectations that come with the phrase "Mastered in high definition."
HOW'S IT SOUND?
The disc, like the original release, offers a Dolby Digital 5.1 audio track. This is a clear, entertainingly mixed presentation, with accurate dialog and a solid, rumbling score. The low end is punchy, and the surround channels get a nice ambient workout. There were many opportunities for such sound effects—for example, voices, chirping insects, and even the score.
I could tell more of a difference between the two discs' soundtracks than the discs' image quality. The unrated DVD's audio presentation is much more active in the surrounds. I could perform direct A-B comparisons and was impressed by the new sense of immersion. Nicely done.
WHAT ELSE IS THERE?
This is essentially a barebones release. The (admittedly meager) extras from the original DVD release—including the director's commentary—have been jettisoned. The original release contains a single deleted scene (mentioned above) and some outtakes, and although the scene has been incorporated into this unrated cut, the outtakes aren't here.
All you get on this new disc are Filmographies and Previews for Wild Things, Wild Things 2, Cruel Intentions, New Best Friend, and Sin.
WHAT'S LEFT TO SAY?
Wild Things is a modern classic of teenage salaciousness and Florida noir. Unfortunately, this unrated cut is something of a bust. Yes, it gives us two new scenes (under 2 minutes worth) of new sleaze and 5 additional minutes of new, shrug-worthy scenes, but it drops the original DVD's primary extra in the process. Image quality is exactly the same, but audio is improved. If you do buy this new cut, you'll have to hang on to the original.