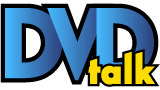 Testament Of Dr. Mabuse - Criterion Collection, The
List Price: $39.95 [Buy now and save at Amazon]
---
The Movie:
Fritz Lang was a shameless self-promoter. He would use just about
any chance he got to build up his reputation, and would often exaggerate
the truth or even out and out lie. While this is fairly commonplace
in the movie industry, there is one difference between Lang and the masses
of other people who claim to be geniuses: Lang was. He created some
fantastic movies including the epic Die Nibelungen, the silent science
fiction masterpiece Metropolis, and the Film Noir classic You
Only Live Once. But he didn't only create fine movies; he also
pioneered innovative editing techniques and ways to use sound. Now
film fans can see for themselves how groundbreaking Lang was with Criterion's
release of a newly restored version of The Testament of Dr. Mabuse,
a squeal to his earlier movie Dr. Mabuse: The Gambler, made ten
years earlier.

An ex-policeman Hofmeister (Karl Meixner,) who was kicked off the force
for taking a bribe has come across a fantastic plot: A criminal organization
is committing a series of crimes with no seeming motive. They are
selling drugs at cut-rate prices, robbing jewelry stores and melting the
settings down, and printing reams of counterfeit money, but not distributing
it. Hofmeister finds out who is behind these odd offenses and telephones
his old boss, Commissioner Lohmann (Otto Wernicke,) but before he can reveal
the name of the mastermind, he is driven insane by some unspeakable horror.
As Lohmann investigates the case, he turns up other crimes that seem to
point to a certain Dr. Mabuse (Rudolf Klein-Rogge.) Mabuse had been
the head of a gang years ago, but was driven insane when his criminal empire
crumbled, and has spent the intervening years in a mental hospital.
Not uttering a sound, Mabuse just stares into space and writes page after
page of notes. Lohmann suspects that Mabuse might be faking his insanity
and drives out to the sanitarium to see for himself. When he arrives,
he finds that Dr. Mabuse has just died. But the intricate and precise
crimes continue to occur. And if Mabuse didn't instigate these events,
who did?

This is a wonderful film on many levels. Taken at face value,
it is a great mystery, with chases, murders, and even people captured in
a diabolical trap. But the closer you watch the movie, the more interesting
it becomes. Each scene is linked to the one following it by some
device; an image of what the character in the previous scene was talking
about for example. But these links are often false. The two
scenes seem to be related but as the movie progresses, you find that they
are not. In an early scene Lohmann is talking about how Hofmeister
was driven mad by terror. The scene changes to a doctor talking about
a patient who went insane because of fear, but it is not Hofmeister who
he is referring to, as the viewers assume, but Dr. Mabuse. The entire
move is constructed like that, so that whenever you think you have a handle
on what is going on, it turns out that you are mistaken.

This movie was very much ahead of its time. Like The Usual
Suspects or Memento, the meanings of scenes change as the movie
plays out. The viewer is often off balance, not sure of what is happening,
much like the characters in the movie. But the film is not confusing
or opaque. It is very easy to watch.

This was Lang's second sound movie, and like M, his first, he
experiments with sound, but in a much different way. In this movie
sound is often used to make the meaning of a scene more vague. In
the opening shot, a man is hiding behind a large crate in a very loud warehouse.
The noise is almost unbearable, and when two other people enter, you can't
hear what they are saying. It gives the scene the feel of a silent
movie, the viewer having to rely on visual cues to figure out what is happening
in the scene. When the scene ends and the hidden man runs outside,
the noise stops in a very jarring fashion. Outside it is absolutely
silent, which is more eerie than the deafening factory. The
movie is filled with noise and sound covering up what is really happening,
making the film seem much more recent than it is.

Another nice thing about this film is that you don't have to have viewed
Dr. Mabuse: The Gambler in order to fully enjoy this movie.
The other movie that this is related to is M, Lang's previous film.
That grim and gritty realistic picture was almost the opposite of the first
Mabuse movie, which was more of a pulp adventure film. But in The
Testament of Dr. Mabuse Lang mixes the two genres. He still has
the fantastic mad criminal genius from the first film, but he includes
the realistic detective from M. The character of Commissioner
Lohmann was also in M, and Otto Wernicke played both parts wonderfully.

The Testament of Dr. Mabuse is an intricate movie that pioneered
many techniques that would be more fully utilized decades later.
A movie truly before its time, it still plays as well today as it did when
it was first made.

The DVD:
---
Audio:

The mono audio track in the original German with optional subtitles
in English is very good. Since the master print was taken from several
sources, a few scenes sound worse than the rest, with some hiss and distortion
present. But the vast majority of the movie sounds very good, with
a clean soundtrack that is very crisp and clear.

Video:

The video quality on this restored print is simply outstanding.
There is excellent detail, even in shadows, and the contrast is superb.
The image has a full range of gray tones and is very sharp and crisp.
The image supposed to be pillarboxed to the original aspect ratio of 1.19:1,
though the bars were smaller than I thought they'd be on my set.
This odd ratio was the result of the soundtrack that was positioned on
the left side of the film and cut down the image area slightly.
This DVD has an excellent picture, making this movie look much better than
it has in years.

The Extras:

This DVD is packed with many wonderful extra features. The first
disc includes a commentary by Mabuse scholar David Kalat. He gives
a first rate commentary, relating anecdotes about the movie, its filming,
and Lang, while pointing out narrative techniques and other devices Lang
employed. His comments are very insightful and entertaining.

The second DVD of extras has a lot to offer, even for a Criterion set.
It starts out with the entire French language version of the film, which
Lang made at the same time as the German version, but with French actors
in some of the roles. This version was edited in France without Lang's
input. This version of the film is 93 minutes long. The quality
on this film didn't match the German version, but it is still watchable.

There is a 20-minute excerpt from a 1964 interview with Lang from the
program For Example Fritz Lang, where the aging director talks about
his life.

A 15-minute short documentary Mabuse in Mind, features a conversation
with actor Rudolf Schündler who reminisces about working with Fritz
Lang and filming The Testament of Dr. Mabuse.

Mabuse creator, author Norbert Jacques is examined in an interview with
scholar Michael Farin. This 10-minute short gives a brief overview
of the writer's life.

David Kalat, who provided the commentary to the movie, also narrates
a 20-minute featurette The Three Faces of Dr. Mabuse, where he compares
and contrasts the three edits of this film. It is interesting to
note the editorial changes that were made when altering this movie to suit
foreign palates.

Also included on the DVD are a set of production designs and a series
of photos and movie posters relating to the film.



Final Thoughts:

This DVD is a must own. The film is excellent, but the restoration
is even better. The picture is about as close to perfect as a film
this age is ever going to get. Add to that the wealth of extras including
a wonderful commentary track, and it is easy to make this a DVD Talk
Collector's Series disc. Criterion has done it again.
---
C O N T E N T

---
V I D E O

---
A U D I O

---
E X T R A S

---
R E P L A Y

---
A D V I C E
DVD Talk Collector Series
---
E - M A I L
this review to a friend
Sponsored Links
Sponsored Links