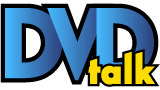 Brief Encounter: Criterion Collection
List Price: Unknown [Buy now and save at Amazon]
---
The Movie:

We see the same or similar situations in many recent movies, but they don't get explored as tightly or recieve such a wonderful, intimate focus as they do in director David Lean's "Brief Encounter". The film revolves around two adults who meet at a train station and have an affair before their feelings of guilt break them apart.

The two people are housewife Laura(Celia Johnson) and a doctor named Alec Harvey(Trevor Howard). I liked how the film focuses almost completely on the events of this rather than many new films, which would bring in other "funny" characters to comment, throw in music to tell the viewer how to feel, etc. In fact, the only recent movie that reminds me a bit of "Brief Encounter" is Richard Linklater's "Before Sunrise". The romance between the two in "Brief Encounter" is simple, and yet full of life and spark. Little gestures and details between the two are picked up well.

The film runs only a short 85 minutes, and is all the better for it. I liked the pacing, and I liked the information given, which I felt only helped to push along the plot. The performances by the two leads are very good, and although this is the first time I've seen "Brief Encounter", I enjoyed it and found it quite well-done. They very rarely make films like this anymore, and that's unfortunate.


The DVD

VIDEO: Criterion has done a very fine job with their restoration of "Brief Encounter", with its full-frame image showing some signs of wear and flaw, but in general, for a film that's now about 54 years of age, the original elements look to be in suprisingly good condition. As with many Criterion DVDs, the transfer is talked about on the back of the DVD. "Brief Encounter" is presented in its original theatrical aspect ratio of 1.33:1. This digital transfer was created from a 35mm composite fine-grain master, made from the original negative."

Sharpness seems fairly good throughout the movie; sometimes it slips into softness, but the picture still looks very pleasing, with good detail and clarity. There are some minor flaws to talk about - there is some noticable grain at times, and small marks on the print used. I was into the film enough that these really weren't enough to cause a distraction. This is probably the best the film has looked in a long time, and Criterion has done a fine job.

SOUND: The film's mono soundtrack is enjoyable, but as one might expect from a film as old as this one, the sound remains pretty flat and sometimes thin. On the other hand, I didn't notice any hiss or distorition, and the film's occasional music does sound pleasing. Dialogue is clear and easily heard, as well. For a film of its age, "Brief Encounter" contains enjoyable sound.

MENUS:: Menus contain slight, but enjoyable animation that serve as a nice introduction to the movie.

EXTRAS:

Commentary: This is a commentary from film historian Bruce Eder. Like some of the similar historian commentaries on Universal's "horror" series, the speaker sounds as if he's reading from a prepared text here, attempting to organize facts and information on the film as the picture plays along. Aside from the fact that he seems like he's reading making for a somewhat unnatural reading, he makes up for this with not only a pleasant and energetic way of commenting, but the fact that he simply is able to offer quite a bit of interesting information. Not only does he talk about the acting, style, story and music on display in "Brief Encounter", but he also chats about films of the era in general.

Restoration Demonstration: This is a pretty short section, but also very interesting to watch. The DVD takes us through a couple of scenes from the film before they were restored and after, and the differences are pretty remarkable. The featurette also starts with text about the process in general.

Trailer: The film's theatrical trailer.

Final Thoughts: Fans of "Brief Encounter" should definitely check out Criterion's DVD edition. Those who haven't seen it should definitely try it as a rental and then decide whether or not to purchase.


---
C O N T E N T

---
V I D E O

---
A U D I O

---
E X T R A S

---
R E P L A Y

---
A D V I C E
Highly Recommended
---
E - M A I L
this review to a friend
Sponsored Links
Sponsored Links