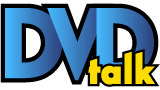 Harsh Realm: Complete Series
Fox // Unrated // August 24, 2004
List Price: $39.98 [Buy now and save at Amazon]
---
The Series:
Back in the late nineties it seemed as if Chris Carter could do no wrong. The X-Files went from a sleepy little cult series to a legitimate phenomena and Millennium began to build a decent sized following as well. I'm sure I'm not the only one who was excited when it was announced he'd be taking a little known comic book series named Harsh Realm put out as a six issue mini series by a small company named Harris and turning it into a new prime time series on Fox. I'd actually read the comic and enjoyed it and was looking forward to seeing what kind of spin Carter and company would put on the source material.
Well, the series lived up to my expectation. I really enjoyed the idea of a soldier sent in to a virtual reality world to bring back a rogue general dead or alive so that he could live happily ever after with his fiancé. It seemed to be rooted in the themes of Apocalypse Now but with some keen science fiction overtones running throughout it. It had some interesting characters, some thought provoking political aspects to it, and it proved to be exciting and well written. At least I thought so. Fox apparently did not as they pulled the plug on the series after only nine episodes where produced and before the show could really find an audience of its own.
After successful DVD releases of The X-Files and more recently Millennium, it makes sense for Fox to put out Harsh Realm too so that those who, like myself, don't feel the show was really given a fair shot, can at least revisit the episodes that did make it into production from a few years back.
Episode 1 – Pilot: Lt. Thomas F. Hobbes comes back from serving in Bosnia and is ready marry his beautiful fiancée, Sophie. One night, some soldiers show up to escort him to the base for one last mission – he has to go into a virtual reality simulator and bring back Omar Santiago, who has taken control of the virtual world and made it his own. Hobbs runs into a strange woman named Florence who believes him to be the messiah, and soon realizes that things are different in this world, where his fiancé is now married to his former best friend. Lance Hendrickson and Gillian Anderson have some keen bit parts in this episode.
Episode 2 – Leviathan:Hobbes begins to accept his plight and Mike Pinocchio gets trapped by a competitive soldier of fortune. Hobbes and Florence go after Pinocchio but soon they end up captured themselves. The bounty hunter makes a pact with Santiago and Santiago accepts a deal that will allow the bounty hunter to travel into the real world. The bounty hunter's partner is on to him though and helps Hobbes escape and stop him. Elsewhere, Hobbes' real world fiancé is beginning to question the circumstances behind her husband's supposed death.
Episode 3 – Inga Fossa:As Sophie continues to look into her husband's mysterious death, she chases Inga Fossa to an old army complex where Inga crosses through the portal into Harsh Realm. She gets in and meets up with Santiago, but Sophie does not. Meanwhile, Hobbes, Pinocchio and Florence try to sneak into Santiago City using some fake IDs. Hobbs finds the portal and is about to make his escape when Inga tells him if he doesn't kill Santiago before he leaves there will be no real world to return to.
Episode 4 – Kein Ausgang:Hobbes and Pinocchio are scoring the countryside looking for a soldier who know how to beat Santiago once and for all. Hobbes and Pinocchio discover a tear in Harsh Realm and enter an alternate universe. When World War II soldiers show up and open fire on them, they realize they've somehow gone back in time in Harsh Realm.
Episode 5 – Reunion:Hobbs and Pinocchio get captured and are forced into a work camp. A friend of Hobbs' dying mother is there as well and they all try and try to rescue her and escape. Unfortunately the prison warden and his army of zombie type soldiers don't intend to let that happen.
Episode 6 – Three Percenters: Hobbes is trying to steal some much needed supplies from a squad of soldiers when he discovers the 'Three Percenters.' These are who weren't ever supposed to exist in the simulation at all, they're part of a three percent error rate that the programmers had to deal with and because of that they aren't quite right. Hobbes, Pinocchio and Florence end up captured by the rogue characters and must make their escape or else.
Episode 7 – Manus Domini:Florence takes to meet with The Sisters, a religious group to which she has ties, to warn them of Santiago's Elite Guard who are fast approaching. Hobbs and Mike Pinocchio follow her but find themselves stuck in a minefield. The Sisters will have to work together to save them, or there's going to be a whole lot of trouble.
Episode 8 – Cincinnati:An American Indian group wants to stop Santiago in the lovely city of Cincinnati, Ohio. Santiago begins killing off their leaders in a preemptive strike, all the while Inga is still manipulating him. Hobbs, Mike Pinocchio and Florence are also looking for the General and end up stuck between the Native group and Santiago's troops.
Episode 9 – Camera Obscura:In a post-apocalyptic New York City, rival gang families bring Hobbs and Pinocchio on as soldiers of fortune. An insane priest seems to be running things from behind the curtain and all sorts of things begin to go very, very awry.
The DVD

Video:


Despite the fact that the back of the slipcase states that the episodes are presented fullframe, they are actually presented in 1.78.1 anamorphic widescreen. Some of the later X-Files seasons were shot this way too, so it's no surprise to see that this is how Harsh Realm is presented on DVD. Picture quality is quite good. There is some grain evident throughout but it's minor and doesn't distract from the series much at all. Print damage isn't an issue and although there are some shimmery effects in a couple of scenes, compression problems are kept to a minimum. With a lot of the series taking place at night and in darker locales, Fox has seen fit to ensure that the black levels are stable throughout and don't break down or pixilate at all.
Sound:
The English Dolby Digital 2.0 sound mix is predominantly wrangled towards the front speakers but the rears do kick up now and then during the shoot outs and action scenes. Dialogue is consistently clear in each and every episode and there aren't any audible problems with any forms of hiss or distortion. There could have been a bit more bass in the mix but other than that, this mix sounds quite. French and Spanish subtitles are included for each episode as is an alternate French Dolby Digital 2.0 language track.
Extras:
On disc one, the pilot episode is the subject of two separate commentary tracks. This first track is from the series' producer, Chris Carter. He talks of the origin of the series, the source material, where a lot of the ideas and inspirations come from, etc. He's not overly talky on this track and there are a couple of spots where things could have been a bit livelier but for the most part it is an interesting listen. The second commentary track is from director Daniel Sackheim. He gives a bit more personal insight into the series and the pilot specifically, relating stories of how things went on set and during production. It's a bit more personable than Carter's track, and a bit more interesting because of that.
On the third disc is a twenty-six minute 'making of' documentary entitled Inside Harsh Realm in which Carter, Sackheim, writer Frank Spotnitz and a few others are interviewed about their work and their respective roles on the series. You can almost feel the resentment from the interviewees when they discuss Fox's decision to cancel the series so early on in its lifespan. Their interviews are interspersed with various clips from the show and from behind the scenes and it all shapes up to be a pretty interesting look at the series.
The last extra feature, aside from some trailers for other, non related Fox DVD releases, is a nine minute segment entitled Creating The Logo And Title Sequence that shows us how graphic artist Justin Carroll created the fancy opening for the series, as well as a few other ideas he had for it that were never used in the run of the series.
Final Thoughts:
While Harsh Realm may have been too short lived, Fox has done a nice job bringing the entire series to DVD in one handy package. Audio and video quality is on par with other series from this era and the extras, while slightly sparse, are quite interesting. Recommended.
Ian lives in NYC with his wife where he writes for DVD Talk, runs Rock! Shock! Pop!. He likes NYC a lot, even if it is expensive and loud.
---
C O N T E N T

---
V I D E O

---
A U D I O

---
E X T R A S

---
R E P L A Y

---
A D V I C E
Recommended
---
E - M A I L
this review to a friend
Sponsored Links
Sponsored Links