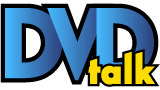 Ai Yori Aoshi Enishi - Bond
Geneon // Unrated // September 7, 2004
List Price: $29.98 [Buy now and save at Amazon]
---
Movie: In Japan, anime is a very popular type of entertainment that is watched by people of all ages and both genders, much more so than here in the USA. There are cultural reasons for this but in the end, I think the genre is slowing making its way into the hearts and minds of our culture too. One of the niches that has long had a following in manga and anime series has been the Renai, or romance fantasy anime, that is designed for younger girls to appreciate as the characters typically have strong women that are chasing some guy in hopes of love and/or marriage (and some loser guy being chased by them is alledgedly meant to attract an audience of guys that can't get a date). The most popular version of this in my circles has been the Tenchi shows as they had a lot of crossover appeal but a purer form would be that of Ai Yori Aoshi Enishi: Bond (Vol. 2) the second volume in season two of a show with plenty to enjoy (with certain caveats). The show was the second season of the popular href=http://www.dvdtalk.com/reviews/read.php?ID=5568>Ai Yori Aoshi show that had two star-crossed lovers finally reunited after losing touch when they were kids. In href=http://www.dvdtalk.com/reviews/read.php?ID=11029>Ai Yori Aoshi 1, the domestic situation was set up and rules of engagement established between the household of gals and young Kaoru. Here's a bit of background before I get too deeply into the premise though:



The leads are Aoi, a young gal that had searched out her childhood boyfriend, Kaoru, and her immediate family. They all live in a rental house and the gals are infatuated with Kaoru, even though his heart belongs to Aoi. Kaoru is in graduate school, trying to ready himself for the real world so that he can make a life for himself an Aoi. As the two continue their lives, heading for what appears to be a wedding and life of happiness together, the strange crew has a number of silly misadventures with one another. There aren't a lot of space aliens, super-powered characters, magic or the other kind of thing you find in anime, just a series of comic misunderstandings as the gals attempt to romantically involve themselves with Kaoru.



There were again four episodes to the show with each adding a slice of life to the characters. While each was a stereotype of one sort or another, they were all interesting as they went through life with a gleam in their eyes for Kaoru. For example, in episode 5, Piano, the rich girl, Mayu, received a dress from her mother in Paris (a fashion famous designer), to celebrate, she asks Kaoru out on a date and the two go out (mostly to cover his relationship with Aoi but also out of a sense of friendship and not wanting to hurt her feelings). Anything that could go wrong did (boy, have I had dates like that in my past…) but it all ends well as the two form a deeper bond, even if not the kind she had in mind initially.



Then, in episode 6, Journey, Kaoru has to focus on his thesis or he'll be stuck in school all summer without a vacation. His biggest problem is saying no to any of the girls, all of whom vie for his time and attention. Only Aoi seems to recognize his predicament but that follows logically from the premise of the show. Regardless, it was a light-hearted send up to all of us that have had to juggle the needs of the few against the demands of our responsibilities at work or school so I think it'll strike a nerve for those who pay close attention to the theme.



The next episode, Summer Resort, found the gang all enjoying their summer break, only to run into Mayu, who was with her rich parents. The ensemble like nature of the episode was harder to define but it still showed the competitive gals trying to make time with Kaoru while on break. The change of setting gave the cast plenty of extra opportunities to hook up with him, making his life more difficult in return. This was followed by episode 8, Fish and Water, an episode where Chiaki and Kim got to really strut their stuff with Chiaki trying to learn how to swim and Tina, as the athletic one of the bunch, becoming her coach. For me, this was the breaking point of Tina's over the top accent but I know anime is supposed to be a caricature of real life and just let it roll off my overly sensitive hide.



Okay, the show is not as appealing to me as something like href=http://www.dvdtalk.com/reviews/read.php?ID=13003>Gungrave, but it was designed for a far different audience than that show so I have to accept the limitations going into a review. If you're a female or have younger girls in your house that you want to introduce to anime, you could do far worse than this one as it's well written, doesn't have a lot of violence, and has a sweet nature that they can watch without getting jaded about. Men that lack a social life may find the overall concept appealing too but I'd be lying if I said that I'm overly familiar with that type of guy. I strongly recommend getting href=http://www.dvdtalk.com/reviews/read.php?ID=11029>Ai Yori Aoshi 1 first (if not season one) so you'll be able to keep up with the cast better but it's still pleasant enough to rate as Rent It for what it was, not what I wished it could be.



Picture: The picture was presented in the originally shot 1.33:1 ratio full frame color. Aside from some minor moiré and grain in the negligible darker sections of the show, it looked very crisp and clear with exceptionally bright colors. While the anime style itself wasn't always very detailed, the spirit of the show was well served by it. The bright colors and clean lines all suited this type of anime well, making it look as friendly as the content was to the mind.



Sound: The audio was presented in 2.0 Dolby Digital stereo with a choice of the original Japanese vocal track (and optional English subtitles) or the English dub track. To be fair, each had their own flavor and I sort of preferred the dub track on this one. That's no slight to the original language crew, just an observation that the English dub crew was very solid this time. My one complaint on said dub track would be the really irritating Texan accent on one of the gals (Tina) that was amusing at first but has grown bothersome over time.



Extras: The only extras this time were the trailers, a paper insert, a clean opening and closing and double sided DVD cover. I know that's lame but you have to remember that this type of show doesn't have the broad base of appeal in the USA (yet) so Geneon is taking it on the chin by trying to expand the market.



Final Thoughts: The technical aspects were very nice and the writing well done (although sometimes over the top, if you catch my drift) so I can see why this type of show would be big with its intended audience. I think the best way to put it is that you either understand this kind of thing or you don't, with little middle ground in between. Fans of romantic material will be smiling like a kid in a candy store and had there been another episode or better extras, I could've easily given it a higher rating.



If you enjoy anime, take a look at some of the recommendations by DVDTalk's twisted cast of reviewers in their href=http://www.dvdtalk.com/features/002257.html>Best Of Anime article!
Sponsored Links
Sponsored Links