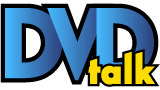 List Price: Unknown [Buy now and save at Amazon]
---
The Movie:

Often, when you walk out of a bad movie, someone will remark, "I could have written that!" or some variation of that remark. In the case of the Pokemon movies, anyone could have written them. Many of the animated characters have one line over and over again - their own name. They say their own name again and again, just with different "intensity". There are some human characters occasionally thrown in, and a plot that doesn't make any sense. They could make hundreds of these films in a year. Wait a sec, they do - only they hit video directly.

I'm not going to review the movie, for the simple point that - what is the point? Kids will want the movie anyways. The whole thing honestly makes me unhappy, that this is what kids watch. Kids deserve much more than Pokemon and it's unfortunate that it continues to be a success, although the gross of this film signals that maybe Pokemon's success is slowing down. One can only hope that's true. Now to the DVD...

The DVD

VIDEO: "Pokemon" is presented in full-frame, as was the first picture. Although I would usually be angered that something is not presented in widescreen, the only thing I was complaining about during watching this film was, well, having to watch it. Sharpness and detail are fine, although the animation does have a rough quality to it, to put it nicely. Colors are great, though - they look bright and well-saturated, with no problems. I saw a very slight bit of pixelation, but other than that, this is a clear and clean picture that displays the basic animation acceptably.

SOUND: I suppose the idea is, turn the sound up to 11 so that, if you have no idea what's going on, you'll be entertained by near-constant surround use and explosions, as well as various thin sounding effects. Nearly every moment something is going on in the surrounds, from subtle effects to highly agressive use. The score sounds generally fine, but often gets a little overshadowed by all of the other effects and noises going on.

There is a sometimes shrill quality to the audio that occasionally became slightly uncomfortable to listen to during some of the more intense sequences. Dialogue is clear, although I had no idea what the characters were talking about anyways.

MENUS:: Non-animated menus decorated with pictures of characters and music in the background.

EXTRAS: Music videos from Dream Street, Alysha and Nobody's Angel; a scary featurette about the making of the soundtrack; trailers for "Pokemon 2000" and, of course(you knew there would be another one), "Pokemon 3".

Final Thoughts: I still have no idea why kids like Pokemon, but I'm sure there will be an audience for this DVD release, which doesn't offer the amount of extras the first film's DVD did, the audio/video quality is fine. Definitely not something adults are going to want to watch, though. Personally, I'd recommend "The Iron Giant", "Stuart Little", "Fantasia", "My Dog Skip", "Toy Story" or "Prince Of Egypt" instead.


Sponsored Links
Sponsored Links