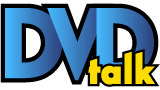 List Price: $9.99 [Buy now and save at Amazon]
---
The Movie:


Cloak & Dagger. Which idea came first? The video game or the movie>?





The Story:


Ah. The 1980s. Little Henry "Elliott" Thomas. Atari. Russian paranoia. Louie Anderson as a nameless extra. It all comes together for a kiddie movie called Cloak & Dagger. And I do mean kiddie movie. I saw this movie when I was a boy back in the—well, 80s—and the impression left in my mind was that this was a great little suspense flick. I didn't realize back then how geared it was for people of the age I was back then.



Davey (Henry Thomas) is obsessed with video games. He hangs out at the video game store in the mall with the technology geek store clerk, Morris. And he has a little gal pal named Kim, who willingly goes along with his spy games involving walkie talkies and water guns. But Davey also has an imaginary friend—a spy named Jack Flack (Dabney Coleman), who looks exactly like Davey's dad (again, Dabney Coleman). Davey's mother has recently died, and his dad leaves him on his own during the day. So, it's while playing spy games in an office building with little Kim that Davey witnesses something horrific on the stairwell. Some sort of lab technician getting shot by two thugs—right after handing Davey a video game cartridge with no explanation as to what it's for. But clearly it's trouble, because the two guards chase after Davey. He gets a security guard, but when he comes back the body is gone. The police bring Davey to his home—and his father doesn't believe him about the shooting. And his father leaves him alone again the next day. Now, with the help of Jack Flack, Davey is about to be chased by mean men with guns as he sets out on an adventure to uncover the truth before he and all his friends end up dead. Fact is, there's a computer chip hidden inside the game cartridge that could probably lead to World War III if it falls into the wrong hands!



Aside from being a movie, Cloak & Dagger is a huge commercial for Atari's 5200 system, the follow up to the 2600. Let me tell you, as soon as they showed a close up of that miserable 5200 joystick in Davey's hands, it all made sense to me why the video game crash soon followed. Even Davey tosses the stinking sticking stick down in frustration at one point. Now Cloak & Dagger was an arcade game, and I assume the idea was to make the game for the 5200 and garner huge "ET/Reeses Pieces" cross-marketing dollars, but the game never made an appearance. Actually, I was shocked that at one point in the movie, when Davey was in the video game store, Colecovisions DID make an appearance, getting caught on camera behind Davey. Surprised Atari even allowed it. But other than that one flub, It was all about Atari.



As for the movie, it made me remember that there were quite a few features in the 80s that jumped on the retro 60s bandwagon of the time. This is definitely one of them. The music and mood is right out of a corny 60s sci-fi flick. The melodramatic score leaves a real hole in the suspense, because it's too slapstick during exciting moments. Even though the movie is made for kids, the music really needed to be a bit more energetic. The little girl was the comic relief, and the casting agent depended on her cuteness to make her bad acting excusable I guess, because she was just too over-the-top. The idea of secret Russian weapon plots is pretty much dated now—there are other countries that could fill that position nowadays. What's refreshing about the film is that Henry Thomas is no superhero. He's no Spy Kid. I guess you could say this movie is more realistic, because he has to rely on his own wits when being shot at—he even has a go at driving, believe it or not, with the help of his imaginary buddy Jack Flash. (Dabney Coleman is entertaining in his dual role, by the way). There's an underlying lesson to be learned from the film about imaginary friends and when a child needs to let go of them, but I think it's a lesson that would be lost on kids. And in actuality, although it's a fun movie—it's not the most technologically advanced, so unfortunately, I don't think it would keep today's kids engrossed. The video game cartridge concept is dated, there are no crazy stunts or visual effects, and at one point, one of the thugs runs into an armed Davey, and laughs in his face because he is sure the kid doesn't have the guts to shoot him for real. And all I could think was, if this was a kid of the current decade, the guy wouldn't even dare to challenge the kid with the gun, but start begging for his life immediately. Ah…how far our society has come.



The DVD


Video:


The 1:85:1 anamorphic transfer is not so bad for a movie this old that's probably not in much demand. There is minimal wear on the print, and it's only slightly grainy in progressive scan. The flesh tones are a bit on the pink side, the darks are deep. Color saturation isn't quite rich enough, and the haloing is rather brutal. This DVD was FULL of ghosts.



Sound:


Ouch. This was a 2.0 mono audio track. The sound had to be cranked way up, and it was pretty flat and hollow.



Extras:


What can I say? Well, I can say…NOTHING. There's not even a menu on this disc. It goes right into the movie when you hit play.



Final Thoughts:


Cloak & Dagger is a fun, exciting, suspenseful movie that would make any kid want to be Henry Thomas…if that kid was growing up in the 80s. Unfortunately, the film has not aged well. The most important elements in the film—the Atari game system, Russian plots, ET's best friend—would have a 21st century kid's ADHD reaching for the PS2 controller and punching the split screen button on the remote control.
Sponsored Links
Sponsored Links