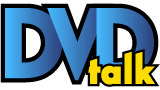 Gone In Sixty Seconds (2000)
List Price: Unknown [Buy now and save at Amazon]
---
The Movie:
Producer Jerry Bruckheimer has become famed over the years for providing big-budget action fare - if you look up "Summer Movie" in the film dictionary, you'll likely find his picture. In previous years he has worked with directors like Tony Scott and Michael Bay. Although Bay has certainly had people against his films, he is highly skilled at bringing the snap, crackle and pop to action. This year, he worked with first-time director David McNally for "Coyote Ugly", which did well at the box office, but had poor reviews. "Gone In 60 Seconds", directed by Dominic Sena, faired similarly.

The film has the slick look that many will be familiar with from Bay pictures such as "Bad Boys", but it lacks the kind of mindless excitement and action that Bay's pictures can provide. The film stars Nicholas Cage as Memphis Raines, a former master car-thief who now finds himself running a go-cart track. Brought back when his little brother (Giovanni Ribisi) gets into trouble, the plot, or what little plot there is, goes into drive. Memphis has to steal 50 high-class cars for a mobster in 24 hours, or his brother will be in ultimate trouble.

As with most Bruckheimer pictures, he has attracted a good cast, but doesn't really give them much, or does the film really go about things in the right way. I can understand that pictures like this are all about providing Summer thrills; I found it strange that much of this film gets caught up in chatty scenes that really don't go anywhere in particular. Cage was more fun in "The Rock", where his volatile character was more engaging. Angelina Jolie and Robert Duvall, two particularly excellent actors, are not given a great deal of work to do, which is particularly unfortunate. Delroy Lindo also is along for the ride as a detective after Raines, but his sub-plot doesn't provide much tension or interest. The dialogue from Scott Rosenberg's script has a few lines that are unintentionally funny; he's had some scripts that have sharp dialogue, but this isn't one of them.

The film's chase scenes are entertaining, but there's a lot to go through that isn't highly interesting to get to them. Editing would have helped pick up the overall pace of the movie during the early half. In an action movie like this one, I shouldn't be checking my watch as often as I was doing. Overall, I'm neutral to this picture; it's not particularly great, and I only found a handful of scenes to be exciting. A good cast makes the movie at least somewhat more watchable, but certainly this isn't as good as the other Bruckheimer action pictures from recent years.


The DVD

VIDEO: Disney offers an excellent presentation for "Gone In 60 Seconds". Sharpness is fantastic throughout the movie, although there are a couple of very brief instances where the picture looked very slightly soft. Detail is very good, as is clarity. The picture is a bit too overdone visually, washing many scenes in blue or orange tones, otherwise cinematography provides a slick look not unlike any other film from the producer.

There are very few problems to speak of on this solid effort from the studio. Pixelation is visible briefly in trace amounts on a couple of occasions, but this is hardly noticable. The print used is in excellent condition, with no marks or scratches to speak of. Shimmering and other flaws are also pleasantly absent.

Colors are beautifully rich and bold, very well saturated and problem-free. Black level is strong, as well. Although there a few tiny bumps, this stands as one of Disney's strongest presentations in a while. Very, very good work. Layer change is at 1:21:18.

SOUND: As the picture quality is excellent, the audio quality matches it - providing a full-scale assault during the more intense sequences. During any of the scenes with cars we almost feel as if we're in the middle of the action as the roar of the motor comes through perfectly, and the action sweeps by the viewer convincingly. Surround use is often very agressive, as well.

Bass is also deep and packs quite a solid punch, especially during the more intense scenes. Audio quality is top notch, as the music score is dynamic and clear, and quality in general is rich and full; the movie is loud (sometimes very) without being harsh or uncomfortable to listen to. Dialogue is clear, as well. Although there are certainly moments in "Gone In 60 Seconds" where the picture definitely isn't going high on action, the sound still manages to stay busy with the music or background audio. Definitely a presentation with some demo-worthy scenes.

MENUS:: The opening menu provides a great opening to the disc, with animated menus that have audio in the background. There are also animated transactions between menus, and even when you select an item from the sub-menu.

EXTRAS:

Trailer: The excellent theatrical trailer, which makes the film look more exciting than it is; presented in 1.85:1 and fantastic-sounding and highly agressive Dolby Digital 5.1.

A Conversation With Jerry Bruckheimer: This is a very interesting featurette that doesn't really focus on "Gone In 60 Seconds"; it's simply the producer talking about what is the role of the producer. Talking in informative but not in-depth terms, he leads us through the steps that he has to take to put a film together, from the ground up. I haven't enjoyed all of the producer's films, but when he gets all of the elements together such as on "Crimson Tide", I think his films provide solid thrills and his pictures, successful or not, attract good performers. Again, this featurette takes a look at his role other films before just "Gone"; he discusses working on films like "The Rock", a little bit on the upcoming "Pearl Harbor" and others. I wish that the producer had provided a commentary track for "Gone In 60 Seconds", as his contribution to the commentary for "Armageddon" was very interesting, as is the viewpoint he shares here. The featurette runs 7 min/27 seconds and is worth viewing. Also in this section is a bio for Bruckheimer.

Action Overload: Disney did this for "Shanghai Noon" as well and I really don't think of it as much of an extra; they've literally cut together the most intense parts of the movie we've just seen. That's it.

The Big Chase: This section is split into 3 sections. If you've seen the special edition of "Shanghai Noon", the featurettes here remind me of the featurettes that were included on that disc; well-produced and informative, not "promotional".

L.A. Streets: This is a featurette where the crew talks about how the chases through the city streets were filmed and planned. Storyboards are shown, and interviews with the stunt directors and other memebers of the crew talk about their contribution to the scenes.

The Big Jump: The biggest scene in the picture, this featurette discusses the role of special effects in making this particular scene happen. Interviews and behind the scenes footage take us step-by-step through the process of filming.

Naval Yard: Similar to the "L.A." featurette, this is another well-done featurette that shows how the planning for this scene was done, as well as some behind-the-scenes footage of the sequence being prepared.

Zero To Sixty: This is more of a general "making-of" promotional documentary, which talks more about the story and provides some basic notes about the production and filming. Slickly done, this featurette is a bit informative and provides some engaging interviews, but isn't probably something many will view more than once. Runs a little over 4 minutes.

Wild Rides: This is a pretty fascinating featurette that talks about the need to actually see the stars driving during some of the more intense chase scenes. We find out that Cage did most of his own stunt driving during the picture, much to the dismay of the studio. Cage actually went to school to learn the driving stunts, which we see here. Runs for 5 minutes and 17 seconds.

Stars On The Move: This is a series of short featurettes discussing the characters; we get Memphis(Cage), Kip(Ribisi) as well as "Young Gang", "Old School" and "Adversaries".

Music Video: Music video from The Cult.

Final Thoughts: Maybe worth a rental for action fans, although personally I only found the film to be a lot to sit through to get to what action it did offer. I was pleased with Disney's DVD presentation - although the extras are nothing spectacular, but the movie remains, in my opinion, dissapointing.


Sponsored Links
Sponsored Links