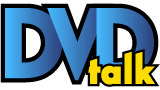 Adventures of the American Rabbit, The
MGM // G // February 8, 2005
List Price: $14.95 [Buy now and save at Amazon]
---
The Movie
Back in the mid-Eighties, in the thick of my formative years, my neighborhood movie theater would hold 10 a.m. screenings for kids every Wednesday morning throughout the summer. Invariably, The Adventures of the American Rabbit would make an appearance at some point; it was decently interesting stuff to a kid of seven years old. Oh what a difference 17 years makes: viewed through the eyes of a 24 year-old, it seems, particularly in the light of the surge in American patriotism and cataclysmic world events, The Adventures of the American Rabbit hasn't aged well. It's a kid's flick only former United States Attorney General John Ashcroft could love and an oblique valentine to the Reagan era, when loving your country was much less tied to quashing terrorism and could be enjoyed by everyone – even a meek bunny who could transform himself into a flag-covered, flying and (occasionally) roller-skating superhero. I was surprised to learn in the course of writing this review that the film was pulled not long after it was released in February 1986 – I attempted to find out why, but could turn up nothing. Perhaps the American Rabbit was a little too patriotic?
The film, which lasts a brief 85 minutes, centers on the exploits of one Rob Rabbit (voiced by Barry Gordon), who grows up in a village that appears to be somewhere in the vicinity of San Francisco. After saving his parents from a massive falling boulder, Rob is revealed to be none other than the keeper of his village's Legacy and the American Rabbit.
Setting off for San Francisco, Rob befriends a group of anthropomorphized animals, most of whom hang out at a club known as Pandamonium. A group of jackals, led by the nefarious Vultor (Kenneth Mars), aim to make Rob's friends' lives hell, be exceedingly evil, take over a few American cities and in doing so, incur the patriotic wrath of the American Rabbit.
As I said previously, this is not a movie that's held up well; taken from the hand-drawn animation era, The Adventures of the American Rabbit looks all right but doesn't really wow when it comes to visuals. The story means well, has a decent moral center to it but remains a bit cheesy. Kids who gorge themselves on Sailor Moon or The Powerpuff Girls may eat this up, but I'd save it for the very young – only toddlers will be put off by Vultor and his crew.
The DVD


The Video:

Offered in a 1.33 fullscreen transfer, The Adventures of the American Rabbit looks good, considering its age and cult status. Interestingly enough, there's a disclaimer at the beginning of the film stating that it's been modified from its original format; could MGM not be bothered to at least include the widescreen version here? Nevertheless, the colors are vibrant and there are only a few instances of grain or damage to the print.
The Audio:

Dolby 2.0 stereo is the only audio option available on the disc. The vintage Eighties soundtrack, replete with cornball synths, sounds good; there's a noticeable (and surprising) punch to the action scenes and dialogue is perfectly understandable throughout.
The Extras:

Not an extra to be found here – not even a theatrical trailer. English, French and Spanish subtitles are included, but that's it.
Final Thoughts:

The Adventures of the American Rabbit , while a fond childhood memory, is decidedly less enjoyable these many years later. It's engaging enough to recommend as a rental for those with very young children and perhaps animation completists – although, I still think it'd make a killer gift for former Attorney General Ashcroft.
Sponsored Links
Sponsored Links