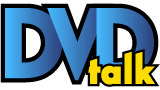 List Price: $19.95 [Buy now and save at Amazon]
---
The Movie:
If you've seen The Honeymoon Killers then you'll know going into this one how it's all going to shape up at the end. The reason for that? Deep Crimson is roughly based around the same 'true crime' story that the earlier film was based on. That doesn't make it any less of a film however, and those who enjoy a good tale of murder and mayhem will find much to love about Arturo Ripstein's film.
The story is as follows: An overweight and rather sad woman named Coral (Regina Orozco) answers an advertisement in the personals section of her local newspaper and by doing so she meets a male prostitute named Nicholas (Daniel Giménez Cacho). He does the deed with Coral and then swipes the lowly amount of money she has in her purse and heads for splitsville. Coral isn't so easily dismissed, however, as she's taken what he has done as a sing that he really loves her.
Coral chases him and down and one day shows up at his front door, two children in tow. Nicholas is hardly impressed with this and pretty much makes it known to her that he's not at all interested in her. Coral won't take no for an answer though, and when he tells her that he doesn't want to be part of a family she handily drops the kids off at an orphanage to eliminate that problem from their relationship. Soon enough, Nicholas caves and she shacks up with him.
Between the two of them they come up with the odd idea that Nicholas will attempt to woo some well to do lonely ladies using his oh so subtle charm tactics while Coral will act as his sister who just happens to be traveling with him. This will allow the pair to con some women out of their money and make an easy living for a little while. Of course, Coral, being who she is, soon discovers that she is in fact very much the jealous type and it's not to her liking to sit back while her man puts the make on other women. Complexities and strangeness ensues…
Regina Orozco is amazing in the female lead and Daniel Giménez Cacho is just as good in the male lead. This is a film that succeeds mainly on the strength of those two performances. The story isn't full of any Earth shattering revelations, as we know Nicholas is a dick from the moment we meet him and we know that Coral is nuttier than a fruitcake even sooner than that, so how can their relationship, which is started off on such a wrong foot, be anything but insane? The direction is very solid. Ripstein has a keen sense for pacing and knows just when to let a little levity into the story to keep things from getting too dark, and when to let the murder and the mayhem take over which results in a film full of some interesting contrasts. The camera work is slick and very fluid and the shots and color compositions, obviously very well thought out, do a great job of capturing the grit and grim of the lives these two characters are leading together.
The DVD

Video:


The 1.85.1 anamorphic widescreen transfer looks very nice with very bold colors (especially the reds, go figure). Skin tones are natural and lifelike and the black levels are solid and strong during playback. Print damage is virtually non-existent and though there is a fine coat of natural looking film grain over top of everything, it's not so heavy as to be distracting. Edge enhancement is minimal and there are no problems to be found with mpeg compression artifacts.
Sound:
The only audio mix on the disc is a Dolby Digital 2.0 Stereo track in Spanish with optional subtitles available only in English with no closed captioning options available. For the most part, this track is fine. Those with exceptionally perceptive ears might notice some background hiss in a couple of scenes but other than that there are not any problems with this mix. The film wouldn't really have needed anything fancier than what is supplied on this DVD. Dialogue is clean and clear and everything is balanced quite nicely.
Extras:
Aside from a lengthy and spoiler filled trailer, there are also some liner notes from Jorge Ruffinelli that do a nice job of filling us in on some of the background information on the film and on the real life events that inspired it in the first place.
Final Thoughts:
Deep Crimson is a very good darkly comic thriller with a few chills and a few truly twisted moments. At the same time, it's also quite sad and quite tragic. Homevision's DVD is light on extras but it looks and sounds quite nice. Recommended.
Ian lives in NYC with his wife where he writes for DVD Talk, runs Rock! Shock! Pop!. He likes NYC a lot, even if it is expensive and loud.
---
C O N T E N T

---
V I D E O

---
A U D I O

---
E X T R A S

---
R E P L A Y

---
A D V I C E
Recommended
---
E - M A I L
this review to a friend
Sponsored Links
Sponsored Links