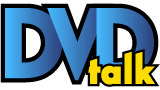 Transporter: Special Delivery Edition
Fox // R // August 23, 2005
List Price: $19.99 [Buy now and save at Amazon]
---
The Movie:



(parts of the review are taken from the review of the prior release)




Luc Besson has made an incredible reputation for himself directing films like "The 5th Element", "La Femme Nikita" and "The Professional". Since 1999, however, Besson has turned his focus to writing and producing, assisting heavily (many crew members on both films have worked with Besson on his prior efforts) in 2001's "Kiss of the Dragon" and last year's "Transporter". I'm still surprised that neither film was more successful than they were: "Kiss of the Dragon" offered a remarkable Jet Li performance, while "Transporter" makes even more of a star out of British actor Jason Statham ("Snatch", "Lock, Stock & Two Smoking Barrels"). Both are well-filmed, exciting action pictures that offer just enough character and story, considering the genre.



Statham stars as Frank Martin, an ex-Special Forces operative who now makes an awfully good living, well, transporting things or people. The film starts off well, opening with an impressive chase sequence that has Frank debating how a new group of passengers has broken the rules by including four people instead of three, making the car weigh more than it should for a proper escape. "The Bourne Identity" diid the last-second escape to a car chase better, but this film's chase sequence was strongly filmed, too.



Frank's three rules: Never change the deal. No names. Frank never looks in the package. Of course, it's not too long before Frank breaks his third rule - when he sees that one of his recent packages is moving, he opens it to find a beautiful Asian girl (Shu Qi) tied up inside. The deal ends up going well, but a second deal doesn't go nearly as well - the package ends up nearly destroying Frank - his car doesn't fare as well.



Now that rules have been broken, the action scenes begin. Directed and choreographed by famous Hong Kong choreographer/director Corey Yuen (who shares directing duties with Louis Leterrier), these scenes are terrific, with some inventive staging. Much of the movie is ridiculous, relying on convienient twists and other such genre staples, but the movie moves along quickly enough and seems to have enough idea about what it is that it manages to work. The performances are generally good, although Statham could have really used more of the humor that he had in "Snatch" and "Lock, Stock" - it would have worked with the absurdity of some of the situations. Shu Qi doesn't fare as well - this is her first English production and she does have trouble with the dialogue.



"The Transporter" isn't going to be considered an action classic, but it's certainly above-average in comparison to recent entries in the genre. Statham makes a very good action hero and although the film isn't all-out action, its handful of action sequences are very well-choreographed and exciting. I can't say I loved it, but I certainly liked the film.




The DVD




VIDEO: "The Transporter" is presented by 20th Century Fox in 2.35:1 anamorphic widescreen (on this single-sided release, the pan & scan presentation available on the prior release has thankfully been dropped, leaving the anamorphic widescreen effort with some breathing room.) The anamorphic widescreen presentation is a very fine effort that only suffers from some mild edge enhancement. Sharpness and detail are generally excellent; the picture offers crystal clarity, with only a few minor exceptions.



As mentioned before, edge enhancement was really the only problem that made the presentation suffer - mild amounts were visible in several scenes. On a positive note, however, the print looked spotless and no compression artifacts/pixelation were noticed. The film's rich color palette also was beautifully rendered, with excellent saturation and no smearing. Flesh tones looked accurate and natural, while the international locations also provided some excellent visuals. This new presentation looked almost entirely the same as I remember the prior edition looking, although sharpness and detail did seem slightly improved.




SOUND: "The Transporter" is presented by 20th Century Fox in Dolby Digital 5.1. The Dolby website doesn't indicate that this is an EX soundtrack, but for those who can enable EX decoding, I'd recommend it. The surrounds are generally very active throughout the film, with the music, ambience and sound effects consistently offered by the rear speakers, with the back surround adding nicely to the envelopment. I could have done without the international hip-hop (not that bad - I'm just not running out to buy the album), but the music does pack some sizable bass, as do some of the sound effects. Dialogue remained crisp and clear throughout, as well.




EXTRAS: A commentary by actor Jason Statham and producer Steve Chasman is offered. The commentary goes back-and-forth between being interesting and somewhat slow. It seemed like for every great story from the set or interesting piece of info about the location shooting, there were some slow moments, a patch or two of silence, or some information about the story that we've just seen. Statham and Chasman share the track well, and offer some good humor here and there. The track could have been a bit more in-depth at times, but I still found it enjoyable.



3 extended fight sequences are offered - these sequences are in rough format, but they also do offer commentary from Statham, Chasman and (through a translator) director Corey Yuen. It's interesting to hear the trio's comments about how these fight scenes had to be cut down for the PG-13 they intended to get, and how that effects the rhythm of the scene.



Also new to this edition are a movie ticket for "The Transporter 2" (although it wasn't in my copy, retailers are advertising that it does include one) and a promo featurette for "The Transporter 2" that's not terribly extensive, but better than these sort of pieces usually are. Next is a "making of" documentary new to this edition, which runs a little over thirty minutes. The piece is French-produced and largely in French, with someone dubbing in (not terribly well) English translation. The piece is certainly a fine behind-the-scenes effort, offering interviews with the crew, production footage, fight rehearsals and more.



Rounding out the package are the original 11-minute "making of" promo, a storyboard-to-film comparison for a scene near the end and trailers for "Ong Bak: The Thai Warrior" and "The Transporter".



Final Thoughts: "The Transporter" offers what it claims to: 90 minutes and change of decent plot and well-done action (in international locations, no less), with fine performances (Statham can carry a picture), as well. It's nothing outstanding, but it's fun and enjoyable and seems to have an idea of how silly it occasionally is. Those who own the prior edition don't really need to upgrade, but those who don't already own the movie should check this edition out instead of the original.



---
C O N T E N T

---
V I D E O

---
A U D I O

---
E X T R A S

---
R E P L A Y

---
A D V I C E
Recommended
---
E - M A I L
this review to a friend
Sponsored Links
Sponsored Links