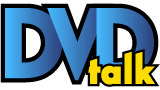 Battlestar Galactica - Season One
List Price: $59.98 [Buy now and save at Amazon]
---
"All of this has happened before, and all of it will happen again."
The Show:
When you try to reinvent a popular TV icon one of two things can happen. It will fly, or crash and burn. Back in 2003 the SciFi Channel took a huge gamble and aired a mini-series that took the original Battlestar Galactica concept and turned it on its head. It was a risky undertaking considering how revered the 1978 version is by science fiction fans. Would they accept it? Would this new show find a following? The answer was yes.


SciFi's gamble paid off big time and the new Battlestar Galactica has provided the best ratings numbers that the network has ever seen. It has become an icon for science fiction yet again and the new series stands shoulder to shoulder with other giants in the genre. When it originally aired cult followers of the franchise were critical about the differences between the two (of which there are many), but to the untrained eye there was little to gripe about. The basic concept of the original show, Cylons and Humans fighting against each other in a never ending war, is still intact. You still have the same 12 colonies, same major characters, same Battlestar. Everything else has been overhauled to the nth degree.

In a far distant quadrant of space, the war between Cylons and humans has been over for forty years. Every year, humans send an ambassador to a remote space station to meet with the Cylons and sign a peace treaty, but nobody ever shows up. Then one year they finally appear and begin the eradication of the human species. The twelve colonial home worlds are nuked into oblivion and all that is left of mankind are those that were lucky enough to be somewhere else on a ship. All together, less than 50,000 people.


Fortunately for those remaining, the Battlestar Galactica is still functioning and even though it's archaic, it is up to the task of protecting those who escaped. Led by Commander William Adama (Edward James Olmos) the military takes control of the fleet and begins the necessary steps to ensure the survival of our race. He can't lead the people alone though so he reluctantly teams up with the new President, Laura Roslin (Mary McDonnell). The two characters are at odds almost immediately and while Adama wants to storm into battle with guns blazing, Roslin, who before her battlefield promotion was the Secretary of Education, would prefer to make a run for it and start having babies.


The future of mankind is also put in the hands of Galactica's officers such as the alcoholic Colonel Saul Tigh (Michael Hogan), the tomboyish Lt. Kara Thrace "Starbuck" (Katee Sackhoff) and Commander Adama's son Lee (Jamie Bamber) who goes by the call sign Apollo. Every character adds something to this show even the treacherous Dr. Gaius Baltar (James Callis) who sees visions of a human/Cylon model Number 6. Fans of the original will also be pleased to know that Richard Hatch (the original Apollo) makes an appearance on the show as a political terrorist known as Tom Zarek.

This ragtag group of survivors teeters on the brink of annihilation throughout the entire season. As if dangers like running out of fuel, death by dehydration, or suicide bombers aren't enough, the Cylons are never far behind. But throughout the course of this season we do see characters grow closer together and we learn more about their previous lives. There are so many personal conflicts that put everything on the line and you can almost cut the tension with a knife at times.


The biggest change in the new Galactica is that the Cylons have "evolved" themselves and now appear completely human. The old "toaster" models are still kicking around (with a slick CGI upgrade) but the human models are the ones pulling all of the strings and carrying out the orders of God. This little change adds huge elements of distrust and paranoia to a show that is already weighed down by overwhelming obstacles.


Several minor details in the show have also been tweaked including the forty years of peace to updated weaponry and vehicles. Several character changes have come about as well in SciFi's new creation. The character of Adama is more militaristic and his relationship with his son Apollo is more than a little rocky. Starbuck and Boomer have gone through sex changes and are now female characters in this new version. Overall many personality traits are true to the original characters but there are quite a few disparities.

After undergoing such radical changes, it's understandable how fans of the original may have been skeptical when the show first started airing. However, it is quite clear this show was careful constructed to appeal to both die hard fans of the original and those looking for a new spin on an old concept. It is important to keep in mind that this version is a reinvention of the classic instead of a continuation. That means that a new audience can get into it without being lost in the mythology. In fact, the only way you will get lost in this new Battlestar Galactica is if you miss an episode or the introductory miniseries. Those of you who have already purchased the miniseries when it was released (like I did) may be a little irritated with the double-dip here, but it's essential in order to understand what's going on in the show.


It's very rare in a show that every actor clicks with the material but that is defiantly the case here. The team that was responsible for casting deserves a big pat on the back because they nailed every character perfectly. Of course the real heart and soul of a show comes from the script. That's another area that Battlestar Galactica has covered thanks to a team of veteran writers. The developer of the show, Ronald Moore (of Trek fame), was responsible for penning the mini-series as well as some of the tenser episodes of the first season. His scripting talent sets up the beginning of the season and closes it on such a high note that it will leave you dying for more.


In the case of this show, the visual aspect has a big impact on the overall mood. Everything is cast with stark contrast between light and shadow which keeps the dark tone front and center. Another interesting look comes from the filming technique since the camera is constantly in motion. Angles are slightly skewed and there is a sense of urgency to the picture even during the simplest of conversations. This is undoubtedly one of the more unique looking sci-fi shows around and trust me when I say that's a good thing.


Everything about Battlestar Galactica proves that it is the anti-Star Trek. There is no exploration, first contact or light hearted comedy episodes. Daily problems on board Galactica include finding food, finding power sources, and constantly running from an enemy that outnumbers and out guns them at every turn. Even on Star Trek's worst day they never had it as bad as the team on Galactica. This is easily one of the darkest science fiction tales I have encountered as nothing seems to go right for our heroes. They are dogged at every turn by the Cylons, are forced to make difficult decisions for the good of their race and treachery threatens to tear the fabric of their very existence. But make no mistake, this is quality television that fans of the original or science fiction in general should definitely not miss out on.

The DVD:
---
Presentation:
Season one of Battlestar Galactica comes in a slip case with five individual discs packed into thin cases. None of these are double-sided like some production runs of the previous miniseries release and each has artwork featured on the disc. The menus aren't anything to write home about and just feature a still graphic of Number 6 with some background music. Each episode also features "previously on Battlestar Galactica" and the opening montage "The Cylons were created by man. They rebelled. They evolved. They look and feel human. Some are programmed to think they are human. There are many copies. And they have a plan." I don't mind the clips from previous episodes as much because they set up the focus of the current one but the Cylon montage got a little old after a few times


If you have been to Best Buy or have done your research then you've probably seen another release of Battlestar Galactica Season One Exclusive kicking around. That other release is the U.K. version of the show and is presented on four discs with deleted scenes as the only extra. The U.S. version that is available everywhere comes with the miniseries and a slew of extras spread out across five discs. Undoubtedly this edition is the preferred choice if you're trying to decide between the two.

Video:
Battlestar Galactica Season One is presented with a 1.78:1 anamorphic widescreen transfer. Needless to say since the show is filmed in HD the quality of the video is mostly outstanding. There are some scenes where quite a lot of grain is prevalent but it seems to have been something that was done on purpose since it appears at only a few points. It's a little irritating if you're hoping for a super clean image but you have to take into consideration that this show is very gritty.


As I had mentioned, this show presents a lot of contrast in video. Lighting is used very intelligently and lends itself to a lot of deep shadows and vibrant colors. The look of the show is captured wonderfully on DVD and the bigger your home theater the better your experience will be.

The Audio:

This set includes a Dolby Digital 5.1 mix and offers some very good sound quality. All of the channels are used well here though some points of the audio are a little more subdued than others. The balance between dialogue and music is played well and is spread through all angles though most of the audio comes from the front channels. The sound is very clear and free of distortion or dropout.


During the course of the show the soundtrack kicks up the tension and it sounds great with the 5.1 set up. With tribal war drums banging away and a theme song that grabs your attention the musical direction for Battlestar Galactica is definitely unique. Likewise the audio effects for space battles and gunfire are very pronounced and characteristic of the show.

The Extras:

There are a slew of extras available on the first season box set of Battlestar Galactica and, depending what you enjoy, there is something here for everyone.


Battlestar Galactica: The Series Lowdown – This feature is a look at the first season of the show with several of the actors discussing the concept and their characters. The Lowdown aired on SciFi before the show started and gives several glimpses at events that occur during this season. There are many clips from the show as well as producer commentary. It runs about twenty minutes, and is a little more in depth than your typical production fluff piece.


Deleted Scenes – A wealth of deleted material is presented here from every episode in the season, except for Bastille Day (episode three). Many of these are subtle scenes with extended material from what made it into the final cut. There are also some scenes that were axed all together for one reason or another. Unfortunately there are no commentary tracks depicting why these particular moments were axed but they are entertaining all the same. This collection of scenes is the only extra that is featured on the Best Buy exclusive release.


Sketches and Art - A four minute compilation of concept sketches and production art is also included as a feature. They are presented with a musical score and give a good idea of how things were created. I always find extras like this fascinating since I enjoy seeing the progression of things from sketch to production.


Behind the Scenes - There is also a collection of eight featurettes that take a look at aspects of the show behind the camera. The production crew and actors discuss a variety of topics here from looking at the transition of original to the new series, to the visual impact and special effects. There is a wealth of information available in these featurettes and they are very detailed. They are relatively short, but all together they clock in at little over an hour and are very worth taking the time to watch. The real kick in the pants though is that every one of these features are available on the SciFi website, which kind of cheapens the package.


Commentaries - Many of the commentaries that are featured here are also available at the SciFi website as a Ron Moore Podcast. There are ten commentaries in all and while most are with just Moore some include fellow producer David Eick and Director Michael Rymer. The commentary featured on the disc for the miniseries is also the same that was on the original release of that product for those of you who picked up the separate release when it came out. Each of these offers plenty of insight into the production of the show with technical material and conceptual ideas. I enjoyed each of these commentaries but some of them offer better quality than others. If you enjoy this style of feature then you won't be disappointed.


Overall there are quite a selection of bonus material on this set but it's unfortunate that many of them are rehashes from the SciFi website. However, there are some behind the scenes featurettes available on the site that didn't make their way onto this release. This set still offers more extra material than the Best Buy exclusive edition but there isn't a lot of "new" content here.

Final Thoughts:
It's easy to see why Battlestar Galactica is one of the most talked about shows in a long time. The documentary style filming creates a gritty and realistic look at science fiction that hasn't really been done before. Compared to the original, there are quite a few stark differences but even fans of the 1978 version will be won over by this revision. This is easily one of the best and most creative sci-fi shows I have seen in a long time and the first season is absolutely phenomenal.


The video quality is quite good though very grainy at parts and the audio track features some outstanding sound at times. The extras leave a little to be desired considering most of them are recycled material but there are a couple of new bits added for this release. If you're a fan of the original or a lover of science fiction in general you can't go wrong with Battlestar Galactica. Highly Recommended
---
Check out more of my reviews here. Head on over to my anime blog as well for random musings and reviews of anime, manga, and stuff from Japan!
---
C O N T E N T

---
V I D E O

---
A U D I O

---
E X T R A S

---
R E P L A Y

---
A D V I C E
Highly Recommended
---
E - M A I L
this review to a friend
Sponsored Links
Sponsored Links