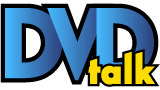 Fox // PG // September 27, 2005
List Price: $29.99 [Buy now and save at Amazon]
---
The Movie:



The digitally animated feature "Ice Age" was a major, rather unexpected hit and the first film from the Blue Sky animation studio. Although a sequel to "Ice Age" will be hitting screens next year, the first film from Blue Sky after "Ice" was "Robots", which - although not as enjoyable as "Ice Age" - certainly does continue the studio's excellent digital animation work.



"Robots" looks gorgeous, as there is a remarkable amount of detail visible in every shot, even into the backgrounds. Characters also show plenty of crisp detail and offer smooth, fluid animation. The picture opens with two robot parents waiting for a new child, who arrives...in a box. After "12 hours of labor" putting it together, we first see Rodney Copperbottom (voiced as an adult by Ewan McGregor), who quickly finds a hero in Big Weld (Mel Brooks), a tech guru. Despite not having much money, Rodney still clings to the hope that someday he'll be able to go to Robot City to sell his new invention and try to succeed.



Once he arrives in Robot City he's quickly taken under the hyperactive wing of Fender (Robin Williams) and his family and friends, like Aunt Fanny (Jennifer Coolidge), Piper (Amanda Bynes) and Crank (Drew Carey). However, Rodney soon finds that his idol has been overthrown, and Ratchet (Greg Kinnear) has taken over the company, with plans to "upgrade" all robots and leave behind any who can't afford it. With help from his friends and executive Cappy (Halle Berry), Rodney tries to overthrow Rachet and his evil mother (Jim Broadbent) in order to try and get the company back in the hands of Big Weld.



The movie starts off quite promising, with the previously mentioned "robot labor" bit as Rodney is being put together and an absolutely dazzling sequence where Rodney and Fender take Robot City's version of public transit, which has them being flung across city and sent through some imaginative devices. However, at about the halfway point, "Robots" moves completely away from being a movie that adults and kids can enjoy and towards a movie aimed completely at the youngest viewers: there's fart jokes, hyperactive action scenes, slapstick and, mixed in with all of that, heavy-handed lessons.



"Robots" is a beautifully digitally animated picture, and the voice work is mostly pretty good (although the movie eventually gets as hyper as the performance from Williams.) The movie's real fault is the screenplay, as the script lacks a strong plot and seems to run out of ideas as the movie goes into the second half - it's interesting to see how the movie starts with some funny bits and a fairly calm tone and turns progressively more slapsticky and hyper as the movie progresses.



Overall, "Robots" isn't too bad, but the movie isn't as strong a mix of drama and both adult and kid comedy as "Ice Age" was.




The DVD



VIDEO: "Robots" is presented by Fox in 1.85:1 anamorphic widescreen on this release. Presentation quality is absolutely top-notch, as sharpness and detail looked very good throughout the show, with only one or two instances that were exceptions.



The presentation did not suffer from any edge enhancement or pixelation, but there were a couple of instances of slight shimmer. Given the fact that the presentation is - I'm guessing - direct from the digital source, there aren't any print flaws or other debris.



Colors looked slightly subdued at times (by design), but the majority of the film showed rich, crisp colors that seemed well-saturated and vivid, with no smearing or other faults. Black level remained solid and overall, the picture looked quite pleasing.



SOUND: "Robots" is offered by Fox in both Dolby Digital and DTS 5.1. Both presentations seemed generally the same, although the DTS option seemed very slightly crisper and clearer. The overall sound mix is generally quite good, with lively and enjoyable surround use that was effective without being overdone or too gimmicky. Audio quality was fine, with crisp, dynamic sound effects and well-recorded, clear dialogue.



EXTRAS: The DVD includes two audio commentaries: one from director Chris Wedge and production designer/producer William Joyce and one from members of the film's technical crew. Aside from the two commentaries, there are an assortment of other features, including three deleted scenes, character profiles, a Blue Man Group featurette, an XBOX "Robots" game demo, a sneak peak at "Ice Age 2", DVD-ROM features, an "Aunt Fanny" short, "Tour of Booty" and more.



Final Thoughts: "Robots" starts off well, but eventually starts to become rather in-your-face and hyper. The visuals are technically great and voice acting is solid, but I wish the story had been more consistently stronger. Fox's DVD edition provides very good audio/video quality, as well as a nice helping of supplements. Recommended for fans, while others should try as a rental first.



---
C O N T E N T

---
V I D E O

---
A U D I O

---
E X T R A S

---
R E P L A Y

---
A D V I C E
Recommended
---
E - M A I L
this review to a friend
Sponsored Links
Sponsored Links