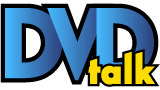 Carlito's Way Ultimate Edition
List Price: $22.98 [Buy now and save at Amazon]
---
Reviewed by Glenn Erickson

Brian De Palma more or less lost his way in the 1980s, making lavish but only fitfully entertaining pictures with a resounding flop or two for every solid hit like 1988's The Untouchables. In the 90s he went an even more predictable commercial route with the scattershot Mission Impossible. This 1993 crime thriller is a lighter return to gangster territory he'd re-plowed in his earlier remake of Scarface. A pair of relaxed and well-conceived characterizations make it a memorable diversion.

Synopsis:
Coke dealer Carlito Brigante (Al Pacino) is sprung after only 5 years on a thirty-year sentence by his lawyer David Kleinfeld (Sean Penn) and discovers a number of things have changed. The code of the streets has devolved into a dog-eat-dog mentality, with many urging him to return to the drug trade. His old girl Gail (Penelope Ann Miller) isn't convinced he's going straight, and attorney Kleinfeld has become a disco- and coke-fueled thief hoping to dig himself out by way of murder, with Carlito's help.

Al Pacino is again a Latin street crook, but this go-round he's neither a monster like Tony Montana nor really a bad guy at all. Although he makes a spectacle of himself in the courtroom boasting that he'll not return to crime (the weary judge is played by director Paul Mazursky), Carlito is sincere. He wants out of the rackets and his dream in life now is to just scrape together 70 thousand dollars so he can run a car-rental franchise in the Bahamas.


The second part of Carlito's dream is to reunite with Gail, the girlfriend he left flat before going to prison. Thinking he'd be gone for 30 years, he dropped her in a cruel-to-be-kind gesture; now he has to convince Gail that he again has a future. It won't be easy, for the former aspiring actress-dancer has scaled down her expectations and supports herself as a stripper. Carlito shows his (very un-Latino) largesse by accepting Gail's profession without judgment. But old loyalties conspire to drag him down.


Carlito's Way is a lot like a little-known Barry Sullivan film from the late 40s called The Gangster. Sullivan is a numbers racketeer who doesn't realize that his punk empire is being undercut and that he'll soon be left broke without his protective circle of influence, wide open for assassination. Carlito Brigante is slightly different in that he purposely avoids returning to his previous life of coke dealing and high-stakes crime. But he still must mingle with old competitors (untouchable Italian mobsters) including old associates like a thieving club owner (Jorge Porcel's Saso). That soon leads to trouble.


Rock and Roll has been replaced by Disco and heroin has turned to cocaine, and on the street everyone is stabbing everyone else in the back. Carlito's undoing is his commitment to an older code of loyalty. David Kleinfeld rescued him from 25 years of prison time, and Carlito foolishly thinks that the man can be trusted. Carlito doesn't realize that his attorney has gone completely corrupt, that Kleinman has no compunction against selfishly exploiting his newly-freed friend.


What follows are a predictable but stylishly rendered string of genre set-pieces. Carlito turns the tables on some double-crossers in a pool hall, and roughs up a new street punk (John Leguizamo) against his own better judgment: Street logic calls for a murder, but Carlito can't make himself do it. Writer David Koepp comes up with excellent connective voiceovers from Carlito, expressing his inability to find a good halfway point between his old criminal ways and the straight shooter he wants to be.


De Palma keeps it all going, leaving plenty of breathing space for his actors to establish convincing characters. Pacino is actually likeable as opposed to simply being cool, and Sean Penn surprises us (and is initially almost unrecognizable) as the smart lawyer on cocaine, making boneheaded, criminal decisions. Their scenes together are the backbone of the show. Penelope Ann Miller pulls off the good girl/stripper cliché in such a way as to minimize the exploitational aspect, quite a feat for this kind of film. Luis Guzman's unreliable thug is perfectly realized, and Viggo Mortenson shows up for an okay cameo as yet another former friend-turned-fink. Jaime Sanchez (The Wild Bunch) holds down a bit as the headwaiter in Carlito's night club.


The major action scene is a chase and gun battle in Grand Central Station. It is well-handled despite the fact that it seems like a replay of a scene in The Untouchables subsituting an escalator for a stairway. The coup de grace surprise finish is reminiscent of the end of yet another obscure noir with Barry Sullivan called Suspense. All of this is filmed in high style, with the camera moving in concert with the action on screen. Earlier on, De Palma can't resist his signature Hitchcock ripoff visual, a kissing shot where the camera revolves around the spinning couple. But throughout the picture De Palma moves his camera with assurance and produces a consistently interesting atmosphere. If there's anything to be faulted about Carlito's Way, it's that about 100 minutes' worth of story are spun out 45 minutes longer to give fat, juicy scenes to his top cast members. Just the same, Pacino and Penn are very enjoyable to watch do their stuff.

---

Universal's Ultimate Edition of Carlito's Way could easily be a bloated two-disc set but opts for an equally extras-heavy flipper format. Side A has a flawless enhanced transfer of the feature, with four track options (see below) but nothing else to compromise the bit rate.


The rest of the goodies are all on the disc's flip side. Brian De Palma on Carlito's Way has the director talking candidly about changing conditions for film directors. He thinks criticism is dying and laments the passing of people like Pauline Kael (who championed his work, we remember). He also talks about how serious a filmmaker he is, but follows that with a statement that Carlito's Way appealed to him because the Puerto Rican mobsters are 'like Italians, only with that great music.' Perhaps his deeper thoughts about the film are more private.


A selection of Deleted Scenes appear in workprint form. The Making of Carlito's Way is an interesting docu with good interviews from writer David Koepp, producer Martin Bregman and author Edwin Torres -- Torres is a New York City judge with a deep background in Spanish Harlem. There is also a Photo & Poster Gallery, a Promotional Featurette and a Trailer. The tasteful menus are in keeping with De Palma's smooth visual style.

---

On a scale of Excellent, Good, Fair, and Poor,
Carlito's Way rates:

Movie: Very Good

Video: Excellent

Sound: Excellent English (Dolby Digital 5.1), English (DTS 5.1), French (Dolby Digital 5.1), Spanish (Dolby Digital 2.0 Mono)

Supplements: Brian De Palma on Carlito's Way; Deleted Scenes; The Making of Carlito's Way; Photo & Poster Gallery; Original Promotional Featurette; Trailer

Packaging: Keep case

Reviewed: September 25, 2005

---
DVD Savant Text © Copyright 2005 Glenn Erickson
Go BACK to the Savant Main Page.
---
C O N T E N T

---
V I D E O

---
A U D I O

---
E X T R A S

---
R E P L A Y

---
A D V I C E
Recommended
---
E - M A I L
this review to a friend
Sponsored Links
Sponsored Links