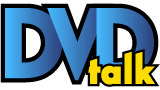 List Price: Unknown [Buy now and save at Amazon]
---
The Movie:



This 1995 feature stars Lori Petty as Rebecca Buck, one of the rebels who lives in the desert in 2033. A comet has caused massive devastation and only few survive, but with little to nothing in the way of water. The Water and Power Company controls everything, and is lead by the evil Kesslee (Malcolm McDowell). His troops attack Rebecca's camp since they've been hording water and she's the only one left to be taken prisoner.



When she doesn't take the offer to join Kesslee, she sends her to work in his caves. Teaming up with a repair worker calling herself Jet Girl (Naomi Watts), the two eventually find allies in the Rippers, a Kangaroo-like band of creatures.



There's not a great deal to the plot - the film simply seems like a group of random funky, futuristic scenes slapped together waiting for the inevitable battle ending. Livening things is director Rachel Talalay's effort to throw in every cinematic trick in the book - even animated sequences between scenes ("Tank Girl" was originally a comic book). The screenplay is full (completely full) of one-liners and through the sassy spirit of star Petty, most of these lines are amusing. Yet, for all of the minorly amusing bits, it becomes quickly obvious that there's nothing going on - the film is simply stalling waiting for the ending - particularly evident in a song-and-dance number that simply brings the movie to a complete halt.



And often, the ending seems like a long way away. At 103 minutes, "Tank Girl" could easily have been taken down to an even 90 - although, the optimal version could be much, much shorter. There's some funny moments and what could best be discribed as a "sloppy energy", but I found the film boring, especially after the half-way point.




The DVD



VIDEO: Coming from MGM/UA I would have expected average (or, from MGM, less than average) image quality, even for a 1995 release. Yet, I was pleasantly suprised at how good most of "Tank Girl" looked. Sharpness and detail are mostly excellent throughout the movie, presented in its original 2.35:1 aspect ratio. Some shots looked almost impressively crisp and well-defined, something unexpected from MGM.



And yet, as with most titles from the studio, there are problems to be had. Print flaws appear infrequently throughout the movie - nothing heavy, but occasional speckles and marks do appear - sometimes noticably. A couple of traces of light pixelation and edge enhancement are visible, but don't ruin the viewing experience.



The film's vibrant color palette is on full display throughout MGM's presentation - colors look bold, vibrant and well-saturated with no problems. Although not without some minor problems, this is better than the studio's usual work with catalog releases.



SOUND: "Tank Girl" is presented in Dolby Digital 5.1 - but the film's audio wasn't as agressive as I would have expected from the material. Surrounds are put into fairly heavy use during some sequences, but stay relatively light in output during scenes where their use would have added to the proceedings. The sound remains mildly agressive overall, though - just not quite consistent. The film's loud alternative rock soundtrack fills the room nicely at times, although I was a little dismayed to hear it take over the sound somewhat at times during some of the action scenes when sound effects should have dominated the proceedings.



MENUS:: Menus are non-animated, with very basic images serving as backgrounds.



EXTRAS: The trailer. That's it, that's all.



Final Thoughts: I still think "Tank Girl" is a fairly poor flick, but the film's cult audience should enjoy the audio/video quality of MGM's release, even though it really doesn't have anything in the way of extra features.



Sponsored Links
Sponsored Links