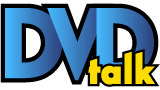 Fox // R // November 29, 2005
List Price: $29.99 [Buy now and save at Amazon]
---
The Movie:

"Mr. and Mrs. Smith", while not flawless (and not "Grosse Pointe Blank"), is a feature that works well despite the realization as the credits roll that there's not a great deal to it. Of course, everyone knows by now that stars Brad Pitt and Angelina Jolie are a couple, the mere fact of which has somehow managed to be covered in every single edition of every single tabloid in every single country.



The film, from "Bourne Identity" director Doug Liman, stars Pitt and Jolie as Mr. and Mrs. Smith, a suburban couple who lives in a large, beautiful and ultra-modern house on a quiet street. The two met cute and got married, despite keeping a rather large secret from one another - that both are actually assassins who are working for rival organizations. The marriage has obviously cooled over the years, and now discussions over decorations and minor dinner changes are the only thing keeping things from falling into uncomfortable silences.



Things get nasty, however, when the two are sent in on the same job - an operative (Adam Brody, from "The O.C.") and find that their cover has been blown by the person they'd have least expected. From there, "Smith" turns into a more violent "War of the Roses" as the two, despite still being together, wage war on each other in their suburban estate. However, when it becomes clear that their bosses want them eliminated, they realize they have to turn to each other.



Liman, who brought urgency and tension to even the quietest moments of "The Bourne Identity" manages to handle both the action and dark comedy of "Smith" wonderfully. Pitt, who proved he was a surprisingly sharp comedic talent in "Ocean's 11" has the same off-beat delivery here, and it works well. More surprising is Jolie, who successfully gives the performance a bit more warmth and dark glee than she has in her roles in the past. Vince Vaughn also steals a few scenes as a co-worker who lives with his mother.



Director Liman and writer Simon Kinsberg wisely keep things light for the most part (one scene where the two yell schoolyard insults from one building to another is amusingly played), and yet don't go so breezy that the film loses urgency and we lose interest. The two stars also manage to portray their subtle inner feelings for each other well during the film's few quiet moments. Technically, the film is superb, with well-choreographed action sequences, excellent production design, slick cinematography and a superb sound mix.



Overall, "Mr. and Mrs. Smith"'s mixture of very dark comedy and action certainly walks a fine line, and yet Liman and the two leads have managed to work it out well. There's some definite flaws here - some logic issues, not to mention not much of a "villain" - but the battle - verbal and otherwise - between the couple - manages to carry the picture well.



The DVD



VIDEO: "Smith" is presented by Fox in 2.35:1 anamorphic widescreen. Picture quality is mostly very good, although there are some minor concerns that present themselves on occasion. Sharpness and detail were largely great, although a few moments appeared slightly softer than the rest. Problems included some very minor edge enhancement and slight artifacting, but thankfully, no print issues or other problems were spotted. Colors remained rich and bold, and did not show smearing or other issues.



SOUND: "Smith" is presented by Fox in Dolby Digital and DTS 5.1. The film's sound design is first-rate, presenting the film's several major action sequences in an immersive and hard-hitting manner. Surrounds kick in during the film's major action sequences, reinforcing the score and delivering an enjoyable amount of ambience and sound effects. Audio quality was excellent, as the dynamic soundtrack featured strong bass and effects with plenty of force behind them. The front soundstage remained wide, active and highly involving throughout. Dialogue and music also remained crisp and clear.



EXTRAS: The DVD offers not one, not two, but three commentary tracks for the movie. First, we get a commentary from director Doug Liman and screenwriter Simon Kinsberg. There's also commentaries from production designer Jeff Mann, editor Michael Tronick, and visual effects supervisor Kevin Elam and from producers Lucas Foster and Akiva Goldsman.



Liman and Kinsberg offer an interesting track, with Liman doing much of the talking. The two discuss influences and the challenges of the picture, such as the kind of tone that the movie had to achieve - a little bit one way or the other would have made it suffer. We also hear more about working with the actors, technical issues, shooting on locations/sets and behind-the-scenes tales. Overall, this is an engaging and honest track, and the two keep things going well.



The producer's track isn't quite as enjoyable as, despite the fact that the two manage to provide some interesting thoughts about the development of the film and characters/story, there are instances of small talk and praise that resulted in the track dragging a bit. Finally, the last track may be a bit dry, but the track does provide a lot about the assembly and creation of the look of the movie.



We also get the short "Making a Scene" featurette, 2 trailers for the movie, a preview for "The Sentinel" (which looks an awful lot like "24: The Movie"), 3 deleted scenes and a preview for "Family Guy" and the "Mr. and Mrs. Smith" soundtrack.



Final Thoughts: "Mr. and Mrs. Smith" puts the Pitt and Jolie characters center stage and, despite some well-done action sequences, it's the on-screen relationship between their characters and the performances that have to carry the movie, and - for the most part - it works. Fox's DVD edition provides very good audio/video quality and a solid helping of supplements. Recommended.



---
C O N T E N T

---
V I D E O

---
A U D I O

---
E X T R A S

---
R E P L A Y

---
A D V I C E
Recommended
---
E - M A I L
this review to a friend
Sponsored Links
Sponsored Links