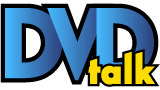 River Runs Through It: Deluxe Edition, A
List Price: $19.94 [Buy now and save at Amazon]
---
The Movie
I've always regarded Robert Redford's A River Runs Through It fondly – it's a timeless, engaging story, set in some of the most beautiful natural spaces in America and powered by a pair of terrific performances, courtesy of Tom Skerritt and Brad Pitt. The 1992 drama, adapted from Norman Maclean's autobiographical novel, sketches a loving family growing up in early 20th century Montana; the stern Presbyterian minister father (Skerritt), loving mother (Brenda Blethyn), studious Norman (Craig Sheffer), who matures into a restless intellectual and rebellious Paul (Pitt), who becomes a newspaperman only comfortable when living on the edge – this deeply felt quartet forms the core of Redford's film and each actor is superb in his or her role.
Spanning several years, A River Runs Through It is as much about the Maclean family as it is about the nearly sacred art of fly-fishing, shot in golden hues and framed lovingly by Redford's cinematographer, the gifted Philippe Russelot. It's a literary, picturesque excursion that feels as authentic as it looks – told mostly in vignettes and narrated in voiceover by Norman (actually Redford himself), A River Runs Through It is a great family film that only gets better with each successive viewing.
Originally released as a bare-bones disc in 1999, this marks the second DVD appearance of A River Runs Through It; if ever there were a modern film that warranted sterling visual and aural presentation, this would certainly be a candidate. As it is, Sony has seen fit to more or less dump a bare-bones disc in a new case and call it an upgrade (more on all this below). Suffice to say, this is a film that will be considered an American classic in the years to come. If you haven't experienced this superbly lyrical movie, here's your chance to do so.
The DVD


The Video:

Offered in a 1.85:1 anamorphic widescreen transfer, A River Runs Through It is a visual feast, sumptuously photographed by Philippe Russelot. It's indeed frustrating then that Sony didn't cough up for a digital remastering of the image – from what I can tell from a cursory comparison, this looks very close to what was originally offered on the earlier release. There's noticeable shimmer in a few scenes and flecks of dirt appear occasionally. Those expecting leaps and bounds forward visually will have to keep waiting.
The Audio:

Staggeringly, the soundtrack hasn't been remastered – the same Dolby 2.0 stereo that was offered on the original disc has been ported over. It's a good, strong mix which reproduces dialogue and score clearly but for God's sake, those outdoor scenes, that wistful, elegiac soundtrack – it cries out for a 5.1 remix. Maybe on the "Ultimate Deluxe Edition."
The Extras:

Boy, are people hoping this is a definitive edition gonna be pissed when they pick this puppy up: while curiously billed as a "Deluxe Edition," this second DVD release of A River Runs Through It most certainly lacks in the bonus features department. On the disc itself under the special features heading there are exactly two selections: filmographies (for Redford, Sheffer, Pitt, Blethyn, Emily Lloyd and Skerritt, if you're curious) and previews (for Legends of the Fall, Classic Westerns and Seven Years In Tibet, in case you're wondering). That's it. The only other "bonus" is a 32-page "scrapbook" that features a lot of material regurgitated from the film's original press kit, as well as making the filmographies on the DVD redundant. The "scrapbook" also includes a couple articles from "Fly Fishing" magazine, a brief essay by Norman Maclean's daughter on the filmic adaptation, a remembrance by Dennis Ag, director of "Shadow Casting: The Making of A River Runs Through It" (why the hell this film isn't included here is a total mystery) and some, uh, vintage fly fishing print advertisements. On the whole, it's a pretty paltry assortment and certainly not worthy of the moniker "Deluxe Edition." Very, very disappointing.
Final Thoughts:

It's pretty galling when you think about it: Sony is hoping that slapping "Deluxe Edition" on what is essentially a re-release of a bare bones disc will entice fans of this beloved modern classic. Nuts to that – if you don't have it, it might warrant a purchase if it's on sale, otherwise stick to renting it; throwing money Sony's way only encourages this practice.
Sponsored Links
Sponsored Links