It's obvious from my previous reviews of DVDs like ECW: One Night Stand and Rob Van Dam: One of a Kind that I've got a soft spot for the late, great wrestling promotion known as Extreme Championship Wrestling. Built from the ground up---or at least from the ashes of Eastern Championship Wrestling---by Paul Heyman in the early 1990s, ECW's cult following has kept the memory alive since the company's financial collapse just a few short years ago.

After the ECW library was bought by Vince McMahon (owner of wrestling juggernaut WWE), the promotion enjoyed a partial comeback in the form of a pay-per-view event (One Night Stand, 2005) and a series of DVDs resurrecting ECW's back catalogue of exciting events and memorable moments. Previous releases like The Rise and Fall of ECW documented what exactly went wrong with the promotion, giving fans a rare glimpse behind the curtain of the little company that almost could. Blood Sport, the latest addition to the DVD fold, simply lets the matches speak for themselves. More often than not, they have a lot to say.

First of all, it should be noted that ECW was unique in two ways: the first brought fans a new appreciation for international wrestling that the former WWF (and WCW) just didn't have. Talented performers from Mexico and Japan were brought in to showcase their skill---and unlike in "the big two", they were usually treated with a great deal of respect. Popular performers like Rey Misterio Jr., Chris Jericho and others cut their teeth in the fledgling promotion, earning the appreciation of fans and the attention of the WWF and WCW. The other notable factor in ECW's style was the graphic violence, which may have been the reason it never reached a higher level of mainstream success. Barbed wire, tables, thumbtacks, broken glass---heck, fans were encouraged to bring their own "weapons" for the wrestlers to use. More creative fans brought vacuum cleaners, 8-bit Nintendo consoles and even model airplanes. You had to be there.

To cut right to the chase, Blood Sport highlights the second of these factors. To be honest, though, I've never been a huge fan of the more graphic matches: I'd much rather see a high-flying or technical match than a bare-knuckle brawl, but those that enjoy the more brutal side of the promotion should walk away happy. In what appears to be the first in a series on DVDs, this volume resurrects 19 matches from ECW's history, most of which take place between 1995 and 1997. Here's the complete lineup of what's on board:
Complete Match Listing
(19 total, presented on 2 single-sided discs)
Disc One (8 matches w/ optional intros by Paul Heyman)
1. Cactus Jack & Mikey Whipwreck vs. Public Enemy (ECW Hardcore TV, 8/27/97) [15:27]
2. Sandman & Terry Funk vs. Cactus Jack & Shane Douglas (Extreme Warfare Vol. 1, 3/18/95) [13:48]
3. Ian Rotten vs. Axl Rotten (Taipei Death Match, Hardcore Heaven, 7/1/95) [11:41]
4. Rey Misterio Jr. vs. Psicosis (Mexican Death Match, November 2 Remember, 11/18/95) [16:20]
5. Shane Douglas vs. Chris Jericho vs. 2 Cold Scorpio vs. Pitbull #2 (TV Title Match, Heatwave '96) [40:47]
6. Tommy Dreamer vs. Brian Lee (Weapons Match, Hardcore Heaven, 6/22/96) [10:51]
7. Rob Van Dam vs. Sabu (Stretcher Match, The Doctor Is In, 8/3/96) [24:46]
8. Terry Funk vs. Sandman vs. Stevie Richards (#1 Contender's Match, Barely Legal, 4/13/97) [28:40]

Disc Two (11 matches w/ optional intros, plus Bonus Features)
9. Sabu vs. Terry Funk (Barbed Wire Match, Born to Be Wired, 8/9/97) [25:03]
10. Beulah McGillicutty vs. Bill Alfonso (Inter-Gender Match, As Good As It Gets, 9/20/97) [6:17]
11. Tazz vs. Bam Bam Bigelow (Death Match, Heatwave, 8/2/98) [15:26]
12. Tazz vs. Shane Douglas (Championship Match, ECW Hardcore TV, 1/7/99) [13:17]
13. Dudley Boyz vs. Spike Dudley & Balls Mahoney (Chicago Street Fight, ECW Hardcore TV, 7/5/99) [13:24]
14. Mike Awesome vs. Spike Dudley (Championship Match, Guilty as Charged, 1/9/00) [7:44]
15. Rhino vs. Sandman (ECW on TNN, 2/25/00) [6:11]
16. Super Crazy vs. Tajiri vs. Little Guido (Three-Way Dance, ECW on TNN, 3/3/00) [8:52]
17. Tommy Dreamer vs. CW Anderson* ("I Quit" Match, Guilty as Charged 2001 [14:46]
18. Mike Awesome vs. Masato Tanaka (ECW One Night Stand, 6/12/05) [12:49]
19. The Gangstas vs. Public Enemy (House Party '96) [Bonus Match, 15:51]

* = Includes optional Audio Commentary (see below)
From top to bottom, most of these matches exercise truth in advertising. There's some pretty brutal stuff on here: streams of blood, barbed wire and plenty of broken tables may drive away the more squeamish wrestling fans, but anyone who remembers ECW from the early years shouldn't be shocked. Others don't really seem to fit the bill (#16, for example); they're certainly physical enough, but much tamer than what ECW usually brought to the table. Infamously violent ECW graduates, including Raven and New Jack, are largely ignored for unknown reasons. Here's hoping they get more face time in the future.
As a side note, it should be mentioned that a few of these matches have undergone minor audio changes. Several of the wrestlers' entrances themes---such as Misterio's, for example---have been changed due to rights issues; it's unfortunate, but understandable given the circumstances. Other changes are much more disappointing, including the removal of a few infamous chants by the audience (especially strange, since this release sports a "TV-MA" rating). Additionally, a number of these matches are already available on previous ECW discs, though several are either out of print or only available as Region 2 releases.
Regardless, there's plenty of classic ECW action here. While hardcore fans will recognize most of these matches as "the easy choices", future volumes will hopefully dig deeper into ECW's back catalogue (though I'm not really eager to see the infamous "Mass Transit" incident, in whole or in part). For now, this two-disc release boasts a decent technical presentation and a few vintage extras for good measure. Let's take a closer look, shall we?
Quality Control Department
Video & Audio Quality:
WWE usually does a decent job in the technical department, and Blood Sport is up to par in most areas. In short, these vintage matches (presented in their original 1.33:1 aspect ratio) look slightly better than most ECW fans will remember---they're not pretty and polished, but they weren't meant to be. The only problems not related to the source material---and these are quite common for WWE DVDs---are mild amounts of pixellation and compression artifacts, but these digital imperfections don't seem to be overly distracting.
The audio presentation also gets the job done, as the Dolby Digital Surround presentation offers a lively atmosphere filled with clear sound and music. It's unfortunate about the slight music and "atmosphere" changes (mentioned above), but what's presented here sounds roughly on par with past releases. Unfortunately, no Closed Captioning or subtitle options have been included.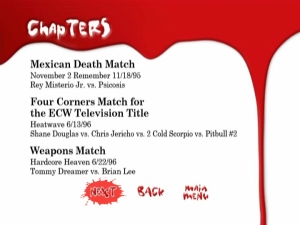 Menu Design, Presentation & Packaging:

Once again, the presentation is fairly standard for WWE productions, featuring basic animated menus and smooth navigation. Each match (and optional introduction) has been given its own chapter and no apparent layer change was detected during playback. This two-disc release is housed in a single-width keepcase with a chapter insert, while the stark, foil-enhanced cover artwork tells you all you need to know.

Bonus Features:

They're not particularly varied, but what's on board helps to round out the package nicely. Essentially, we're given a series of Interviews, including "Axl Rotten on the Taipei Death Match", "ECW & Blood", "Extreme Measures: The Flaming Table", "CW Anderson On His 'I Quit' Match w/Tommy Dreamer", "Danny Doring & Roadkill Get Into the Business", "The Pitbulls", "Justin Credible On Being Champion" and a "Public Enemy vs. Cactus Jack & Mikey Whipwreck History" video, each running a few minutes in length. There's also a Bonus Match (mentioned above), as well as an optional Audio Commentary for Match #17 with Tommy Dreamer and Jonathan Coachman. Given the nature of this release, there's an appropriate amount of extras on board here.

Final Thoughts

Purists certainly won't recognize Blood Sport as a perfect compilation, but it's a good starting point for anyone interested in seeing the most infamous wrestling promotion of the 1990s in action. Those who already own most of ECW's prior DVDs may want to rent this first, but Blood Sport still contains more than enough classic moments to make it worth the price of admission. The DVD offers a passable technical presentation (aside from the minor audio changes, of course), while the short but sweet mix of bonus features tie in with the main feature nicely. Overall, Blood Sport is a decent choice for ECW newcomers and veterans alike. Recommended.
---
Randy Miller III is an affable office monkey based in Harrisburg, PA. He also does freelance graphic design projects and works in a local gallery. When he's not doing that, he enjoys slacking off, general debauchery, and writing things in third person.
---