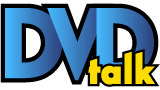 Fox // PG // June 13, 2006
List Price: $29.99 [Buy now and save at Amazon]
---
The Movie:
Aquamarine, a comedy aimed squarely at tween girls, revolves on a simple conceit. What 13-year-old girl wouldn't jump at the chance to have her very own mermaid -- especially if the mermaid in question was pretty, smart, popular, had terrific fashion sense and could summon friendly dolphins with a mere whistle?
You've got to give credit to the creators of this buoyant little comedy. A successful tween flick, after all, demands precision. The filmmakers, presumably older than 13, have the task of relating to an age group caught in an awkward purgatory between innocence and maturity. One misstep and an onscreen character can wind up spouting the creaky dialogue of a screenwriter who has no earthly recollection of what it is to be a kid.
Aquamarine, fortunately, gets things right more than most pictures of its ilk.
In a Florida coastal resort town, best friends Hailey (Joanna "JoJo" Levesque) and Claire (Emma Roberts) spend the waning days of summer putting off their tearful goodbyes when Hailey will move with her mom to Australia (where, incidentally, Aquamarine was shot). The girls spend their time taking quizzes in teen magazines and swooning over Raymond (Jake McDorman), the hunky lifeguard at the Capri Beach Club.
Then a nighttime storm shakes up the area. The girls survey damage at the Capri's pool, only to discover it has a new inhabitant: a pretty blonde mermaid named Aquamarine (Sara Paxton). The mermaid, it turns out, has only three days to prove to her father that love exists or else she'll be forced into an arranged marriage. Aquamarine decides she must get Raymond to fall in love with her, and so she enlists the help of Hailey and Claire. Since whoever helps a mermaid gets a wish granted (What? You didn't know that?), the girls are willing to forego their crush on Raymond and instruct Aquamarine on the fine art of snagging boys. Their wish, naturally, is that Hailey not have to move.
This is all cornball stuff, sure, but Aquamarine was not made for anyone who can still remember a world with no Internet or Justin Timberlake. The movie is harmless and sweet-natured and without a spiteful thought in its vapid little head. JoJo (who resembles a pre-grown Lindsay Lohan) and Roberts (niece of Julia) are engagingly giggly as the bestest friends forever, and it's tough not to be charmed by Paxton's teen mermaid. While the direction of Elizabeth Allen occasionally feels like a Nickelodeon show stretched thin, she does conjure up images sure to stoke the imagination of tween viewers, such as when Hailey and Claire ride dolphins or when Aquamarine watches fireworks illuminate the night sky.
Most impressive is that Aquamarine has some genuine laughs. In schooling their new mermaid pal on affairs of the heart, Hailey and Claire dutifully teach that Step One is to phone the boy and just hang up. Step Two involves riding by his home and pretending you forgot where he lived.
Why? Aquamarine asks. The girls don't have an answer, but explain that's just the way it's always been done.
The DVD
The Video:
Presented in 1.85:1 anamorphic widescreen, Aquamarine has a soft, slightly bleached look that appears to be intentional; no amount of the movie's general good cheer can mask Brian J. Breheny's subpar cinematography. The DVD also offers a full-frame version of the movie.
The Audio:
The Dolby 5.1 Surround track is not terribly imaginative with its possibilities, but the sound is clean and serviceable. Audio tracks and subtitles are also available in Spanish and French.
Extras:
The commentary track by director Elizabeth Allen and producer Susan Cartsonis is a nice surprise for film junkies. The pair has an easygoing rapport, but more important, what they have to say is informative. Shot on a shoestring budget in Australia, Aquamarine demanded economical creativity, which Allen and Cartsonis modestly discuss in detail.
For a another decidedly different kind of commentary, the film's young stars -- JoJo, Emma Roberts and Sara Paxton – yack it up for eight scenes. The three are silly, giggly and obviously having a lot of fun. And, speaking as a 40-year-old male reviewer, I can safely say I am not the target audience.
There are six "totally" deleted scenes that are mildly amusing and of passing interest: "Feet Are Fun," "The Men's Room," "Fish out of Water," "Claire's Photo Album," "They Found Her!" and "Fishy Cecilia."
Six short feaurettes cover aspects of the film. The five-minute, 20-second Awesome Auditions is worth a look, as it includes audition footage for Paxton, JoJo, Roberts, McDorman and Arielle Kebbel, who plays the obligatory bitchy girl. Building the Capri Club is a three-minute, 30-second snippet regarding the movie's production design on location in Australia (note to self: Door knobs down under are known as "door furniture"), the three-minute, 20-second Mermaid Makeover deals with the movie magic behind Aquamarine's impressive tail (get your mind out of the gutter, for God's sake), and It's All About the Fashion is a four-minute exploration of costumes and hair styles.
The final two featurettes are essentially gag reels. Aqua Squeal is just what it says, a minute-long montage of Sara Paxton's onscreen squeals. Kickin' It on Set, which clocks in at just over five minutes, offers more outtakes than you could possibly want.
Final Thoughts:
OK, so Aquamarine is as shallow as the kiddie pool, but its heart is in the right place, it flogs the inevitable life lessons with a smile and the DVD boasts a nice selection of bonus features.
---
C O N T E N T

---
V I D E O

---
A U D I O

---
E X T R A S

---
R E P L A Y

---
A D V I C E
Recommended
---
E - M A I L
this review to a friend
Sponsored Links
Sponsored Links