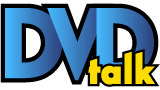 List Price: $19.98 [Buy now and save at Amazon]
---
In 10 Words or Less

Strange goings-on among the dead and beautiful


Reviewer's Bias*

Loves: The Loved One novel, satire

Likes: Insane films

Dislikes:

Hates:



The Movie

When I was in college, I took an English class titled "Gothic and Grotesque," which focused on dark and disturbing literature. Among the books we read in that class was Evelyn Waugh's The Loved One, a rather short novel about Hollywood and the funeral business. I was immediately hooked on the insanity of the plot, the unique characters, and the satirical way the story portrayed the death industry. As part of the class, we watched a scene from the film, but I never saw the entire film, as the VHS tape was out of print and I didn't have a laserdisc player. Now that's all changed, as Warner Brothers has finally released it on DVD.


The story follows Dennis Barlow (Robert Morse), an Englishman who's come to America to seek his fortune. An aspiring poet, he doesn't have any skills, but he does have a relative in Sir Francis Hinsley (Sir John Gielgud), who works for a Hollywood movie studio. Sir Francis introduces him to the British community in Hollywood, and finds he doesn't quite fit in, as despite having just arrived from England, he's not English enough for theexpatriates.


Sir Francis' untimely end brings Dennis in contact with the staff of Whispering Glades, the Disneyland of cemeteries. Led by The Blessed Reverend (Jonathan Winters) and head embalmer Mr. Joyboy (Rod Steiger), the cemetery helps "the waiting ones" inter their "loved ones." There's one staffer that catches Dennis's eye, and that's Aimee Thanatogenous (Anjanette Comer), a naive young cosmetologist who beautifies the dead and lives her life according to the advice of a newspaper columnist. Dennis woos her with poetry he didn't write, but her affection is for Joyboy, who crafts the smiles of the dead.


The underlying plot, a love triangle involving hidden identities, is rather pedestrian, but the rest of the film is anything but. Joyboy is one of the most disturbing characters seen on celluloid, and is deserving of a film all to himself, while a plan to launch corpses into space tomaximize profits drives the film to its conclusion. The subplots are nearly episodic, involving strippers, hookers in caskets and the burial of animals, and they serve to poke further fun at American values, misplaced or otherwise. The ending of the film wraps all of this up logistically, but whether it is satisfying is another story all together. Honestly, it would be hard for any ending to live up to the expectations built by watching an insane woman rip apart a whole pig in her bed.


Director Tony Richardson (Oscar winner for Tom Jones) did a good job of bringing the story together with a definite '60s sensibility, and writers Terry Southern (Dr. Strangelove) and Christopher Isherwood gave him plenty to work with. The influence of Dr. Strangelove), which came out the year before, is very obvious, and this film exists as a spiritual offspring. It doesn't hit the same type of heights as Strangelove, but the feel is there enough to be of interest to that film's audience.


The cast, which also includes James Coburn, Milton Burle and Roddy McDowall, is quite good, and Steiger is fascinatingly mad as Joyboy, but it's Gielgud gives perhaps the best performance of the film, establishing a sense of sad reality, before the film ascends into madness. Jonathan Winters is enjoyable in a dual role, along with Comer, who's acting is something of a mix of Madeline Kahn and Julie Hagerty. She's fantastic as the story's true victim, portraying a character lost in a world she doesn't really deserve to suffer through.


The DVD

Delivered as a one-disc release in a standard keepcase, "The Loved One" features a bit of an off-putting menu design, which uses colorized images from the film. Once a person is looking at the disc menus, is it really necessary to colorize any part of a black-and-white film? The static anamorphic-widescreen main menu offers options to watch the film, select scenes, check out the extras and adjust languages. Language options include English and French 1.0 tracks, and English, Spanish and French subtitles, as well as closed captioning. The scene selection menus have titles and still previews for each chapter.


The Quality

The anamorphic widescreen black-and-white transfer looks very nice, with solid black levels, and an overall crisp image with good detail. Some occasional jitters, slight excessive grain and some very minor damage are the only negative factors in this presentation. Other than that, this is the best this movie has looked in a long time.


The audio is a mono mix that's delivered in a Dolby Digital 1.0 track. The center channel presents very clean dialogue, with a well-mixed score and good sound effects. Sound is played with a bit in the film, to create certain effects, and the audio makes it work correctly.


The Extras

Considering that the majority of America hasn't an iota of knowledge of this film, I fully expected this to be a barebones catalog release, but Warner Brothers has delivered a pair of extras to go along with the movie. A 15-minute featurette, "Trying to Offend Everyone," brings together some of the cast and crew, including Comer and Morse, and provides a loving look back at the film's production and the people involved, many of whom have become "loved ones." After watching bigger, more popular films get lesser treatments, it's nice to see a film like this get at least a modicum of DVD respect.


The other extra is the film's theatrical trailer, which is your standard wacky '60s trailer, the kind that are always fun to look back on. It's in pretty decent shape, and is a good artifact to have included.


The Bottom Line

This is a film loaded with ironic comedy and dark artificiality, which should appeal to fans of films like Dr. Strangelove and The Ruling Class or perhaps the work of Alexander Payne or Todd Solondz, or even "Six Feet Under." I wouldn't consider it to be laugh-out-loud funny, but it is certainly enjoyable, though likely much more so when it was first released. If you can just let go and soak in the oddness, it's the kind of movie you can get lost in. Just to finally have this film available is great, but the DVD presentation is very nice, and the small extras are a welcome addition. Fans of Waugh's book, and fans of the bizarre will enjoy this twisted little flick, one that deserves a much bigger audience than it's had to this point.
---
Francis Rizzo III is a native Long Islander, where he works in academia. In his spare time, he enjoys watching hockey, writing and spending time with his wife, daughter and puppy.Follow him on Twitter
---
*The Reviewer's Bias section is an attempt to help readers use the review to its best effect. By knowing where the reviewer's biases lie on the film's subject matter, one can read the review with the right mindset.
---
C O N T E N T

---
V I D E O

---
A U D I O

---
E X T R A S

---
R E P L A Y

---
A D V I C E
Recommended
---
E - M A I L
this review to a friend
Sponsored Links
Sponsored Links