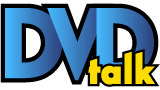 List Price: $19.98 [Buy now and save at Amazon]
---
I'm quickly acquiring a reputation as a maverick DVD reviewer, fully willing to tackle whatever critically-panned titles happen to come my way. Actually, I don't have the faintest idea if I have any reputation at all as a DVD critic, but let me have my fantasies. I have managed to review the most unilaterally-loathed releases of 2001, including such fine films as Valentine, Saving Silverman, Sugar and Spice, and (shudder) Monkeybone, with Double Take coming next week. Despite seemingly everyone else on the planet hating those movies with the burning fire of a thousand suns, I enjoyed Saving Silverman and Valentine to some extent, and I liked Sugar and Spice far more than I should probably admit. I smugly assumed lightning would strike a fourth time with 3,000 Miles To Graceland. An Elvis-themed casino heist flick screams guilty pleasure, right? Oh, if only that were the case. 3,000 Miles To Graceland was a critical and commercial disaster, as the $62 million film opened to extraordinarily poor reviews and a mediocre $7 million box office that weekend. Apparently no one -- with the possible exception of Kevin Costner, whose meddling with the film made quite a few headlines in the entertainment press -- was pleased with the final result. This train wreck is now available on DVD, giving the public at large a new medium to ignore this terrible, terrible movie once more. Could it be a coincidence that Costner's two most recent films were both high-profile financial failures and that each had the number '3' somewhere in the title? I blame the Trilateral Commission.



At one point in 3,000 Miles To Graceland, Michael Zane (Kurt Russell) is asked why a casino was such an appealing target for a robbery. He responds that pilfering from a bank would be too obvious, and that a bold, original move like robbing a casino would catch security off-guard, making the heist all the easier to pull off. I guess Mikey hadn't seen Ocean's Eleven or Reindeer Games. With a remake of the former slated to hit theaters this December, "originality" isn't quite the term I'd use. Anyway, Zane is fresh out of a five year stint in prison, quickly shacking up with Cybil Waingrow (Courteney Cox), a self-proclaimed sophisticated single mother with a kleptomaniac for a son. Cybil seems desperate to provide some sort of father figure for her thieving tyke, but Zane's attention is focused more on a multi-million dollar heist he and Thomas Murphy (Kevin Costner) have in the wings. Zane, Murphy, and their gang of redshirts plan to trot heavily-armed into a casino in the midst of an Elvis convention, making off with armfuls of cash. Things predictably don't go to plan, and Murphy (whose eeeevil is about as restrained as your average Bond villain), Zane, and Waingrow make their separate wacky road trips across this great nation of ours, trying to swipe a duffel bag full of $3.2 million from one another. The plot follows along with all the cliches you've come to know and love over the years. Golly, will those two crazy mismatched lovebirds wind up living happily ever after? Will the insidious villain get his comeuppance? If you have a tough time answering either of those questions, you haven't been tainted by the curse of bad action movies and should thank your lucky stars for that.



My expectations for 3,000 Miles To Graceland weren't very high. The theatrical trailer had me psyched up for ninety minutes of fun, brainless action, but instead, I was treated to two of the most excruciatingly painful hours of my young life. I've never been too keen on blow-'em-up action flicks, and on the rare occasions when I snag one, it always seems to be along the lines of Get Carter or The Big Hit. 3,000 Miles To Graceland is the worst yet, lacking a single redeeming quality. The heist, which would normally be the climax of a movie like this, is carried out in the first half hour, leaving the equivalent of another movie's entire run-time to go. Little of note happens between the robbery and the inevitable 'two man enter, one man leave' battle between the Heroic, Good Criminal and the All-Too-Evil Criminal. Some plot elements make absolutely no sense. At one point, Cybil ditches Mikey and her son at a diner, tearing off in her grandmother's car with the cash in the back and the password to the money launderer. Zane and his newfound sidekick catch up with her of course, and he asks exactly what was going through my mind -- what kind of mother leaves her only child with a complete stranger? Her tearful reply? "I didn't leave him with a stranger...I left him with you!" What, like she was going to come back for another loving embrace after trotting off with three million dollars, kicking him out of a moving car, taking all of his pocket money, and depriving him of the only means of transportation he had? Zane, of course, buys it. Meanwhile, I'm tearing apart the cushions on my couch and throwing fistfuls at the screen in disbelief. The title sequence should've been enough of a tip-off that I was in for some intense misery. Two glossy, metallic CG-scorpions duke it out in a battle to the death. No idea why. The heist itself really doesn't seem worth the trouble, since after deducting the shares of the cleaner and their get-away ride, that would leave each of the five robbers with a little over $400K. Sure, that's nothing to sneeze at, but violently murdering dozens of people and stealing millions of dollars tends to attract attention, and a few hundred grand isn't going to set you for life. I would comment on the supporting cast, but I think the mere mention of the names Thomas Hayden Church, Kevin Pollack, Howie Long, and David Arquette alone should be enough. I'd really like to say something positive about 3,000 Miles To Graceland, but I'm drawing a blank.



I already voiced this complaint the other day, but I'll harp on it again. I'm appalled that Warner would be so grossly hypocritical as to gut nearly every frame containing the slightest trace of blood from an already R-rated film like Valentine, but they have no qualms about releasing something like 3,000 Miles To Graceland, easily among the most violent movies I've ever seen. I'm not the sort of person bothered by fantasy violence, but I don't understand why mowing down armies of security guards with a machine gun is acceptable, whereas a relatively gore-free slasher flick where you can keep track of the body count on two hands is intolerable.



Video: Another stellar effort from the folks at Warner Home Video, 3,000 Miles To Graceland is presented at 2.35:1 and, yes, Virginia, is enhanced for widescreen televisions. As is to be expected from such a recent big-budget theatrical release, there are no print flaws or assorted specks to be found. (I guess you could say any flaws are 3,000 miles from this disc, but that would make you a sad, sad individual.) The image is razor sharp and exceptionally detailed, and the vibrant colors practically burst off the screen. I didn't notice any grain or nasty compression artifacts, and if any edge enhancement is present, I can't spot it on my admittedly-not-particularly-large 36" VVega. Shadow detail is rock solid, and black levels are far deeper than the film itself could ever aspire to be. If the anamorphic transfer on this DVD release of 3,000 Miles To Graceland isn't reference quality, it comes awfully darn close.



Audio: I was expecting a little more from the Dolby Digital 5.1 audio, considering that the film was helmed by a music video director. Dialogue in a few scenes sounds terribly harsh, particularly during the first trek through the desert with the full gang. This comes in sharp contrast to the powerful score and thundering bass of the Trendy Hard Rock Score™. The handful of lengthy shootouts feature some aggressive surround effects, though rears are otherwise largely limited to music. For our French-Canadian pals, a Dolby Digital 5.1 track en francais is included as well. 3.000 Milles au Graceland est plus mauvais que l'excrément d'un chien sourd!



Supplements: Just an anamorphic widescreen trailer and filmographies. 3,000 Miles To Graceland has fewer supplements than most other underperforming Warner titles at the same price point, such as The In-Crowd, Get Carter, and Red Planet, among far too many others. A commentary track might've shed a little light on co-writer/director Demian Lichtenstein's intentions, and I'm particularly curious to hear his thoughts on the terribly out-of-place CGI scorpion battle that kicks off the movie. Then again, a commentary would've meant that I'd have to sit through 3,000 Miles To Graceland twice, something I'm not exactly chomping at the bit to do.



Conclusion: Even at a "ship 'em up, move 'em out" list price under that magic twenty dollar range, 3,000 Miles To Graceland isn't worth the trip. If you feel compelled to see this movie, rent it.
Sponsored Links
Sponsored Links