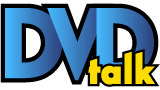 National Lampoon's Dorm Daze 2
List Price: $26.98 [Buy now and save at Amazon]
---
In 10 Words or Less

More crap from the (in)famous brand


Reviewer's Bias*

Loves: Screwball comedy, '80s sex comedies

Likes: The Marla/Lynne dynamic

Dislikes: Chris Owen

Hates: Most National Lampoon movies



The Story So Far...

National Lampoon cranks out bad movies for the direct-to-video market on a regular basis, with nothing going for them but some stunt casting and nudity. Their college tale Dorm Daze has been reviewed in many outlets as much of the same, but it apparently moved enough copies to necessitate the creation of a follow-up. DVDTalk has reviews of the original film by Aaron Beierle and Adam Tyner.


The Movie

I have to make a confession. This may affect the way you view my reviews, and it may lead to my colleagues here shunning me like a leper. But I have to admit something: I've never seen Dorm Daze. There...it's out there now, and I'll just have to deal with the consequences.


Despite my lack of experience with this franchise, somehow I don't feel like I've missed anything going into National Lampoon presents Dorm Daze 2: College @ Sea - Uncensored & Unanchored (certainly a contender for longest title of the year.) The only thing I seem to bemissing is the reason for the existence of a sequel.


Several characters from the first film, students at Billingsley University, are spending a semester aboard a cruise ship, where they are finalists in a theater competition. That about all the plot you get, though if you poke around, there's arivalry over an upcoming grant, a professor/student affair, and, as is always the case, a young man dying to lose his virginity.


Things really get rolling when the theater competition (which allows for the requisite gratuitous nudity) ties into the hunt for a stolen diamond and a mischevious monkey trying to avoid being smoked by two stoners. Toss in an over-the-top gay costumer and a horny older woman (played with remarkable ease by porn starlet Jasmine St. Claire), and just about every cliche from a teen movie is represented here, including American Pie alumnus Chris Owen, who has become a teen-movie cliche all by himself.


Once everyone is introduced, the characters are free to do what they want, as long as sex is mentioned or seen every five minutes. Eventually they get back to the central story, and they may even wrap that up in the next sequel, but all I cared about were the characters of Marla and Lynne, played by Danielle Fishel (Boy Meets World's Topenga) and Jennifer Lewis. Bubbleheads in the mold of Romy and Michelle, they are adorably dopey, and provide a pleasant visual distraction when the movie gets to be too much.


The movie actually approaches something of a manic comic pace at two points, but just can't overcome its limitations. One scene, in which our virgin hero falls overboard nude, in the middle of a couple's coupling, drawing everyone into the scene, nearly made me chuckle, but it fell just short.


I can't explain the problem with this movie, since I love similar films like Hamburger the Motion Picture and Stewardess School. Perhaps it's the directors' fault. I'm willing to lay the blame on them, since they were able to somehow make the usually beautiful Vida Guerra into the least attractive girl of the starring cast. Anyone able to spin gold into straw like that, or calls on cameos by Ted Lange and Kato Kaelin for laughs, can easily be considered the problem.


The DVD

The DVD arrives as a one-disc'er, packed in an insert-less standard keepcase. The disc has an animated anamorphic widescreen main menu, with animated transitions, that offers a choice to play the film, select scenes, adjust languages and check out the special features. Audio options include English Dolby Digital 5.1 and 2.0 tracks, while subtitles are available in English and Spanish.


The Quality

There's nothing obviously bad about the film's anamorphic widescreen transfer, but there's nothing all that great about it either. Color is solid, and the level of detail is good, though there's a bit of softness and grain to the image that keeps it from being an optimal presentation. There no dirt or damage though, so everything remains very clean.


The audio is standard comedy-level quality, focusing mainly on reproducing the dialogue crisply and keeping the music and voices from getting muddy. The ridiculous comedic sound effects peppered thoughout the movie and the music get some play in the surround speakers, but it's mostly a center-channel affair without much dynamic sound.


The Extras

The extras start with a feature-length audio commentary by directors Dave and Scott Hillenbrand, executive producer and editor. It's a friendly "remember when" track, with lots of shooting info and a lot of praise for the cast. What's seemingly missing is a sense of humor about the kind of movie these guys made. Instead, they are very complementary, and talk about things like cast chemistry and telling stories. When you make a movie for a single purpose and will likely get slammed for it, have a bit of humility.


A selection of 19 deleted scenes, with optional commentary, is mainly extensions of scenes in the film (including a ridiculous alternate ending), while the blooper reel is amusing, but nothing great. The disc wraps with a featurette on Guerra that's just an excuse to show her in revealing outfits (from a promo photo shoot.) Trailers from other Lionsgate projects put a cap on things.


The Bottom Line

I can't truthfully say I enjoyed this movie, but I didn't hate it either. It's just sort of there. Perhaps I'm not the target audience and this went over (or more likely under) my head. Either way, I can't recommend it, though the extras are decent and the level of quality is good. Use your discretion, and any experience you've had with previous National Lampoon films when considering a rental.
---
Francis Rizzo III is a native Long Islander, where he works in academia. In his spare time, he enjoys watching hockey, writing and spending time with his wife, daughter and puppy.Follow him on Twitter
---
*The Reviewer's Bias section is an attempt to help readers use the review to its best effect. By knowing where the reviewer's biases lie on the film's subject matter, one can read the review with the right mindset.
Sponsored Links
Sponsored Links