Boris Karloff Collection (Tower of London, The Black Castle, The Strange Door, The Climax, Night Key), The
List Price: $29.98 [Buy now and save at Amazon]
---
You can't blame Universal for trying to string along their Franchise Collection with a high-profile subject like Boris Karloff. He sits at or near the top of the horror film genre as a true icon, whose very image promises chills and thrills. The notes on the slipcase for this collection include, "The Master of Horror in his Most Frightening Roles!" and "5 Chilling Horror Classics!" And perhaps most damningly, "Now see this unrivaled movie legend in five of his most spellbinding and memorable roles in this collector's set that cements Boris Karloff's status as a true giant of American cinema. There's only one statement out of all that, that's true: Karloff is a true giant of the American cinema. The rest is simply false.
I wish I could recommend The Boris Karloff Collection more highly, but it fails to make good on its hyperbolic promises. Of the five "horror classics" included here, only two can truly fit comfortably in the horror genre, and they're hardly classics. The rest may have varying degrees of horror elements in their stories -- if you stretch the definition -- with one, Night Key having absolutely nothing to do with the horror genre. Simply put: The Boris Karloff Collection fails to deliver the goods. Period.
While the classification of most of these films, as well as their quality, may be suspect in the context of their inclusion here, they do constitute interesting signposts not only in the career of Boris Karloff, but also in the horror film genre. Most horror fans are familiar with Boris Karloff's career. Born in 1887 as William Henry Pratt, Karloff grew up in a comfortable, middle class English family. As he grew into adulthood, he rejected a potential career in Britain's diplomatic service for a life in the theatre, and eventually made his way to the wilds of Canada, where he joined up with several traveling theatre troupes. He suffered many hardships with this rough life, including near starvation at certain points. Persevering with his acting career, supplemented by odd jobs to keep from starving, he eventually made his way to Chicago and Los Angeles, where he maintained an uncertain career, jumping between stage and movie extra work. By the mid-1920's, he was getting steady, yet minor work as heavies and villains in small films. His big break came in 1930, when by chance, he landed a crucial part in the Los Angeles production of the Broadway hit, The Criminal Code. It got him noticed around town, and when Columbia bought the movie rights, he was asked to repeat his role for the screen. After its success, the films he appeared in became more important, and by 1931, he had landed the role of the Monster in James Whale's Frankenstein. Even though the studio didn't know it at the time (Karloff wasn't invited to the premiere, and he wasn't under contract), Karloff would become a sensation with audiences, and his place in films was finally secured.
Karloff continued to shine in horror offerings during the early to mid-1930's, but by 1937, the bloom was off the horror genre. Big budgets were scaled back, proposed projects canceled, and the box office for this genre declined. Karloff moved over into supporting character parts in dramatic films, and starring roles in B-programmers like the Mr. Wong series and Night Key.
---
NIGHT KEY
1937's Night Key is a perfectly acceptable crime meller; a tidy little programmer that has absolutely nothing to do with the horror genre. Looking more like a fast-paced Warner Bros. B-picture, it keeps its familiar plot moving quickly so you don't notice the plot contrivances.
Dave Mallory (Boris Karloff) has invented an "invisible beam alarm system" and plans on selling it to Steve Ranger, of Ranger Protection Services, despite the fact that years earlier, Ranger had stolen Mallory's wire alarm system -- which is still in use -- as retaliation for Mallory marrying a woman Ranger loved. Mallory also plans on bringing his "Night Key" along to the meeting with Ranger. The "Night Key" is a shortwave electronic device that can circumvent his old system.
But what Mallory doesn't know is that his lawyer, Kruger, is in cahoots with Ranger, to buy up his new invention, and mothball it, so no other competitor can have it. Meanwhile, RPS Security Guard Jim Travers pinches Petty Louie, a small-time chiseler, at a haberdashery. Petty Louie turns out to be the 10, 000 criminal that RPS has captured and turned over to the cops, and Ranger wants him held at the offices of Ranger Protection Services until the cops and press can be there for a nice P.R. moment.
When Mallory finds out from a ruthless Ranger that he's been swindled, he realizes that all the dreams he had for his hard working daughter Joan, are gone. He warns Ranger that, "What I create, I can destroy." Ranger boosts Petty Louie out of his holding cell, and takes it on the lam, embarrassing Ranger in front of reporters when the alarm goes off in Louie's cell. Mallory sets out to ruin Ranger by undermining the public's confidence in his company. He achieves this with the help of Petty Louie, who aids him in breaking into stores, and disrupting the merchandise, leaving his "Night Key" message as a calling card. However, Mallory's success gives "The Kid," a ruthless gangster, the idea that he'd like to get in on some of that gravy, so he.... Well, I'll leave the rest for you to see.
From an efficient, tidy script by Jack Moffitt and Tristram Tupper, and clean, no-nonsense direction by Lloyd Corrigan, Night Key is over and done before you know it, and just as easily forgotten. It has all the standard cliches of this kind of genre picture: the scientist's beautiful daughter, wisecrackin' reporters and cops, the hero who works for the villain, and who switches allegiance, the ruthless, intelligent gangster who respects his victims -- before he kills them. And with the cliches, come the familiar pleasures, as well. There's plenty of smart lines -- there's even some ironic touches, with Mallory inventing an electronic eye beam system, while racing against the clock before he goes blind. There's also some amusing 1930's slang ("Door shakers," "coffee and sinkers"), with some nice performances to smooth it all over. However, as a showcase for Karloff, it's a curious choice for this collection. He is in no way taxed as an actor here, and indeed, his role could just as easily have been played by Lionel Barrymore or Lewis Stone over at MGM. As evidenced by the trailer included here, Universal at the time evidently felt that Night Key wouldn't succeed if it wasn't sold like a horror film. The first title card reads: "Is Another Frankenstein Abroad?" Night Key's inclusion in this collection can only be seen as filler -- and an off-genre filler, at that.
Karloff's was riding high again in 1939, when Universal green-lighted a reunion with actor Basil Rathbone in Tower of London. The year before, they had both starred in Son of Frankenstein, a hit that was responsible, along with successful reissues of Dracula and Frankenstein, for revitalizing the horror genre at the box office.
---
TOWER OF LONDON
Tower of London covers the same historical territory that Shakespeare's Richard III did. It's 1471, and Edward IV (Ian Hunter) has deposed feeble-minded Henry VI (Miles Mander), securing him in the infamous Tower of London. Henry, wearing a paper crown, believes that his son, the Prince of Wales, will return from exile in France, to secure the throne for him. While he dithers away in his room, King Edward and his brother, Richard, the Duke of Gloucester (Basil Rathbone), engage in heated martial combat exercises, while their weakling brother Clarence (Vincent Price), looks on. While they battle, Mord (Boris Karloff), Richard's executioner and faithful servant, sharpens his ax for the beheading of Lord Devere, a political opponent of King Edward. At the execution, Edward and Richard recognize Devere's cousin, John Wyatt (John Sutton), standing by Devere in his final moments. They mark his "treason." What becomes apparent later is Wyatt's love for Lady Alice Barton (Nan Grey), lady-in-waiting to Queen Elizabeth (Barbara O'Neil).
Richard, twisted emotionally like his clubfoot and hunchback because he loves Anne Neville, who is married to his deadly enemy, the Prince of Wales, schemes to kill off anyone who stands in his way of ascending to the throne. He has a hidden little play theatre, where dolls in the likenesses of his enemies stand mute, waiting to be thrown onto the fire, one by one, as he dispatches their real-life counterparts. He is aided in his treachery by sadistic, homicidal Mord, who is also deformed with a clubfoot. Richard manipulates King Henry to join Edward and he in battle against Henry's own son, in hopes that he will be killed (making Edward's reign more legitimate, while getting Richard that much closer to the real throne). When Mord begs Richard to go into battle with him (I've never killed in hot blood. It will be different, more, more exciting), Richard commands him to stay at the tower. Mord commits a horrendous murder when he stomps a messenger boy to death, who carries a note to Wyatt from Alice. When Richard kills the Prince of Wales, Henry, ironically becomes a hero to the people. Richard takes care of this by having Mord stab him to death. Ultimately, after many intrigues, Richard must decide what to do with his main rivals for the throne, his young nephews Edward and Richard, while dealing with rival Henry Tudor's army, supplied with Richard's own treasure, by the efforts of the Queen, Alice and Wyatt. Obviously, if you know your English history (remember all of that in college?), you know the outcome, but I won't go any further if your memory is cloudy (I certainly couldn't recall all the various intrigues and intricacies of the story).
Tower of London has been described by many critics as a horror film, but I find it difficult to label it as such. Certainly, there are strong horror elements in the story, most significantly in the role of Mord, marvelously played by Karloff. He makes a sensational impression as the bald-pated clubfoot, massive shoulders handling his executioner's ax, while dispatching Richard's enemies with obvious glee (it's strange, but when he's wearing this one outfit, he reminds you of The Thing from Another World). It's a tremendously physical role for Karloff, and he's more than up to it. The torture sequence in the middle of the film certainly qualifies as horror material, but on the whole, the film could best be described as a historical drama. Karloff doesn't have a substantial role; far more attention is paid to the court intrigues than to his character, so don't expect to see him that often. As the credits show, he's second billed, in much smaller type, listed below the title with all the other supporting actors. This is Rathbone's show all the way. It's also notable that this is Karloff's and Price's first film together. But again, don't expect the later Price hamminess in a horror situation; he plays it straight and he's excellent. Writer and director Rowland V. Lee directs the actors well, but the film's pace starts to lag before the third act. Karloff fans will want to see him skulking around the castle corridors, but they'll be disappointed that it only happens a few times during the film.
In 1940, Karloff left the screen for three years (save for one film, The Boogie Man Will Get You) to star in the Broadway smash, Arsenic and Old Lace Its phenomenal success, first on Broadway and then in countless cities that Karloff and company toured, enabled Karloff to come back to Hollywood in 1944, and command a two picture deal from Universal, at three times his usual salary. His first film back would be The Climax.
---
THE CLIMAX
In old Vienna, Count Seebruck (Thomas Gomez) is the impresario for the Royal Theatre. His biggest headache is his soprano diva, Jarmila (Jane Farrar). That's why he's more than willing to listen his aide Carl's nephew, Franz (Turhan Bey), and Franz's fiance, soprano Angela (Susanna Foster). Her voice sounds remarkably like the Royal Theatre long-lost star, Marcellina (June Vincent), who mysteriously disappeared ten years before.
Her disappearance is no mystery to Dr. Friedrich Hohner (Boris Karloff), the theatre's physician. Spurned by former lover Marcellina, Dr. Hohner remembers back (in a flashback) to the night she finally rejected him, as well as her strangulation death -- by his own hands. When Dr. Hohner hears Angela sing, he at first thinks it's Marcellina, come back to haunt him again. However, when he sees Angela, he immediately schemes to silence her singing voice. Will Angela sing for the King's (Scotty Beckett) command performance of The Magic Voice? Well....
Conceived by producer and director George Waggner as a direct follow-up to his hit remake of The Phantom of the Opera the year before, The Climax would utilize the expensive, still-standing sets that appeared in Phantom. It was also an appropriate big-screen return for Karloff, who would be shot in color, for the first time. Unfortunately, Waggner wouldn't stop at just utilizing the sets from Phantom, he also lifted the previous story almost intact, for this gothic mystery. Critics at the time noticed the similarities, and they weren't pleased with the comparison. Horror fans at the time, who had been waiting for something good from Karloff for over four years, were initially excited at seeing Karloff's rolling gait, creeping down the wet, dark streets of Vienna, but were soon bored with the constant singing that went on. Viewed now, it's a minor Karloff vehicle that had the right idea, but which didn't stick to it. The story should have been about Dr. Hohner. We should have seen the entire backstory of Hohner and Marcellina, instead of it being dispatched with a single, brief flashback. Apparently, the female moviegoers were first and foremost in studio's mind, so we're treated to many, many scenes of Turhan Bey (who, despite his rather ripe, camp reputation, is fine here) and Phantom star Foster, working out their relationship while we forget that Karloff is in the picture. Karloff is great in his scenes where he barely restrains himself from pawing and mauling beautiful Foster (there's a true depth to those hypnotic eyes of his), but those scenes are few and far between. The first sight of Gale Sondergaard may seem like a life preserver cast out to the audience, but alas, she fades into the background with absolutely nothing to do. The horror elements of the film (the ultimate resting place of Marcellina) are so briefly visited, that one can only wish that someone in the studio had said, "Please, linger just a little longer, give us just a little more discreet perversion -- something, anything other than this opera junk!" (The opera scenes, by the way, look more like Busby Berkeley than Mozart, so they're still kind of fun and kitschy). The Climax is a miss on the horror scale, and definitely not a classic.
After a fertile period in the 1940's, where Karloff played both horror (notably for Val Lewton) and dramatic (1947's Unconquered) parts to acclaim, Karloff winded down the decade on an uncertain note: co-starring with Abbott & Costello in Abbott and Costello Meet The Killer, Boris Karloff. The horror genre, popular during the war, was winding down as well at the end of the 1940's. Karloff went back to the theatre, and after two Broadway flops, he scored a big hit as Captain Hook in Peter Pan. The huge Broadway success of this revival, as well as the increased visibility of his older films being released to television, generated good buzz for Karloff, and Universal came calling again, hoping to revive the old-time scares that were Karloff's stock-and-trade.
---
THE STRANGE DOOR
Finally, The Boris Karloff Collection's first true horror film. Certainly the best of the selections here, The Strange Door delivers the horror goods with a rollicking, scary star performance -- unfortunately, it comes from headliner Charles Laughton, not Karloff. Based on the Robert Louis Stevenson's story The Sire de Maletroit's Door, the story concerns Alain de Maletroit's (Charles Laughton) efforts to marry off his niece, Blanche de Maletroit (Sally Forrest), to the lowest, most base blackguard he can find. After luring Denis de Beaulieu (Richard Stapley) to his castle by tricking Denis into believing he's murdered a man, de Maletroit proceeds to torment his brother and father of Blanche, Edmond (Paul Cavanagh), who has been held prisoner in the torture chamber below the castle, for twenty years. Alain believes him to be mad, but it is an act that Edmond perpetrates until the right time comes for loyal servant Voltan (Boris Karloff) to aid his escape. Will Edmond, with Volton's help, stop Alain's evil plan? To tell any more would be a crime.
The Strange Door really delivers the gothic horror goods, thanks in a very large part to delightfully perverse, audaciously hammy Charles Laughton. He really pulls out all the stops here, and his every line is laced with innuendo and malice. His grotesque closeups, particularly in the notorious dining room scene where he out Henry-the-8ths himself, illustrate his total willingness to let go, and hold nothing back for the audience. He's obviously enjoying himself immensely. As for Karloff, well...it's sad to see him reduced to such a small part. Yes, his role is crucial to the finale (which of course I won't tell you!), and he's fine as the loyal Voltan, but this film really is all Laughton's, and it's hard to see why the producers hired Karloff, other than as window dressing and to lend the film horror genre credibility. The finale is excellently handled, with tense editing by Edward Curtiss and some nice directorial touches by Joseph Pevney. Screenwriter Jerry Sackheim comes up with some really funny lines for Laughton, who knocks them out of the ballpark (I'm in the mood for relaxation. Let's visit the dungeons). When we were kids, The Strange Door was exactly the kind of horror film we loved to come across on a Friday night "Late, Late" show: a spooky castle, tons of hidden doors and passageways, a pretty damsel in distress, an arrogant hero, various forms of torture, and a deliciously unhinged, psychotic villain. Again, it's a mixed bag for the collection, though: an excellent film, but too little of that can be attributed to Karloff.
After several appearances on TV (where Karloff would do most of his work for the next ten years), Karloff returned the next year to Universal for The Black Castle, another attempt at old-fashioned Karloff terror.
---
THE BLACK CASTLE
The majority of the film taking place in a flashback (which I won't preface by describing the opening scene, lest I spoil the ending), Englishman Sir Ronald Burton, soon to be known by his undercover name of Richard Beckett (Richard Greene) arrives at the Court of Emperor Charles VI, in Vienna, to speak with Sir David Latham. He wishes to go to the estate of Count Karl von Bruno (Stephen McNally), incognito, to search for his missing friends, who were last heard from at the Count's estate, deep in the Black Forest. Beckett knows that von Bruno holds a grudge against he and his friends, for battling with him in Africa, costing von Bruno a fortune in the ivory trade. On the pretext of joining von Bruno on a hunting trip, Beckett is given permission by the Emperor to go look for his friends.
When Beckett arrives at von Bruno's, he realizes he may well be in over his head -- as well as head-over-heels in love with the Count's wife, Elga (Rita Corday). Already wounding one of von Bruno's men in a duel, prior to arriving at the estate, Beckett must also contend with the shifting loyalties of Dr. Meissen (Boris Karloff), as well as the deadly mute, Gargon (Lon Chaney, Jr.). Various perils await our hero, including a vicious African leopard that Gargon and von Bruno have whipped into an absolute frenzy, a pit of teaming, snapping crocodiles, and the threat of premature burial.
Screenwriter Jerry Sackheim is back from The Strange Door, and he comes up with another entertaining gothic mystery. Sure, he borrows a lot from The Most Dangerous Game, but if you're going to borrow, borrow from the best, as the saying goes in Hollywood. The performances run from adequate (Chaney, who played mutes often at this juncture in his career because, according to many sources, he was too drunk to remember lines) to quite good (Greene), but again -- as with all the films here, with the exception of Night Key -- there's a criminal shortage of Boris Karloff. He looks quite tired here, actually, perhaps because he realizes that his role is nothing more than a glorified cameo. At least this one, like The Strange Door, has a larger horror element to it, that will satisfy the buyers of this DVD collection.
Karloff would work in television and films for the next seventeen years, making films of varying quality, but always remaining a survivor -- a working actor, which is what he always wanted. He died relatively soon after completing his last feature (he contracted pneumonia on the cold, outdoor set) in 1969.
The DVD:
The Video
As with most of the Universal Franchise Collections, the prints used here are immaculate. Very few specks or dirt appear, although the picture quality varies a little on The Black Castle, mostly at the beginning, which almost certainly has to do with the source material. Otherwise, the full screen transfers look excellent. The Technicolor The Climax looks particularly good, with rich, deep, saturated colors.
The Audio
The English Dolby Digital 2.0 Mono tracks are perfectly adequate for these films, delivering strong, loud quality, with no distortion. The dialogue and music are clear.
The Extras
Here's a real disappointment: the only extras to be found on this collection are trailers for Night Key and The Climax. That's it. And of course, they really misrepresent the movies, particularly Night Key.
Final Thoughts
The Boris Karloff Collection can only be recommended for: 1) Boris Karloff fanatics, and 2) Horror film completists who have to have anything that includes Universal Studios and horror. On those levels, I can certainly understand purchasing the collection. I can't say I'm happy about it, though. The movies are far from classic; only a few have the necessary horror chills, and Boris isn't seen all that much, anyway. But as far as their film library goes, there's really nothing more that Universal can do as far as selling Karloff and horror. This is it. There isn't any more. Unless of course there's another merger somewhere down the line, and they get access to his other horror titles. But, again -- I understand. I'm the same way. Buy it. But if you're just curious, or new to horror, or not sure about black and white B-programmers -- rent it. And that's with a caution, too.
---
Paul Mavis is an internationally published film and television historian, a member of the Online Film Critics Society, and the author of The Espionage Filmography.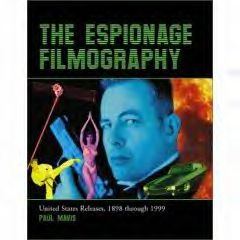 Sponsored Links
Sponsored Links