Fox // Unrated // November 7, 2006
List Price: $26.98 [Buy now and save at Amazon]
---
CAROUSEL

1956 / 129 minutes / DeLuxe Color / CinemaScope 55
Starring: Gordon MacRae, Shirley Jones, Cameron Mitchell, Barbara Ruick, Claramae Turner, Robert Rounesville, Gene Lockhart
Director: Henry King
Screenplay: Phoebe and Henry Ephron, from the Rodgers' and Hammerstein play, based on Ferenc Molnar's Liliom, adapted by Benjamin F. Glazer
Cinematographer: Charles G. Clarke
Music: Richard Rodgers
Book and Lyrics: Oscar Hammerstein II
Editor: William Reynolds
Producer: Henry Ephron




---
Carousel, the Rodgers and Hammerstein musical evergreen about brawling, carousing carousel barker Billy Bigelow, makes for a great 50th Anniversary Edition DVD from 20th Century Fox; it's loaded with a ton of extras, including a marvelous earlier film version of the play, directed by Fritz Lang and starring Charles Boyer. A haunting, beautiful film, Carousel wasn't a success with film audiences when it was released in 1956, but over the years, it has gained in reputation and now stands as one of the best examples of the late Hollywood musical.
Following their smashing success on Broadway with Oklahoma!, the writing team of songwriter Richard Rodgers and lyricist Oscar Hammerstein were searching for their next project. Hammerstein came up with the idea of adapting Hungarian Ferenc Molnar's fantasy play, Liliom, a tale of an unrepentant carnival barker who marries an innocent, loving girl, and who promptly fails to live up to his responsibilities, ultimately committing suicide and going to Purgatory, where's he's given a final chance to redeem himself. An exceedingly dark fable, it was the source material for three film versions, directed by screen giants Michael Curtiz, Frank Borzage, and Fritz Lang. While Rodgers was at first skeptical of the material, eventually the pair adapted the material to suit their style (a key transformation was moving the material to late 19th century Maine) and in 1945, they produced another groundbreaking musical hit that ran for two years on Broadway.
Fast forward to 1955. 20th Century Fox had just finished production on its smash hit adaptation of the Rodgers and Hammerstein musical, Oklahoma!, and the studio wanted to keep their exclusive relationship with R & H going. As well, 20th Fox wanted to keep the publicity fires burning by inaugurating their new breakthrough widescreen format, CinemaScope 55, an expensive improvement on regular CinemaScope that promised four times the visual clarity of the older process. Carousel seemed like the ideal project at the time to satisfy both those goals. Carousel was widely reported as R & H's favorite musical, and their songs, including If I Loved You, Soliloquy, and You'll Never Walk Alone were indeed among their most lovely. The Maine setting of the piece seemed to naturally lend itself to the visual grandeur of the new CinemaScope 55 process. CinemaScope 55 was a wide film gauge process utilizing a bigger piece of film than the standard 35mm film used in old CinemaScope. Adding a much larger area of exposure meant deeper visual clarity and focus. At first, the company planned on shooting Carousel in both CinemaScope processes, so the larger majority of cinema theatres in the country wouldn't have to re-tool their projectors to show the larger film gauge. However, the studio soon discovered that the CinemaScope 55 image could be transferred onto regular 35mm stock, while still vastly improving the image projected. With material from the world's greatest musical writing team, and a new, innovative widescreen process, Fox began production on what they thought would be another R & H smash hit.
Slated to play the pivotal role of Billy Bigelow was the screen's hottest star in 1955, Frank Sinatra. Pre-production began, including Sinatra prerecording all of the songs with lovely co-star, Shirley Jones. Jones, under personal contract to R & H, had made a big splash in her Oklahoma! film debut, and she was considered a natural for the role of sweet, ever-patient Julie. According to separate reports, including Jones' recollections on this disc's audio commentary track, on the first day of location shooting, Sinatra showed up in Boothbay Harbor, Maine, took one look at the two CinemaScope cameras, declared, "I only signed up for one movie, not two," and got back into his limousine, and left the location. End of story. The real reason for Sinatra leaving will probably never be known (he refused to discuss it later in life, but there's strong evidence that he learned of R & H's displeasure in his casting, and decided to ankle the production), but the studio quickly scrambled and signed Gordon MacRae, Jones' co-star from Oklahoma! for the role of Billy. Location filming progressed under the steady guidance of veteran film director Henry King until, according to Jones', either a matter of time or money (probably both), forced the company to return to Hollywood, where key major scenes that ideally should have been filmed on location (to take advantage of the CinemaScope 55 process), were shot on the Fox sound stages.

Released to critical raves in 1956, the film failed to find a receptive audience at the box office, and subsequently, was ignored by the studio when it came time to push for Oscar nominations at the end of the year. R & H's other Fox film for 1956, The King and I, was a smash hit with the public, so Fox put its entire corporate weight behind it, ignoring Carousel's signature song, and leaving it to "walk alone," if you will, with the Academy. Carousel would prove to be the only R & H-based film to receive no Oscar nominations.
It's always difficult to guess why audiences don't respond to a particular film. Perhaps the combination of Gordon MacRae and Shirley Jones in a R & H musical set audience expectations too high, anticipating a glorious, earthy, outdoor musical along the lines of their previous Oklahoma!. Certainly, Fox's publicity department didn't help along those lines, promoting the film as just such a movie, while pushing the grandeur aspects of its new CinemaScope 55 process. Audiences expecting a bright, joyous musical with two of their favorite sunny musical stars, were probably taken aback by the tender yet ultimately somber tone of Carousel.

Up in the stars, in a kind of blue, sparkly Purgatory, Billy Bigelow is summoned by the Star Keeper (Gene Lockhart), who tells him his daughter of 16, Louise (Susan Luckey) is unhappy down on Earth. When Billy asks to go down and help, he is told that he gave up the right to go down to Earth for one day, when he first arrived. The Star Keeper encourages Billy to tell him his story, in hopes of changing the Star Keeper's mind, and letting him go. Billy begins his story. Julie Jordan (Shirley Jones) and her friend Carrie Pipperidge (Barbara Ruick) are millworkers in 1870s Maine. Venturing down to the fair, Julie is given a ride on the carousel by handsome, magnetic barker, Billy Bigelow (Gordon MacRae). Taking note of the growing attraction between Billy and Julie, Mrs. Mullin (Audrey Christie), the owner of the carousel, upbraids Julie, jealous of Billy's obvious attention. Billy defends Julie, and after being threatened by his lover/employer Mrs. Mullin, he quits his job, and asks Julie to meet him at a dark park bench. When she agrees, Billy assumes Julie is the kind of girl who knows the score, and he fully intends to take advantage of her. However, after meeting her, and seeing the depth of her kindness, he realizes she isn't the kind of girl he's used to, and he falls in love with her, as does she with him - although both deny it in the moving duet, If I Loved You.

The movie next shows Julie and Billy married, but all is not well. Billy, unwilling to work, lives off his wife and her Cousin Nettie (Claramae Turner). Julie's friend Carrie has found an upstanding fella, Mr. Snow (Robert Rounseville), who will marry her. When Mrs. Mullin returns to Billy - after hearing he's so unhappy in his marriage that he's taken to hitting his wife - he almost goes back with her, until Julie interrupts their reunion to tell Billy she's pregnant. Alone on the rocky coast and beach of the sea, Billy sings Soliloquy, an affirmation of what he must do to meet the responsibilities of being an unselfish parent. Unfortunately, Billy's solution to his problem is to agree to friend Jigger's (Cameron Mitchell) plan to rob the mill owner, Mr. Bascombe (John Dehner). As fate would have it, Billy and Jigger fail in their plan.

SPOILER ALERT!


In an effort to escape his fate, Billy accidentally falls on his own knife, dying in Julie's arms. After being alerted to his daughter's unhappiness, Billy steals a star and goes down to earth to try and comfort her. Viewing the unhappy girl, he sees her dancing alone on the beach, her dance transformed into a ballet that illustrates the town ostracizing her because of her dead father's past. In trying to reach her emotionally, Billy repeats the same mistakes from his earlier life, and after talking to the teenager (who obviously doesn't know who he is) smacks her hand when she refuses his gift. Louise marvels to her mother, Julie, that the smack felt like a kiss, and asks Julie if that's possible. Julie, remembering Billy hitting her - as well as his love - says yes, it's possible for someone to hurt you without ever really feeling it. Billy asks for one more chance to redeem himself, and goes to his daughter's high school graduation, where, unseen, he whispers to her to believe the words of the speaker at the graduation (Lockhart again). He tells the class not be held back by your parents mistakes, and to not be afraid to take part in life, that it belongs just as rightly to anyone, regardless of class or money. Billy also whispers to Julie that he always loved her, which she senses right away. He walks away with his heavenly guide, to return to the stars.

The musical is not my favorite film genre, but I was surprised at how much I enjoyed Carousel; it's a moving fantasy musical that achieves a level of emotional involvement with the audience that's unexpected. The famous song Soliloquy has become justly famous, almost a cliche when you hear it out of context, but seeing it performed here, it greatly conveys the creeping worry of responsibility that every father experiences the first time he hears he's going to have a baby. The movie has many such moments, where, despite the obvious artifice of the film's construction, you find yourself moved by the music and lyrics of the songs. Certainly, the If I Loved You number with Jones and McRae is effective in conveying the hesitant longing, and subsequent searching for love, that can happen instantly between two people. And the standard, You'll Never Walk Alone (officially ruined by Jerry Lewis "singing" it at the end of his telethons), is a powerfully effective rumination on personal courage. It's unfortunate that the actual execution of the film isn't more artistic; veteran director Henry King was noted for his square, formal style that offered little dynamism within the frame. He's a stodgy sort, but you have to allow that his stuffy style doesn't get in the way of the material - namely the powerful, beautiful songs. It's just a shame his style couldn't get behind the material, and elevate it even higher. As well, he may have been hampered from the start, as the play was altered when brought to the screen. Many at the studio thought it wise to make most of the film a flashback, letting the audience know right up front that Billy dies. I'm not sure it was the best technique, but it works adequately enough. However, it does rob some power from Billy's death scene, since we already know he's okay up in his starry blue heaven. Other subtle changes include Billy accidentally killing himself -- unlike the source material that has Billy committing suicide, and the fact that we never actually see Billy hit Julie. Of course, these were concessions made to 1950s audiences and the Production Code. It's doubtful too many viewers would have had any remaining sympathy for Billy had they seen him actually hit Julie, nor would they have sympathized with a man who commits suicide instead of caring for his wife and baby.

Jones and MacRae are particularly good; evidently, according to Jones, they were fairly left to their own devices; King wasn't the kind of director to give a lot of attention to the actors. I suspect he was the kind of Hollywood veteran who felt the actors were hired because they were supposed to know their jobs, so he could concentrate on the technical matters of directing. Certainly, Carousel suffers most from key scenes being shot on the soundstages, rather than on location. Louise's famous ballet starts on the beautiful Zuma Beach location that was used quite effectively for Billy's Soliloquy number, but then fatally switches to a beach mock-up for the main ballet. One can argue that such artifice is essential to the number, since it highlights that it's her memory of her persecution, but as filmmaker Nick Redman says on the commentary track, when the shadows of the performers show up on the fake sky backdrop, it instantly yanks the viewer out of their suspension of belief.


Jones as well laments that the play's signature number, If I Loved You was not shot on location. Evidently, it had been planned that way, but time became short, and the company had to recreate it indoors. She further relates that no one was happy about this situation. I can image the studio was most upset - interior shooting for its CinemaScope 55 process seems a waste of time. Still, the power and beauty of R & H's famous, lyrical songs provide a haunting, sad atmosphere that elevates Carousel above the average Hollywood musical, despite any shortcomings in the film's execution.
The DVD:

The Video:
The superiority of CinemaScope 55 over the earlier CinemaScope process is evident in this crystal-clear anamorphic widescreen transfer for Carousel (from a helpful reader, I understand this is the first time that the film has been released anamorphically). Gone are the "CinemaScope mumps" and excess grain that can be seen in other early Fox CinemaScope efforts, such as The Robe. Grain is non-existent, and the brightness and increased focal clarity is amazing. The DVD aspect ratio of 2.55:1 is also correct for the process.
The Audio:
The lovely, sad songs of Carousel are accurately captured here on disc. I have no idea if the audio elements were taken from the original six track stero mix that was used during the roadshow presentation -- the DVD offers no information on this -- but the Dolby 5.0 Surround option still sounds phenomenal. There's also English 2.0 Stereo and Spanish Mono audio tracks available. Subtitles are available in English and Spanish.
The Extras:
There's really an incredible wealth of material on this 50th Anniversary Edition DVD. First, on disc one, there's an interesting, involving audio commentary track with star Shirley Jones and documentary filmmaker Nick Redman. Redman is extremely sympathetic to the material, and asks the right questions of Jones. Jones is wonderful to listen to; most importantly, she comes prepared to talk, which doesn't happen with a lot of actors on these audio tracks. She's blunt and honest, particularly during a discussion of the more controversial aspects of the film (feminists who deplore Billy hitting Julie). Her comments are a real plus here. There's also the option to listen just to the isolated music score, with no dialogue or sound effects. Since this is a 1950s musical, it's pretty much wall-to-wall sound, unlike isolated scores on more modern films, which have big patches of silence on the tracks. There's a Song-Only option, where you can just jump to the songs, which is particularly nice. And finally on this disc, there's a Singalong option with Karoake Subtitles available -- but honesty, you really want to match your own voice against pros like Jones and MacRae?
On disc two, there's a real treat for even film fans who dislike musicals: a marvelously clear, almost scratch-free black and white transfer of the original Fritz Lang-directed version of Liliom, produced in Paris in 1934, and starring Charles Boyer. It's a fantastic addition to this disc. Lang was a master of studio-bound atmospherics and chiaroscuro lighting that aided his Expressionist filmic style, and his pessimistic, caustic world view. So what a delight to see Lang, while not entirely abandoning these views, embrace a humanistic, hopeful view of Redemption?
The differences between this black and white version of Liliom and Carousel are startling. Although Carousel is remarkably similar to most of the scenes in Liliom, how they're treated is a night and day difference. You might be taken aback as you watch Boyer paw at Madeleine Ozeray's breast as they sit on the park bench, especially after watching the chaste version in Carousel. As well, the suicide scene is indicative of Lang's harder edge approach. Boyer is quite simply amazing as Liliom; he's so much more active, more alive than the many times I've seen him glide silkily through various movie set corridors. Lang's finale, where he bizarrely switches tone, and almost creates a comedy of errors out of the material, is a real revelation for those like me who thought they knew the Lang canon inside and out. It's an incredible addition to this disc, which offers the Rodgers and Hammerstein fan a delicious look into the slightly more twisted world of Fritz Lang.
As well, there's a detailed documentary called Turn on the Carousel which gives a complete look at the Broadway creation of the R & H classic. Also included is a filmed version of the If I Loved You song performed by the original Broadway performers Jan Clayton and John Raitt. It's a fascinating look at how one might have experienced Carousel on stage. Next up is a collection of stills set to audio (the actual footage has been lost) for two deleted scenes that never made the final film cut: You're a Queer One, Julie Jordan, featuring Shirley Jones and Barbara Ruick; and Blow High, Blow Low, featuring Cameron Mitchell and Chorus. Next, there's a Fox Movietone News newsreel showing the opening of Carousel in New York and Los Angeles. Finally, there's a Photo Gallery with stills of the production, as well as the original trailer (which must have been an advance trailer, because it features no footage from the film - just Darryl F. Zanuck talking about the CinemaScope 55 process). All in all, there's hours of extras here, and they're spectacular.
Final Thoughts:
From the lovely opening strains of the Carousel Waltz, to the final sunset fade-out as Billy goes off to his fate, with You'll Never Walk Alone playing in the background, Carousel proves to be an emotionally satisfying experience that's unexpectedly rich and fulfilling. I'm not a musical fan by any stretch, but I became deeply involved in Carousel. If this 50th Anniversary Edition Disc had only included the 1956 version of Carousel, I would have only recommended this disc. But the inclusion of Fritz Lang's marvelous version of Liliom, plus the many hours of extras, including Shirley Jones' fun commentary, make this 50th Anniversary Edition of Carousel Highly Recommended.
---
Paul Mavis is an internationally published film and television historian, a member of the Online Film Critics Society, and the author of The Espionage Filmography.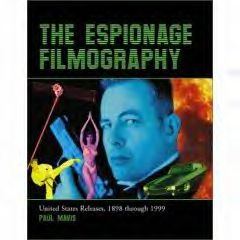 ---
C O N T E N T

---
V I D E O

---
A U D I O

---
E X T R A S

---
R E P L A Y

---
A D V I C E
Highly Recommended
---
E - M A I L
this review to a friend
Sponsored Links
Sponsored Links