Looney Tunes - Spotlight Collection Volume Four
List Price: $26.98 [Buy now and save at Amazon]
---
I distinctly remember my brother gravely intoning, "Arise! Sir Loin of Beef!" and then creasing me over my top plate with his metal Mod Squad lunch box. Ah, the glory years when nobody cared about kids, and they could watch whatever the hell they wanted. What more can be said in a review about the Warner Bros. Looney Tunes cartoons? It's a lot like a term paper I once had on Hitchcock's Psycho - probably the most written about movie in film studies. What do you add? Simply put, the shorts included in Looney Tunes Spotlight Collection Volume 4 are among a canon of animation that stands as the premiere American cartoons. I have favorites all over the animation map: I love anything Disney; Fleischer's early Popeyes are works of genius; Harveytoons' Casper is still a sweet, gentle childhood memory. But I would guess that the majority of cartoon fans would agree that the classic studio Looney Tunes shorts from 1930 to 1969 were hands down the funniest cartoons out there - bar none. Bugs Bunny, the undisputed star among stars in the Looney Tunes cast of characters, was pop culture's first, true animated smart ass, and he and his cohorts' classic adventures still resonate today. The important factor, of course, is that they're still hilariously funny, decades after their release. They're timeless, and I suspect people will be laughing at them for decades to come, as well.
Now I understand that there's some bad blood out there over these Spotlight Collections. Warner Bros. is simultaneously releasing the Golden Collections of these cartoons, which have over double the amount of cartoons, along with tons of extras like audio commentaries by animators and historians, alternate audio tracks with sound effects, documentaries, and so on. Evidently there are rabid Looney Tunes fans out there who feel it's sacrilege for Warner Bros. to offer these abbreviated Spotlight collections. The Looney Tunes Spotlight Collection Volume 4 has 28 of the cartoons also found in the upcoming Golden Collection Volume 4. There are no extras to speak of, except a brief clip assemblage. And yet, the 28 cartoons assembled here are top-notch Looney Tunes fun, at less than half the price of the Golden Collections. I can't understand why someone would disparage a consumer for daring to buy this cheaper, less complete version of the Golden Collection. Don't give me that whine that sales of the Spotlight Collection will discourage Warner Bros. from doing more Golden Collections. Warner Bros. knows the animation fanatics are out there; don't worry, they'll cater to your tastes (I include myself in that category, so don't feel offended). Besides, the Golden Collection sales far outdistance the Spotlight sales.
So why does Warner Bros. put the Spotlight Collections out, you may ask? Well, I would assume they do it to maximize their sales. There's a lot of consumers out there who look longingly at the Golden Collection, and then see that $48 dollar price tag, and start to walk over to the DVD bargain bin (myself included). The Spotlight Collection is a nice alternative to consumers who don't want to shell out almost fifty bucks for a collection of cartoons. The twenty dollar cap on these cheaper collections make them a good gift idea, as well. And any sales of vintage cartoons is good for the industry; it's only going to encourage more restoration - and more releases. After all, they're still the same cartoons found in the Golden Collections. The image quality is still the same (excellent); there's nothing inherently inferior in the actual product: it's exactly the same as the Golden Collection, just less cartoons. So what's the beef with fans? Get over it, and celebrate the fact that cartoons we watched and loved every day of our childhood have been rescued from the addle-pated P.C. do-gooders who chopped them up and edited them into banality. They're back to us, with all of the essential, vicious violence combined with hilarious one-liners, that made Looney Tunes the absolute "go-to" cartoon when you were young. Was there ever any doubt what you'd pick on Saturday morning, when the choice was the Bugs Bunny/Road Runner Hour or Scooby-Doo? (Please, you Hanna-Barbera freaks - don't email me. I love Scoob, too, 'rokay?).
Here's the breakdown on what's included in the Looney Tunes Spotlight Collection Volume 4:
DISC ONE:


Roman Legion Hare

A later, stylized short from 1955, directed by Friz Freleng. Bugs and Yosemite Sam were always a good combination, and this one is pretty funny (although I wouldn't have started the collection with this at the top of the list). The bit with the lion is great.
The Grey Hounded Hare

A Robert McKimson Bugs from 1948. Bugs still looks a little fuller around the middle. Best sound effect: the whipping sounds when Bugs is smacking the dogs with his carrot, while yelling, "One side! One side! Let a rabbit through!"
Rabbit Hood

A genuine classic Merrie Melodies Bugs, directed by Chuck Jones, illustrating the time-honored Bugs conflicts of rich versus poor, privileged versus oppressed, dumb versus smart. Classic joke you didn't get as a kid: "Are you a veteran?" "No." "Good! Then it will be easy!" With film footage of Errol Flynn from The Adventures of Robin Hood. Arise, Milk of Magnesia! Quarter of Ten!
Operation: Rabbit

A 1950 Chuck Jones Bugs, with Wile E. Coyote (super genius) co-starring. I always liked Coyote with Bugs - he was much more verbal, and erudite, and egomaniacal. Great joke you didn't get as a kid: "I am neither selling anything or working my way through college." Check out the detailed shading on a thumbtack on Coyote's drafting table, and understand the care that went into these cartoons. Remember: mud spelled backwards is dum.
Knight-Mare Hare

Another 1950 Chuck Jones Bugs, that nicely highlights some of Bugs' more feminine traits (he starts the cartoon under a beauty parlor hair dryer). There was a little bit of picture flutter at one point, but it only lasted for a second. Uh oh! Call Ted Turner - Bugs is smoking! Best bit: the seltzer water to the dragon's fire.


Mississippi Hare

A 1947 Merrie Melodies Chuck Jones Bugs that features a Yosemite Sam-like Colonel Shuffle. Bugs dresses like a woman for the umpteenth time, as that "little flower of the South."


Hurdy-Gurdy Hare

A 1948 Robert McKimson Bugs that's a particular personal favorite. I love how Bugs exploits that "little chiseler" monkey for money (hey PETA crowd - don't bother to email; I still think its funny), and then does the same thing to his big brother ape. Tons of great one-liners: "Obviously a barbell boy," "Ain't I a devil?" "Stop breathing in my cup!" Has that Petrillo reference we never got as kids.
Forward March Hare

A 1952 Chuck Jones Bugs where every service comedy gag is given new life by the Warner jokesters. Best joke the servicemen in the audience liked: "Just think; in 30 years I can retire."


Sahara Hare

A 1954 Friz Freleng Bugs and Yosemite Sam that features a more stylized art design, with some great lines, including one of Sam's all-time best: "When I say, "Whoa," I mean, "WHOA!" Remember: don't leave footy prints on my desert.
Barbary-Coast Bunny

A 1956 Chuck Jones Bugs with a marvelously funny villain, Nasty Canasta. I love his punch-drunk fighter voice. Best line by Bugs: "You know that this is not going to go unchallenged."


To Hare is Human

A 1956 Merrie Melodies Bugs from Chuck Jones that features be-bopping, scattin' Bugs. Love Bugs in bed with his grandpa glasses.


8 Ball Bunny

A 1949 Merrie Melodies Bugs that, I would imagine, has become one of the fans' top favorite cartoons. Bugs has to take a penguin to the South Pole - until he gets there, and finds out the penguin is from Hoboken. "Oooooo, I"m dying again!" Humphrey Bogart shows up repeatedly to bum some change off Bugs, and is promptly told to "hit the road!" Bugs sings a killer calypso song, and the whole thing has an epic quality that's really quite astounding for a 6 minute cartoon. My favorite line? "25 cents to go through this thing? Eh, we'll walk first!"


Knighty Knight Bugs

A 1957 Friz Freleng Bugs and Sam "siege comedy" that's pretty lively. Best line: "Close it! Close it! Close it up again!"


Rabbit Romeo

A 1957 Merrie Melodies Bugs by Robert McKimson that features Bugs' ugliest paramour, Slobovian Millicent.


DISC TWO:



The Night Watchman

A 1938 color Merrie Melodies featuring Thomas Cat and his little kitten son, who steps in for Thomas, standing guard over the kitchen, when he's too sick to do it himself. I like the Warner Bros. idea of tough guys, who wear turtlenecks and bowlers. Sensibly, the kitten learns to use his fists to solve the bully problem - those were the days, I'm telling you.


Conrad the Sailor

A 1942 Chuck Jones Merrie Melodies, featuring a bland character Conrad, and Daffy Duck. Pretty weak, with no motivation for the gags.
The Aristo-Cat

A uncredited 1943 Merrie Melodies short about a rich, scared cat and Bert and Hubie - two mice who terrorize him -- they'll show up again at the Looney Tunes factory. Pretty funny.
Dough Ray Me-Ow

A 1948, Arthur Davis directed Merrie Melodies that features smart-mouthed Louie the Parrot, and dumb-as-a-rock Heathcliff the cat. Best gag: when Louie plays "radio."
Pizzicato Pussycat

A beautiful, stylized 1953 Friz Freleng one-off with a piano playing mouse, and a drums-playing cat. Are those the parents from the Giant Baby cartoon? Some great authentic jazz playing here.
Kiss Me Cat

A 1951 Chuck Jones Looney Tunes classic with Pussyfoot the kitten and Marc Antony, the overprotective dog. Much more violent than their previous short together, this one has Marc Antony getting his rump beaten a glowing red by his owner. I love the ratty, disreputable-looking mouse in the kitchen. Best bit: when Marc Antony's owner calmly slaps him across the face with a rolled up newspaper.
Cat Feud

A 1958 Chuck Jones where Pussyfoot the cat gets in trouble at the construction yard. That's not Marc Antony, by the way - I guess they changed him because they couldn't figure a way to transform him suddenly into a rough and tumble guard dog. I love the insane level of violence here, with the dog's machine-gun fast hammerblows to the nasty cat's face, balanced out by the sweetest, most innocent character Looney Tunes ever created. True perversion.
The Unexpected Pest

A 1955 Merrie Melodies from Chuck Jones featuring Sylvester the Cat and an anonymous mouse. Not bad, but nothing to write home about.
Go Fly a Kit

A 1956 Chuck Jones one-off with a flying kitten. The concept just never jells.


Kiddin' the Kitten

A 1951 Robert McKimson classic featuring that lazy-ass cat, Dodsworth, who tricks a little cross-eyed kitten into cleaning up his mouse problem. Dodsworth sounds like Sheldon Leonard. Best line: "Jumping Jehosaphat! The kid has hit the jackpot!" I love the mice and their snotty attitudes.
A Peck O' Trouble

Another 1951 Robert McKimson/Dodsworth funny, with a pesky woodpecker causing trouble for the kitten. This is a standard "assault on a fortress" comedy from Merrie Melodies, but the sight of Dodsworth on fire, trying to get all the flames out, is priceless.
Mouse and Garden

A 1959 Friz Freleng Sylvester cartoon, with a marvelous, angular stylization. Sam's the mangy cat with the Crazy Googenheim voice. Fairly ordinary.
Porky's Poor Fish

It says 1940 on it, but they spelled it out wrong (MCMXXXX). A typical Robert Clampett insanity; I love the old black and white Porky's - they're like from another planet.
Swallow the Leader

A 1948 Robert McKimson Merrie Melody about a bird and a cat, but it's not a particularly good one. It's a shame the collection had to end on this one.
The DVD:



The Video:

These classic cartoons have been painstakingly restored to their former glory, and they look amazing. The full-frame cartoons here in Looney Tunes Spotlight Collection Volume 4 make the new cartoons coming out look sick in comparison.
The Audio:

The Dolby Digital English and Spanish mono tracks are just right for these vintage cartoons Turn it up nice and loud for all the explosions and smacks to the head.
The Extras:

The only extras on Looney Tunes Spotlight Collection Volume 4 is a fun little ten minute assemblage of Bug's various travel destinations, taken from clips of his various cartoons, with some real footage of the actual places he visits. It's fun. There's also some trailers for current Warner Bros. kiddie offerings.
Final Thoughts:

I know. It's not the Golden Collection. So you won't get any commentaries. Big deal. So you won't get a ton of cartoons. So what? Are you going to be jealous of the guy who does? Are you going to rage against Warner Bros. for trying to make a buck? Or are you going to just enjoy these because that's what you've got, and be glad that you do? Can you imagine the insulting, side-long glance Bugs would give you if he heard you whining on and on about the completion of your collection? Just relax. Enjoy these. They'll get you through a couple of Saturday mornings until you can afford the Golden Collections. I highly recommend the Looney Tunes Spotlight Collection Volume 4.
---
Paul Mavis is an internationally published film and television historian, a member of the Online Film Critics Society, and the author of The Espionage Filmography.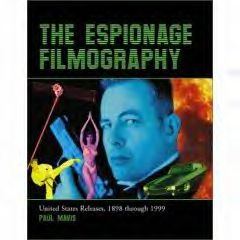 ---
C O N T E N T

---
V I D E O

---
A U D I O

---
E X T R A S

---
R E P L A Y

---
A D V I C E
Highly Recommended
---
E - M A I L
this review to a friend
Sponsored Links
Sponsored Links