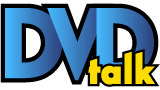 List Price: $39.98 [Buy now and save at Amazon]
---
The Movies:
Nicolas Winding Refn's Pusher was one of those low budget foreign movies that could. It was made for peanuts on 16mm by a very young film school drop out who, at the time, was only twenty-one years old. Amazing then that the film not only found an audience in its native Denmark but went on to international critical acclaim. The first film in the trilogy was released on DVD a few years ago by Anchor Bay Entertainment but it looks like the rights to all three films in the series have since gone to Magnolia who have not only re-released the original movie but made the two sequels available on home video in North America for the first time. The three films are definitely stand alone stories and you don't need to see all three of them to appreciate what Refn has done, but watching them in order does add to the experience as there are some connections between the movies and the characters.
Pusher:
The first movie follows a young drug pusher named Frank (Kim Bodnia) who is looking forward to a big deal he's got in the works. Unfortunately for Frank, things don't quite work out the way that he'd hoped and soon enough he's not only lost the cash but a sizeable amount of heroin as well – the cops nabbed him and he had to toss it. This lands him in some seriously hot water with Milo (Zlatko Buric), the local drug lord who sold him the smack, as he's not able to come up with the money he was expected to bring in.
Frank is given a week to make amends and so he sets out to do what he can to save his life as Milo grows more and more impatient with him. The clock is ticking and Frank's head is starting to become a very dark place indeed as he becomes more and more desperate with each passing day. He knows if he doesn't pay Milo back that he'll kill him, but how is he supposed to get the money in such a short period of time?
Not a particularly original story, Pusher works exceptionally well thanks to some cleverly scripted and well acted lead characters. Refn keeps the story very much in the realm of possibility and he lets us get to know Frank well enough to care about him even if he is a scumbag. We end up liking the poor guy whether we want to or not and as such, the tension is pretty effective towards the end. Zlatko Buric is fantastic as Milo, the greedy drug kingpin that Frank has to answer to and he makes for a formidable bad guy here. Refn's script ties everything together nicely and even if it is a little predictable it's always entertaining and at times very gripping cinema.
If strong characters and a realistic and clever script weren't enough to hook you, then they visuals should do the trick. Pusher is a very interesting looking film. There's a lot of handheld camera work here to give the movie a sort of claustrophobic feel and the colors used throughout the movie do a good job of accenting certain scenes for reasons that will become obvious if you see the movie (red is used very effectively here). At the same time, the style never overpowers the substance, and it compliments the story well as opposed to coming across as overly flashy and trying to hide whatever shortcomings might be there.
Pusher isn't a perfect film as there are a few moments where some of the dialogue is a little awkward but for a feature film debut from a twenty-one year old man made on a low budget without the aid of a big cast, it's a pretty amazing effort. The film is intense, it's gritty, and at times it is remarkably violent but it's always exciting.
Pusher II: With Blood On My Hands
After the success of Pusher labeled Refn as the next big thing, he followed the film up with Bleeder (which did well) then tried his hand in the U.S. with Fear X (which didn't do so hot). From there, Refn returned to Denmark and more specifically to the Danish underworld for a follow up film to his first hit aptly titled Pusher II: With Blood On My Hands.
Tonny (Mads Mikkelson) was Frank's right hand man in the first movie, until he stabbed him in the back that is, but this time around he's the focal point as he's just been released from prison and is back on the streets. Once he's free, he's reminded by a local tough that the only reason his sizeable debts were temporarily was because his father, Duke, has some political influence in the underworld but now that he's out of the joint he'd best pay up. Tonny goes to see his father in hopes that he'll be able to get him a job but his father doesn't think so highly of him but eventually dad softens up and gives Tonny an entry level position in his gang who make a healthy living stealing cars. Tonny tries to work his way up the ladder and to win his father's respect but he's got other things on his mind – a girl he slept with says that the son she just popped out is his and his drug problem tends to be a distraction. Tonny might say he wants to redeem himself but his actions speak louder than his words.
The focus of this film has less to do with crime and more to do with Tonny's attempts to make amends with his father. He's obviously got issues there, finding that he's never able to measure up as a small time thug to his father's standards as a prominent crime boss and it's interesting to see how Refn evolves Tonny's character as the film plays out. As fleshed out and interesting as the characters were in the first movie, here they've got even more dimension and depth to them and they're even more human and more realistic. Refn has essentially placed a drama about a man and his relationship with his father in the flashy criminal underworld and so we've got a human interest story full of sex, violence and drug abuse.
Mikkelson is fantastic in the lead, he's completely believable and he does a great job of portraying all the ups and downs that his character experiences along the way. His interactions with the other characters in the film are very real which makes the completely crushing conclusion hit even harder than it would otherwise.
Pusher III: I'm The Angel Of Death
The third (and so far final) film in the series focuses on Milo (once again played by Zlatko Buric) who is, to put it mildly, having a bad day. His daughter (Marinela Dekic), who is a bit of a spoiled brat, is turning twenty-five and he's promised her that he'll take care of catering her party personally. That means he's going to have to get to the kitchen and cook for a whole bunch of people. This in and of itself probably wouldn't be so bad if not for the fact that Milo has also decided to quit using heroin and his cold turkey tactics are proving to be harder on him than he thought they would be. To make matters worse, the shipment of heroin that he was expecting turns out to be a shipment of ecstasy instead, and he's stuck with it. He finds himself having to learn how to peddle ecstasy to make his money back and he learns that this is a very different animal than selling heroin.
Taking place over a single day, Pusher III: I'm The Angel Of Death isn't quite as character intensive as the first two films and instead it's a little more action oriented by Refn still gives us some interesting people and ideas to enjoy as the film plays out. Milo has been established in the first movie as a bit of a local heavy, one of the biggest dope dealers in all of Copenhagen, so seeing him brought down to a very human level where he has to manage his business in and amongst the day to day trivialities we all have to deal with makes for an interesting idea.
There's an odd sense of black humor in the movie, which works well alongside the rather extreme moments of very strong violence and graphic drug use. It's interesting how Refn sort of brings the trilogy full circle with this film in that Milo finds himself in eerily similar circumstances to those that Frank wound up in way back in the first movie. The irony being that Milo was the one who put Frank in that dire spot – it's almost as if some sort of karmic justice has caught up to him. Zlatko Buric is fantastic in the lead, looking as sick as you'd expect someone in his position to look and doing a fine job of carrying the bulk of the movie.
Video:
The previous DVD release of the first film in the trilogy from Anchor Bay presented the movie in 1.66.1 anamorphic widescreen which is supposedly the film's original aspect ratio. This release from Magnolia picture presents the first film in the same aspect ratio (the packaging says fullframe – it's not) but the picture is not 16x9 enhanced. The image, as far as the quality goes, is pretty decent though there is some trailing that could be from a PAL to NTSC conversion. The movie was shot on 16mm so there's a bit of grain as you'd probably expect but color reproduction is pretty strong. There aren't any problems with mpeg compression artifacts though some mild print damage is present in some scenes and the black levels vary from time to time.
Pusher II and Pusher III are both presented in anamorphic widescreen presentations at roughly 1.85.1. They look considerably cleaner than the first movie and although there's some minor blurring it's not nearly as murky or as dark as the transfer for the first movie. These are hardly glossy looking films in the first place. There's some mild grain and the occasional spot or speck on the picture but other than that things look pretty good here. Color reproduction is nice and the black levels are a little more consistent.
Sound:
Each of the three films contained on this set is presented in a Danish language Dolby Digital 2.0 Stereo track with optional English and Spanish subtitles (the Anchor Bay release of the first film had a Dolby Digital 5.1 Surround Sound mix – that has not been carried over for this release). All three films sound fine and while it would have been nice if there had been surround mixes included for each of the movies, the 2.0 tracks here are quite good. There's some nice, distinct channel separation present in a few key scenes and the dialogue is always easy to hear over top of the sound effects and the background music. The English subtitles are clean and clear and easy to read with no noticeable typographical errors present.
Extras:
The extras in this set are spread across the three discs as follows:
Pusher:
The main extra feature on this disc is a lengthy eighty-minute documentary entitled Gambler which follows Nicolas Winding Refn and his crew as they go through the trials and tribulations of trying to get the two sequels made. These were made without a whole lot of money and that definitely becomes a problem as they have trouble raising the amounts they need to make the movies the way that they want to make them. Things get pretty stressful here and this documentary does do a pretty good job of capturing just how tough things can get in the independent movie making world. As it plays out we see Refn deal with becoming a father for the first time and having to struggle to not go completely bankrupt over these films. It's quite trying for him and it makes for dramatic viewing in its own right.
Also included on the first disc is a trailer for the upcoming Bollywood remake of the film and a few minutes of footage from that version. Animated menus and chapter stops are also included. The commentary for the Anchor Bay release of the film has not been carried over for this edition.
Pusher II: With Blood On My Hands
The main extra on this disc is a commentary track from director Nicolas Winding Refn and critic Jonathan Romney. Refn is an interesting guy and Romney knows the right questions to ask as their discussion covers the location shooting, making the film on such a low budget and fairly tight schedule, and casting. There are plenty of interesting anecdotes here and a good sense of humor that makes it easy to overlook the fact that there are a few spots with some dead air here and there.
Also included on this disc is a twenty minute featurette on the 'street casting' that Refn employed for the film. It's interesting to see him choose to use a cast of unknowns as opposed to 'name' actors for the film and here he explains why he did it and how he did it in a fair bit of detail.
Pusher III: I'm The Angel Of Death
Nicolas Winding Refn and Jonathan Romney join up for another commentary track for the third film, and it's just as good as the one for Pusher II. We hear his motivations for making this third film in the series and again we get details on why certain actors got certain parts and why various locations were chosen for the movies. Refn is an interesting guy and if you haven't burned yourself out on my after the documentaries and the first commentary then this makes for another enjoyable listen even if some of the material has been covered by this point.
This disc contains a second street casting featurette that also runs roughly twenty-minutes and which covers similar ground to that covered in the one on the second disc. Unique to disc three is a featurette that runs for roughly fifty-minutes called Cooking With Milo which finds Zlatko Buric appearing on a cooking show and showing off his skills while talking about his involvement in the movie and spilling stories about the production. It's an odd but rather amusing bit that's worth a look if you enjoyed this third film in the series.
Final Thoughts:
It's a shame that the transfer for the first film wasn't a little cleaner on this set as this is otherwise a very fine presentation of three unique, and gritty little crime movies. Refn's direction keeps things moving quickly and ensures that there's plenty of dramatic tension and the use of violence as punctuation works well within the confines of this cinematic underworld. The extras are fairly plentiful and they've actually got some substance to them and the audio is fine but the motion blurring does bring the set down a notch. Even with that in mind, Magnolia's release of The Pusher Trilogy comes recommended.
Ian lives in NYC with his wife where he writes for DVD Talk, runs Rock! Shock! Pop!. He likes NYC a lot, even if it is expensive and loud.
---
C O N T E N T

---
V I D E O

---
A U D I O

---
E X T R A S

---
R E P L A Y

---
A D V I C E
Recommended
---
E - M A I L
this review to a friend
Sponsored Links
Sponsored Links