I hadn't seen the Barbra Streisand version of A Star is Born for years, and then it was on TV, cut up and extended by commercials. So I was looking forward to catching this new 30th anniversary DVD (which strangely, isn't promoted as such anywhere on the disc's box). I had read a lot of stories about the production - almost all of them disastrous - and I'm a huge fan of the 1954 George Cukor/Judy Garland version, so, Streisand and company seemed like a safe bet for an entertaining film. Even if it turned out badly, as most critics at the time felt it did, there had to be something of value there; otherwise, why did it make an astounding amount of money back when it was released?
Well, there is something of value in A Star is Born - one thing - and that's Kris Kristofferson's amazingly adept, heartfelt performance as the doomed rock star, self-destructing despite the love of an up-and-coming singer (Streisand). There's not a wrong note in his performance. Unfortunately, the remainder of A Star is Born is an unmitigated disaster that has the megalomaniac fingerprints of Barbra Streisand and her hairdresser/producer boyfriend, Jon Peters, all over it.
John Norman Howard (Kristofferson) is a hard-drinking, hard-partying, hard-charging rock 'n' roll star who is rapidly burning all of his bridges with his record buyers and with his work associates. Contemptuous of the fans who only want to hear his old hits, he shows up drunk to concerts, and verbally assaults the audience when they lose patience with his drugged-out antics. Escaping from a near-disastrous concert, John finds himself at a dive bar, where he tries to listen to Esther Hoffman (Streisand), who's singing lead in a female trio. But of course, his obnoxious behavior first disrupts Esther's set, and then leads to an altercation with a pushy fan. Esther, inexplicably taking pity on him, leads him away from the chaos, and lets him to take her home. Not allowing him in, Esther invites him back for breakfast, where the fast-smitten John shows up, and promptly takes her by helicopter to the site of his huge outdoor rock concert.

Once on the stage, John again loses focus (this time because of Esther), and resorts to his usual drunken antics; this time, he borrows a fan's motorcycle and crashed it off the stage. In the subsequent confusion, Esther is left behind. Days later, after trying to get a hold of Esther, John happens to run into her again at a recording studio (after he's caused another fracas with a slimy D.J.). This time, Esther returns with John, and after improvising a song together, they make love, and have a bath together. Fast forward to John being a hard-task master, getting Esther ready to record her own songs. After that success, John pushes her out on the stage of a benefit he's performing at, where Esther wows the crowd and becomes an overnight success. Now able to stand on her own professionally, Esther convinces John to marry her.

With the lovers happily ensconced in their new Arizona hideaway on John's ranch, their idyllic life is interrupted by the tiresome realities of their fame; to wit: Esther's new tour. Dissuaded by his manager to go along with Esther on a co-bill, John realizes that his rapidly sinking career, along with his inabilities to conquer his inner demons, is jeopardizing Esther's happiness. Back in Los Angeles, John tries to write songs, but can't. His band has moved on without him, charting a successful single without his participation. The walls are closing in on John. When John humiliates himself and Esther at the Grammy Awards (in which she wins one), it's just one more step down the road to his self-destruction. After catching him with another woman (the last thing he can think of to screw up his life), Esther essentially gives up on him, only to beg him to fight for her again, only to state she hates him, only to state she loves him.

Spoliler Alert
Upon returning to Arizona one more time, John, drinking as usual, gets into his red Ferrari, and heads tearing off onto the desert roads. Esther later learns of his fatal car accident, and mourns over his body at the crash site. Fast forward to Esther performing in concert, now billed as Esther Hoffman Howard.

Evidently, A Star is Born was a troubled production from day one. Originally conceived as a tough, hard look at the music industry, the screenwriters John Gregory Dunne and Joan Didion originally envisioned rock stars James Taylor and Carly Simon as the leads. Evidently, the couple saw too many real similarities to their lives in the story, and backed out. Others were considered for the roles, including Diana Ross, and Cher and Gregg Allman. Even Elvis was bandied about, co-starring with Liza Minnelli. Eventually, it was Barbra Streisand's hairdresser/boyfriend, Jon Peters, who saw a copy of the script, and eventually convinced Streisand to do the picture - with him as the producer. General hilarity ensued among the Hollywood power players when it was heard that not only was Peters the producer, but that he was seriously considering co-starring with Babs, as well as directing the feature, all with her consent.
Wisely, cooler heads prevailed, and after seriously considering Mick Jagger, Marlon Brando, and one more attempt to snare Elvis, Kris Kristofferson was hired to play the doomed rock star. Frank Pierson, who only had one directing credit to his name (1970's The Looking Glass War), but who was hot with a script for Al Pacino's Dog Day Afternoon, was offered the chance to direct his script of A Star is Born - as long as he let Streisand co-direct (an absolute disaster in the making that everyone should have seen coming). Evidently, Streisand and Peters wanted Pierson fired from day one, while Kristofferson, high on drugs and booze, would sit out scenes, waiting for the yelling to stop between the co-directors. And on top of that, producer Peters was alienating everyone else, declaring that the film was his idea all along, and that the world was waiting to see a filmed representation of his love affair with Barbra. Ultra-perfectionist Streisand (who had final cut of the film) obsessedly fiddled with the edit (while eliminating a lot of Kristofferson in the process), further causing consternation for the studio big-wigs who smelled a coming disaster.
Despite all of this conflict, the film was delivered on time for its Christmas Day release, and soon went on to gross an astronomical 92 million, 1976 dollars - a phenomenal gross for that time. Certainly, the tie-in record promotion of the songs on the soundtrack (Streisand-composed Evergreen would sell millions, and win the Academy Award for her and lyricist Paul Williams) helped at the box office, as did the foul language (still relatively new on the screens back then) and the steamy (for then) sex scenes. But the critics weren't having any of it, destroying the picture in the press, and handing Streisand the worst reviews of her career.
It's hard to know where to begin in listing the problems with A Star is Born. Certainly, first and foremost, the largest share of the blame must rest solely on Streisand; this was her baby all the way, and her central performance (or more accurately, the lack thereof), cripples the film emotionally. The problem is: we never really believe Streisand's Esther. We never believe that she has that all-encompassing fire in her belly to become a star. Events just happen to her, unmotivated, and she goes along for the ride with little or no explanation for her actions. Streisand employs a schizophrenic approach to the character that allows her to meet John Howard for the first time, where she has the gumption to tell him to shut up (because his drunken fracas is ruining her set), inexplicably followed by her meekly taking him out of the club when trouble starts, to her inviting him back for breakfast at her place. Nothing makes sense in her pursuit for a career, or in her allowing John's pursuit of her. Streisand can be such a magnetic performer; I remember seeing her in Peter Bogdanovich's What's Up, Doc? and being totally captivated with her smart, hilarious, sexy performance. But here, she radiates tension and nervousness; she seems at a loss to try and give the audience anything that resembles the Streisand magic. It's a phoney, mechanical Streisand imitation, with all the gears showing, and the whirring audible.
It doesn't help matters that the film itself is overlong by a half hour, at least, and that it contains some of the all-time great howlers of the 1970s. Selections of scintillating dialogue include: "You have a beautiful mouth," "Even though I talk too much?" or "This here is Pumpkin," to which Streisand "jokes," "Is your last name Pie?" as well as, "Are you an alcoholic?" where Kristofferson replies, "Probably," to which Streisand rejoins, "You could have used some vocational guidance." Huh? The movie is filled with such improbable, laughable dialogue (the "I love you! I hate you!" scene should be famous as a camp classic), as well as highly questionable scenes, such as John Howard shooting at a helicopter on his property (with no apparent consequences), or Streisand putting makeup on Kristofferson in the tub (Streisand said this was something she and hairdresser paramour Jon Peters used to do. Hmm......okay).
Perhaps most egregious is the contempt that Streisand shows not only for the material, but for her fans. Streisand isn't content with just letting the classic story unfold; she stated publically that the material had to be updated for the 1970s sensibilities, making Esther stronger in her disapproval of John Howard's self-destruction. That may have worked, if we were given a clearer picture of the exact nature of that destruction. But the film really craps out when it doggedly refuses to define the exact nature of John's death. Was it suicide or an accident? The original story's whole point was the "noble" (and totally wrong-headed) notion of the male star's self-sacrifice to end what he thought was his contamination of the pure, unsullied nature of Esther's talent. But Streisand's ego can't allow the male character to take the lead in 1976, so she undercuts the power and emotion of his final death scene (a truly stunning moment in the 1954 version), by not only not showing it happen on screen, but by then invading the scene, and taking it over as her own. Now we have the spectacle of Streisand emoting over the corpse of John Howard. Now the scene is about her pity and grieving -- not his foolish, touching decision.
As well, if I were a die-hard Streisand fan, I'd be pretty upset with how fans are depicted in A Star is Born. Fans, according to Streisand's view, are either uneducated rowdies, or grasping, tearing fame junkies who can never get enough of a star's pain (an opinion voiced by Streisand at the Grammy Award ceremony sequence in the film). The film sets the tone for this assault on Streisand's fans by having a voice-over announcer (setting up a rock concert scene with Kristofferson), telling the audience (both in and out of the film) that, "We don't want to keep repeating these things, but there are two or three a#$holes out there who don't want to listen." If you doubt that this anti-fan message is in the film, then I would direct you to the noxious commentary track by Streisand, where she throws out these helpful thoughts on the people that made her a multi-millionaire: "Singularly, they [the audience - you, dear reader] may not be that bright, but collectively, they're brilliant, and they pick up the truth;" and, "Some [again, you dopes out there, according to Babs] achieve their dreams, and the others are angry." Aiding this vitriolic attack on her fans is the film's crazy, hilarious, cliched notion that if only artists were allowed to create, without the presence of "big business," we'd all be a lot happier. When the limos arrive at John Howard's and Ester's desert retreat, it's shot like some kind of spy movie, with the dreaded assassins coming to zap out the leads. There are constant references in the film to how difficult it is to be a huge star, with tons of money, tons of free time, tons of adoring fans, tons of places to go during the day that cost lots of money - in other words: incredible freedom from the workaday drudgery 99.9% of us experience - weighing them down. It's that kind of loopy thinking that epitomizes A Star is Born, illustrating that this film was more of a personal statement by Streisand, about her love life, her "woes" as a famous artist, ad nauseam, rather than a film made to entertain her fans.
Technical credits aren't up to snuff, either. The direction by Pierson and Streisand is unfocused and chaotic; scenes start and end with no internal rhyme or reason; it's an ugly-looking film, too, with loose, jumbled framing, and bad editing (the montage scene of Esther on the road is simply awful). The filmmakers even botch the rock 'n' roll milieu they strive to capture; Streisand always thought that Kristofferson was too "country" for the role, but he does well enough. But the songs he's forced to sing don't ring true with the rock scene from 1976. As for Barbra; well, as Cher said when she found out that Streisand had beat her out for the role: "Barbra doesn't know sh#$ about rock 'n' roll!" And she doesn't; it's laughable to think that rock audiences that came to see John Howard, would immediately take to Esther when he shoves her out on stage. After hearing the mainstream, pap-filled Soft Pop songs of hers, she's be lucky to get off the stage to the accompaniment of loud boos and whizzing-by beer bottles. And her final "rock-out," the ungodly long close-up of Streisand at the end of the film, when she supposedly captures the spirit of John Howard and moves into the realm of rock 'n' roll goddess, is laughably, hysterically, inept. Watch Barbra "boogie," and know the true meaning of the word "poser." If the main character is unmotivated and unbelievable, and if the world that's trying to be recreated rings false, you have a total artistic failure.
The DVD:

The Video:
The image quality for A Star is Born is okay enough; the anamorphic widescreen, enhanced for 16 x 9 TVs, is fairly bright, but I noticed some grain (due, no doubt, to the original look of the film), but also some dirt and scratches. No restoration work was apparently done for this print.
The Audio:
The soundtrack for A Star is Born has been digitally remastered in Dolby 5.1. It has some nice separation during the outdoor concert sequence, but honestly, do you really want to hear Barbra and the Oreos (hey, it's her name for the group, not mine), sing Queen Bee in 5.1? There's an alternate French language track, and English, French and Spanish captions for the main feature.
The Extras:
There are a few special features for this DVD edition of A Star is Born, foremost for Streisand fanatics, a full-length commentary track by Babs herself. Quite frankly, by the end of this nauseating, mind-numbing trip through Streisand's thought processes, I was ready to toss the disc through the window. It's bad enough that Streisand repeatedly expresses utter contempt for lesser mortals (as recounted in the review above), but her continuous stream of minutia and trivia concerning herself, rather than the production at large, is ultimately maddening. How many times must I hear about the length of her fingernails, or the year of production of this or that vintage piece of clothing, or the state of her posterior in this particular shot (at the time, critics had a field day, counting the number of rear-end shots of Streisand in the film, as well as how many times Kristofferson commented on it in the film)? There are occasionally revealing moments (Streisand giggling derisively when she recounts that hairdresser boyfriend Peters wanted to be a film producer), but for the most part, it's a sorry showing for Streisand. Adding to the "all-Barbra, all-trivia" feel of the disc, we have additional deleted scenes, with her commentary, as well as wardrobe tests, with her commentary. All are ultimately useless, accompanied by more annoying Streisand commentary. There's a trailer gallery included, that gives us all three trailers for the various A Star is Born versions. That was a big mistake. Seeing the other trailers for the superior versions of the story, really puts Streisand's film in the hole. Honestly, there's more art in the trailer for Garland's version, than in the entire Streisand film.
Final Thoughts:
I was really looking forward to Streisand's A Star is Born. I've enjoyed her before (What's Up, Doc? is a classic, and she's marvelous in it); the story is sure-fire; and Kristofferson is always good. But A Star is Born only delivers Kristofferson's delicate, layered performance. Despite the silly things he's made to sing and say, he's letter-perfect as the burnt-out rock star. However, his good performance isn't enough for me to recommend the ridiculous, unconvincing A Star is Born. And Streisand's obnoxious commentaries put the final nail in this A Star is Born DVD edition's coffin. Skip it.
---
Paul Mavis is an internationally published film and television historian, a member of the Online Film Critics Society, and the author of The Espionage Filmography.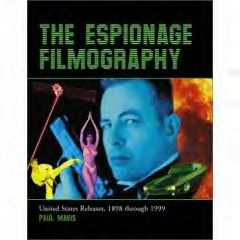 ont>