List Price: $29.98 [Buy now and save at Amazon]
---
I never have understood why they call it "high concept." Believed to be first coined by Michael Eisner over at Paramount, "high concept," the scourge of modern-day moviemaking, is a descriptive term used to sum up a potential movie or television package, preferably in one sentence. An example might be, "Slacker friend Owen Wilson comes to stay at upwardly mobile newlyweds Matt Dillon and Kate Hudson's home, causing chaos." There's nothing "high" about such projects; "middling" to "low" might more accurately describe the lack of thought, true character development, or even the basics of a well-written script that go into a typical "high concept" project. You, Me and Dupree, a good-natured, but criminally underdeveloped comedy from Universal, is painfully short of the one thing that might have saved it from its ignoble "high concept" origins: laughs.
Carl and Molly Peterson (Matt Dillon and Kate Hudson) appear to be the perfect couple. He's an architect working for Molly's father, Mr. Thompson (Michael Douglas), a voracious land developer who's not too keen on his prospective new son-in-law. And she's a sweet-natured school teacher with a beautiful Craftsman-style home in an upscale neighborhood. All in all, things are looking up for the Petersons. The mirror-opposite prospects are apparent for Carl's boyhood friend, Randy Dupree (Owen Wilson). After attending the couple's week-long wedding in Hawaii (for which he didn't obtain permission from his boss), Dupree has been fired from his job selling copiers. He's also lost the company car he drove, as well as his apartment. His current residence is a cot in the back of the bar he frequents with Carl and Neil (Seth Rogan), another childhood friend who now cowers at the very sound of his controlling wife. Not wanting his buddy to have to live like this anymore ("We're adults now, Dupree."), Carl invites Dupree to stay with him and Molly for a couple of days until Dupree is back on his feet.
Of course, Dupree isn't going to get back on his feet, at least not right away. Complications ensue, including Dupree's habit of sleeping naked on their coach, flopping down on his bean bag chair to watch HBO (which he ordered without Carl's or Molly's permission), clogging their toilets, playing baseball with the neighborhood kids out in the street (and causing them to fight), changing Carl's and Molly's answering machine message, inviting hookers over when he convinces Carl to have a little "Carl time," with the final transgression against the Peterson's good will being a naked romp (on their couch) with Molly's co-worker (a Mormon librarian) on their first date - while setting fire to their house.
Kicked out by Carl, Dupree is spotted days later by the Petersons, sitting outside at a bus stop, in the pouring rain, with only his ten-speed bike, and his duffel bag. Carl wants to keep driving, hoping Dupree hasn't seen them, but it's Molly this time who feels sorry for Dupree; she insists that he come back to stay in their garage. This vote of confidence changes Dupree, who now, even though he still can't get a job, starts to help Molly out around the house, becoming her confidant and pal. This unsettles Carl, who is getting worse and worse vibes from his father-in-law at work (Mr. Thompson suggested that Carl hyphenate his name - to Peterson-Thompson, and also gave him pamphlets on vasectomies). Carl, becoming increasingly paranoid, begins to suspect that Dupree is trying to edge Carl out of his own home, and away from his wife. Rapidly, Carl's own life becomes more and more like Dupree's, resulting in his leaving the house and Molly. Can Dupree save this troubled couple, before Carl kills him?
I wanted to like You, Me and Dupree. It's one of those movies where there's initial anticipation on the viewer's part; you've seen the trailer, which looked pretty funny (in a dumb way), so you sit down, and you're ready for a good time. And you keep waiting, and waiting, and hoping. You find yourself rooting for the movie to pick itself up, and get started. The grin that you've plastered on your face starts to get stiff, and eventually fades away. And after about twenty minutes, the sure signs of dread creep in, and you know it's just not going to happen. I kept waiting for comedic lift-off, but to no avail. The lead actors are all fine, and although the premise is as old as the hills, that's because it usually works; it's hard to flub such an easy set-up.
But flub it they do. It's difficult to ascertain exactly went wrong here. I suspect that a major problem with You, Me and Dupree was some severe post-production fiddling. Scenes arbitrarily cut out right when we're expecting a payoff. Many scenes look chopped down to almost incomprehensible single frames (when Molly walks in on Dupree with the librarian, for example), which may suggest editing down for a more palatable rating. Clearly, the film was promoted as a follow-up, in spirit at least, to the previous year's blockbuster, The Wedding Crashers. That raunchy comedy, which, although way overrated, delivered the goods with some solid laughs, was rated R; You, Me and Dupree gets a PG-13, and it shows. I'm not one for wanting more crass sexual humor in movies just for the sake of cheap sensationalism, but if you're going to do it, then go all out. Do it right. Make me laugh. There's just nothing laugh-out-loud funny in You, Me and Dupree, and so we're left with the impression of, "So why am I watching this?"
The directors of You, Me and Dupree (that's right, plural - it took two directors to come up with this inconsequential fluff), along with star Owen Wilson (who gets a producer credit, so I assume he had a big hand in the film's conception), seem to think that we, the audience, will immediately find everything that Dupree does as instantly cute and delightfully charming and wacky (Oh look, he carries around a mouse head! He watches Woody Woodpecker!). But you have to work at getting that across to the viewer. You have to give them a solid base from which to launch that kind of character, but we don't get that in You, Me and Dupree. Owen Wilson, shambling around a house in a T-shirt, ad libbing vaguely annoying New Age solipsisms, isn't enough to stretch out an almost two hour movie. It's tough to find any comedy today that can sustain such a running time, but here, it works badly against the concept. It also doesn't help that the audience is always a good 15 minutes ahead of the plot. Perhaps the problem with You, Me and Dupree wasn't in post-production; perhaps the real problem lies with screenwriters who try to work in movie shorthand ("We'll just show Wilson doing crap; people will eat it up) and directors (I still can't get over the fact that it took two guys to "direct" this thing) who can't direct. There isn't one scene in You, Me and Dupree that can be legitimately called "cinematic." There's no art here, no attempt to make a "movie," or at least, the kind of movie that comedy directors like Preston Sturges or Billy Wilder knew. Where's one decent set-up in You, Me and Dupree? Where's one nicely composed shot? Where's one inkling that the directors ever even saw a good film (by the way, guys, as far as the inclusion of the Roman Holiday clips that Dupree watches: never show scenes from your favorite films in your own film - it just illustrates how far you still have to go) You, Me and Dupree isn't "moviemaking." This is bad TV, blown up for the shopping malls. The sad thing is, I'm afraid there are less and less people out there who can tell the difference.
The DVD:

The Video:
You, Me and Dupree looks fine in this anamorphic widescreen 1.85:1 presentation. Colors are as bright as they can be (the film does tend towards a darker lighting scheme), and the image is sharp with a good bit rate.
The Audio:
The You, Me and Dupree audio soundtrack is presented in crystal-clear Dolby Digital 5.1. But it's not exactly the most dynamic sound mix, so don't expect a lot of separation. There are also French and Spanish language tracks, as well as English, French, and Spanish subtitles.
The Extras:
There are two commentary tracks on You, Me and Dupree. One features the directors of the film; the other includes the screenwriter and the producer. Why anyone would feel the need to listen to two commentary tracks for You, Me and Dupree is beyond me (as well as why anyone would feel the need to comment on it, for that matter). None of the major stars appear on these commentaries -- that says a lot right there. There's an alternate ending included, with or without commentary by the directors. It's no better than the ending they came up with that's on the film now (and which smacks a lot of the far superior What About Bob?). There are outtakes and deleted scenes, which add nothing to the film. There's a feature called Dupree's Memoirs, a scrapbook that features fictional memorabilia from Dupree's life (such as a band-aid from his first bike crash). If as much thought that went into this clever scrapbook had been put into the movie, they might have had a genuine comedy on their hands. There's also an extremely clever spoof trailer, that takes scenes from the movie, and turns the comedy into a horror film. It's one of the few instances of wit on this disc.
Final Thoughts:
You, Me and Dupree is, unfortunately, entirely too symptomatic of the state of movie comedies today. Superficial, disjointed, without a shred of even the most basic cinematic techniques for movie comedies, You, Me and Dupree scores a zero for originality, art, and most tellingly, laughs. Skip it.
---
Paul Mavis is an internationally published film and television historian, a member of the Online Film Critics Society, and the author of The Espionage Filmography.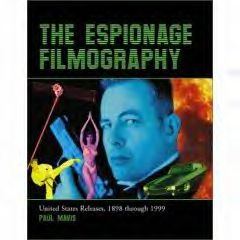 Sponsored Links
Sponsored Links