List Price: $24.98 [Buy now and save at Amazon]
---
I'm totally new to the Sharpe books and movies. I've seen commercials for the films on BBC America, but I never caught one, and I know the books are best sellers, but I've never had a chance to read one. I deliberately didn't read the back of the DVD cover, so I had no idea what I was going to see. I was ready for anything when I put the disc in for Sharpe's Challenge, the latest cinematic adventure of Lieutenant-Colonel Richard Sharpe, the Napoleonic Era's answer to James Bond. After an action-filled, smartly written and acted 139 minutes, I was a new convert to the Sharpe fan base; all in all, Sharpe's Challenge is a bloody good show.
In 1803, at the Chasalgaon Fort, an outpost on the frontier between British forces and the Maharatta princes in India, Richard Sharpe (Sean Bean), has come to take for the Crown troops, 80,000 rifle cartridges that were recovered from the East Indian Company soldiers that occupy the fort. Unfortunately, a company of East Indian Company blackguards, headed by rogue soldier Major William Dodd (Toby Stephens), infiltrate the fort, and mow down all present - except, of course, for seriously wounded Sharpe.
Fourteen years later, at the Duke of Wellington's residence in London, retired Colonel Sharpe is pressed back into service by the Duke, in hopes of going to India, and discovering who, exactly, is behind the growing revolt against the British, nominally headed by Khande Rao (Karan Panthaky), the Rajah of Farrghur and his deceased father's gorgeous courtesan, Madhuvanthi (Padma Lakshmi). When Sharpe refuses, the Duke presses Sharpe, telling him that Sharpe's best friend, Patrick Harper (Daragh O'Malley) was the agent sent before Sharpe, and who is now missing, and presumed dead. Sharpe, anxious to find out the whereabouts of his friend (and less interested in helping out the East Indian Company's efforts to create chaos in India by keeping the Indian princesses at each other's throats), agrees to go to India to put down Khande's rebellion.
Once in India, Sharpe runs across Celia Burroughs (Lucy Brown), the daughter of commanding General Burroughs (Peter Symonds). With her escort, Captain Lawrence (Lex Shrapnel), Celia respectfully listens to Sharpe's advice about traveling in bandit country. Unfortunately, while Sharpe goes off to find Lawrence's calvary unit, Celia and Lawrence are captured by Dodd, who is now a Colonel in the Rajah's army, and the real power behind the rebellion against the Crown forces. Taken prisoner, Lawrence is killed in a most gruesome manner (by the Indian strongmen jetties, whose grotesque forms of killing comprise their "art"), while Celia is "given" to the Rajah by Dodd. She is locked away in her dungeon, awaiting her fate.
Sharpe, while tracking down Lawrence's calvary, comes across -- rather miraculously -- his old friend Harper, who, contrary to rumors, is still very much alive. Together, with the reluctant aid of Indian officer Mohan Singh (Ally Khan), Sharpe and Harper try to enlist the aid of General Sir Henry Simmerson (Michael Cochrane), a bumbling blowhard who has taken command of the Crown forces due to a reoccurring illness that has bedridden General Burroughs. Sharpe's plan (okayed by Simmerson because he can't stand Sharpe) is to infiltrate Colonel Dodd's army and rescue Celia, while hopefully, putting down the rebellion. Harper thinks this is a tall order for only two soldiers, but off they ride to the fortress to save Celia and the Empire.
Of course, complications ensue, with Sharpe betrayed to Dodd by a scurvy turncoat, Sergeant Bickerstaff (Peter Hugo-Daly). As well, Sharpe discovers that the fortress is booby-trapped, in anticipation of the Crown forces' advancement. Can Sharpe save not only Celia, but also thousands of Crown forces, while putting down a vicious native rebellion?
I was a little concerned when Sharpe's Challenge first started. With it being a British TV production, I was worried that not only would it be rather bloodless (perhaps more of a dry history lesson rather than an adventure tale), but that the inevitable smaller TV budget would work against the scope of the picture. My concerns were quickly proven wrong. Sharpe's Challenge hits the ground running, and doesn't let up for a second during its 139 minute running time. The action scenes are frequent, and extremely well executed, with thousands of extras for the exciting battle scenes. My understanding is that this particular Sharpe, which was undertaken after an eight year break from the previous film adaptations, is a good deal more violent and gory than the previous films. Certainly, there's an R-rated feel to the various shootings, head-twistings, and spikes-through-the-head mutilations that occur with regularity in Sharpe's Challenge, as well as some isolated nudity. The look of the film is impressive; Sharpe's Challenge has the big-scale atmosphere of a theatrical release, with breathtaking location work done in Rajasthan, India.
Sharpe's Challenge is also quite adept at walking the thin line between celebrating the glories of the British Empire, while illustrating the harm that that Empire brought to the Indian people. While there's no doubt that Sharpe's skill as a soldier -- regardless of who those skills are pointed against -- and his dedication to England and the Crown are meant to be admired, Sharpe's Challenge gives full voice to the Indian side of colonialism, as well. Singh tells Sharpe and Harper that he views the British as a "necessary evil" to help him battle the Rajah, his sworn enemy. The Rajah's sister, Lalima (Shruti Vyas), who takes pity on Celia, and aids her against the Rajah, still correctly identifies the roots of the rebellion: British occupation that encourages a "divide and conquer" strategy." It's a more modern, evenly-balanced take on cinema's traditional imperial adventures (the original 1939 The Four Feathers, Gunga Din), which proves nonetheless to be just as exciting and rousing as those classic action films.
The acting is first-rate, as well. Sean Bean, a noted supporting actor over here in the States (GoldenEye, The Lord of the Rings), cuts exactly the right kind of figure as the dashing, battle-hard Sharpe, whose cunning (and brass) keep him one step ahead of the villains who want him dead. He's really the anchor of the show, and he's ably supported by a particularly good cast. O'Malley is fun as Sharpe's Irish sidekick, and it's a pleasure to see the always slightly creepy Stephens as the baddie Dodd (it's also a treat for James Bond fans to see these two Bond villains - Bean and Stephens - battle it out in a well-choreographed saber duel). Khan is a standout as the Indian cavalryman Singh, and sexy Lakshmi is suitably sensuous and deadly as the evil courtesan.
The DVD:

The Video:
The video image for Sharpe's Challenge is quite good, if unspectacular. I did notice some artifacting in some of the darker scenes, with perhaps a bit rate that could have been higher (there's over an hour of extras, in addition to the two hour, twenty minute feature, which might explain that compression problem). Still, the enhanced, 16:9 widescreen image is colorful and bright, and looks as good as most theatrical releases.
The Audio:
The Sharpe's Challenge Dolby Digital English Stereo 2.0 mix is surprisingly strong, particularly with the numerous battle scenes, and the wonderful music soundtrack. English subtitles are available.
The Extras:
There are quite a few extra features on the Sharpe's Challenge disc, no doubt owing to the incredible popularity of the earlier films. First up is a one hour behind-the-scenes documentary that gives some great background to not only this production, but also the history of the film series. Next are some deleted scenes and outtakes that are fun to watch, along with a rather arty photo gallery that's pretty much a waste of time.
Final Thoughts:
I came in totally clean to Sharpe's Challenge, and left a confirmed fan. I plan on watching the other film adaptations, and flipping through one or two of the books. Sharpe makes for a fine action hero, with Sean Bean's assured performance aiding immeasurably. The location work is first-rate, with director Clegg guiding the hand-to-hand stuff admirably. If you're at all interested in British feature work, or you're a history buff, or you just like a good actioner, I recommend Sharpe's Challenge.
---
Paul Mavis is an internationally published film and television historian, a member of the Online Film Critics Society, and the author of The Espionage Filmography.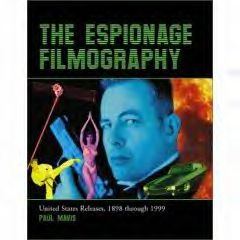 ---
C O N T E N T

---
V I D E O

---
A U D I O

---
E X T R A S

---
R E P L A Y

---
A D V I C E
Recommended
---
E - M A I L
this review to a friend
Sponsored Links
Sponsored Links