List Price: $14.98 [Buy now and save at Amazon]
---
On November 29th, 1864, members of the Colorado Militia, led by Colonel Chivington, massacred a Cheyenne village at Sand Creek, killing over 500 Indians, more than half of them women and children. There were reports of rapings and mutilation of the bodies. It was a horrific, shameful chapter in U.S. military history, and was immediately and rightly condemned by the government, military and the people of the United States. Soldier Blue, director Ralph Nelson's "revisionist" western from 1970, wraps a fictitious story around this historical event, peppering it with modern political references to the United States then-current involvement with the Vietnam War, and more specifically, with the My Lai massacre.
Soldier Blue has always been the more obscure, notorious member of the three big studio Indian pictures that came out in 1970 (A Man Called Horse and Little Big Man were the other two), most probably because of the sickening violence that caps the film during the final U.S. Calvary massacre. Pushing the envelope of screen violence in mainstream Hollywood films further than previously thought possible, director Nelson reverted to showing full frontal nudity during the rape scenes, along with depicting graphic, gory beheadings and gunshot wounds to young children in an effort to show the truth of his story. Of course, Nelson and producer Joseph E. Levine (no stranger to film exploitation), fell into the same trap that usually befalls any filmmakers who separate form from content. If you want to decry the viciousness of war, and the subhuman acts of barbarity that man visits upon other men - you don't revel in that depiction by offering up ingeniously shot scenes of suffering like a treat for the audience, in glorious widescreen color with lots of gasp-inducing, slow-motion shots of blood and gore - all in the name of selling tickets. The posters for Soldier Blue, in big, block, red letters, said it all: "The Most Savage Film in History!" So much for trying to create audience understanding or teaching a lesson. But it's not just the filmmakers' techniques that are inherently confused here; it's their one-sided stacking of the historical deck - which is suspect on some facts, as well - that also undercuts the artistic effectiveness of Soldier Blue right from the start.
Soldier Blue opens with a Cheyenne massacre of a calvary paymaster's detail, with the only survivors being Cresta Lee (Candice Bergen) and soldier Honus Gent ("Honorable Gent?" or "Honest Gent" perhaps?), played by Peter Strauss. Gent, inexperienced and naive, believes that his comrades were wiped out by Spotted Wolf (Jorge Rivero) and his tribe to rescue Cresta; she had been kidnapped two years prior by Spotted Wolf and had been living in the tribe as one of his wives. But Cresta believes they were attacked for the chest of gold that the paymaster was carrying; the Indians plan on buying rifles with the stolen money. What follows are the efforts of Cresta and Honus to not only survive the various obstacles in their way to getting back to the safety of the fort (including other rapacious Indians and a vicious gunrunner played by Donald Pleasence), but also Cresta's efforts to educate Honus on how to survive in Indian country, as well as convincing him of the evils of the U.S. military and government. The film ends with Honus and Cresta's futile efforts to stop the stomach-churning slaughter of the Indian village.
Soldier Blue wears its liberal political viewpoint on its sleeve from minute one, by having the theme song sung by celebrated peace activist Buffy Sainte-Marie. And that's just fine; most filmmakers have a political viewpoint, and with a loaded subject like Soldier Blue, it would be a fairly pointless exercise to have a generic, studio hack direct the piece without a thought in his head. Where director Nelson and screenwriter John Gay fall into trouble is in loading the film so far to one side that no understanding of any real depth is achieved about man and war and violence. Nelson and Gay selectively pick and choose what atrocities to show (all white, no Inidan), indicating the true level of discourse they really wanted to pursue.
Had the filmmakers wanted to depict the Sand Creek massacre alone, there would be little questioning of their artistic approach: it was a horrific act that both whites and Indians decried at the time. But Nelson and Gay, in a search for bigger fish to fry, lose sight of this specific indictment of a chapter in U.S. history, and instead try to indict white culture as a whole, while unquestioningly promoting Indian culture as inherently superior, more just, and merely reactive in their own brutal practices. A good example is the opening Indian massacre. The violence visited upon the calvary by the Indians is depicted as "clean;" in other words, we see no graphic brutality, no dismemberment, no scalpings. It's a "safe," generic presentation of movie western violence that wouldn't raise the ire of even the most innocent audience member. Bergen, watching the aftermath of the massacre, gleefully tells Strauss that the Indians "are going to be messing with those bodies for hours." But of course, Nelson doesn't show that; it wouldn't fit in with his particular political bent.
He does, however, show every sickening detail of the final Calvary massacre, including disturbing images of rape and dismemberment. Every single soldier shown mutilating or raping an Indian is depicted as a laughing, giggling psychopath who Nelson and Gay clearly want to be representatives of a rapacious, venal white culture (as the theme song states, can't "soldier blue" find another way to love the land?). Naturally, this fits in with the then (and now, unfortunately) popular notion that the only culture worthy of derision and contempt is so-called "white" American culture. Nelson and Gay make it impossible to feel anything but rage at the soldiers because of their actions - and that's the way it should be when referencing this particular historical event. If the only point of the film was depicting this particularly brutal, senseless act by the U.S. military, the filmmakers would have been justified in dealing with it as they did.
However, the filmmakers aim for a bigger target (condemnation of America), and in the process, pull their punches and miss out on real complexity and intellectual depth by skirting the more troublesome aspects of Indian culture. In the film, the notion that Bergen is now a "loose" woman because she's been living sexually with an Indian, is constantly alluded to by the calvary soldiers. Bergen's character appears to have no problem with her previous arrangement, smiling and saying, "I know him," when Gent questions her about Spotted Wolf. There's no indictment of the various Indian tribes that kidnapped and raped young female children and women and made them their wives against their will (where are the feminists on that one?). Indeed, the film has a segment where Kiowa Indians clearly intend to rape Bergen and then kill her and Gent (she states their intentions to Gent, so it's not a guess what they're after), that's treated comically. But there's nothing comic in the terrifying, graphic rapes of the Indian women at the hands of the U.S. Calvary. Evidently, when it's mutilation and rape by Indians, it's okay (even comical) by Nelson and Gay; but when whites do it....
But of course, that's the problem with aligning yourself dogmatically with one particular political viewpoint; you tend to blind yourself to the other side. You may also feel the need to fudge the facts to bolster your case, as well. Bergen not only brings up the popular myth (that's now been thoroughly debunked) that Europeans taught the Indians how to scalp (as if who introduced the practice mattered one bit in justifying its usage, anyhow), but she also comments on Custer's massacre -- a neat trick since that particular event wouldn't occur for another twelve years. Ultimately, Nelson and Gay chose to show only that which would justify their political leanings. Unfortunately, the opening of the film states that this movie's purpose is show how man, in general, is inhuman to other men. That's a pretty big bar to set, and you had better be fair, then, in saying who's an innocent and who's a villain. How would 1970 audiences feel about the Indians in the movie, if the Indian massacre that opened the film was depicted in the same brutal, "honest" way that the Calvary attack was filmed at the film's climax? They would have been equally horrified, and then questions would have had to be asked about Man's propensity for violence in general - regardless of culture or race. But evidently, that's too touchy a concept for Nelson and Gay to get across - especially when it's far easier to use the convenient liberal shorthand of the times that unequivocally stated that all American history was evil, and all Indian history was good.
If the politics of Soldier Blue were the only fuzzy aspects of the film, I'd say it was an honorable failure. But there's so much more of Soldier Blue that doesn't work, that's inherently at odds with the movie's intended message, that ultimately, it's a complete artistic failure. Chief among the missteps is the central section of the film that depicts the growing romance between Strauss and Bergen. Treated almost like a grotesque parody of the Doris Day films that had just gone out of fashion, the comic, cutesy banter between Strauss and Bergen (culminating in an ill-advised slapstick sequence involving Miss Bergen's naked bottom) strikes a particularly unbelievable tone, especially when you consider what's coming up in the film. Bergen, who's portrayed as a foul-mouthed wise ass, has a good performance lurking somewhere in all that caterwauling, but Nelson does little to help pick and choose the optimal scenes. Strauss is essentially hopeless in the role of the naive soldier; he can do little but twist his face grotesquely to suggest sickness, anger, lust, love (or a toothache, for all I know). Did Nelson want these light moments to be a soothing balm to set up the audience for the sucker punch ending? Or did he honestly think that a generic romance was needed to get the women into the theatres? Who knows. But clearly, the scenes don't work. Perhaps Soldier Blue would have worked better from a political and artistic standpoint if it was shot as a true comic nightmare, with tough-talking Bergen commenting on the atrocities visited by all men upon their fellow man? Certainly then, it may have been an inherently more honest film. As it is, Soldier Blue, this supposedly angry, revolutionary cry for honesty, comes off as a calculated Western mess, with a tired message (watch Ford carefully, and you'll see he's not as black-and-white on Indian/white relations as some politically correct critics would have you think), and a reliance on then-fashionable graphic violence and gore to justify its existence.
The DVD:
The Video:

The video image for Soldier Blue is quite impressive, with a bright, focused 16x9 anamorphically-enhanced 2.35:1 transfer that's never looked better. Some dirt and scratches are apparent, particularly at the beginning of the film, but all in all, it's a sensational looking picture.
The Audio:

The Dolby mono audio track is something of a disappointment, but it accurately reflects the original theatrical presentation of the film's soundtrack.
The Extras:

There are no extras for Soldier Blue.
Final Thoughts:

If director Ralph Nelson wanted to show the horrific events of the Sand Creek Massacre, he had every right to depict the gruesome rapes and beheadings at the hands of the U.S. Calvary. It's a true event. It happened. And it shamed a nation that immediately denounced the perpetrators, and started - however small at first -- to turn the tide of public opinion from the shameful policies of the U.S. government towards the Native American tribes (another fact that Nelson and Gay leave out). But if Nelson and screenwriter John Gay wanted to indict a whole people, a whole culture, then they were fighting a losing battle of one-sided political correctness. By depicting all whites in the film`(and therefore, stereotyping the entire group) as either chuckle-headed innocents, slathering psychopaths, or horny oafs, while deliberately ignoring some of Indian culture's equally troublesome brutalities, Nelson and Gay chose the facile road to the then-popular, fuzzy, "feel-good" hatred of the "Great Satan" America, and as such, produced a work that does nothing to further the understanding of why men kill other men. And with no attempt to fairly intellectualize the proceedings, Soldier Blue winds up only celebrating the barbarities it so lovingly depicts. As the posters accurately insinuate (no doubt at the insistence of shlock-meister Levine), Soldier Blue is essentially nothing more than a snuff film with a conscience - and a particularly suspect conscience at that. Rent it.
---
Paul Mavis is an internationally published film and television historian, a member of the Online Film Critics Society, and the author of The Espionage Filmography.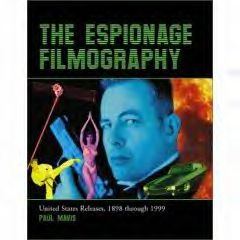 Sponsored Links
Sponsored Links