SpongeBob SquarePants - Season 4, Vol. 2
List Price: $36.99 [Buy now and save at Amazon]
---
Writing a review for SpongeBob SquarePants: Season 4, Volume 2 is about the easiest assignment I've had all year. You see, I wrote the review for the first volume of Season Four, and this second collection of animated adventures is just as funny, just as silly, and just as addictive as the first volume. When the menus popped up, with pictures from the individual episodes, my kids immediately started screaming, "Oh that's a great one!" "Let's watch that one first!" "And that one is hysterical; let's watch that one!" It's amazing, but they knew every one by heart. It's pretty clear that this little cartoon about a plucky little sponge is going to become a universal pop culture touchstone for people in the coming years, in the same way the brilliant Looney Tunes cartoons were for my generation. What I had to say about SpongeBob in my first review of this particular season still goes, so here's a portion of that review, with some added comments about this second batch of cartoons from the fourth season.
When SpongeBob SquarePants debuted in 1999 on Nickelodeon, we were, as regular Snick (Nickelodeon shows on Saturday night) viewers, frankly disappointed. It was touted as a replacement for the popular Nicktoon, Rocko's Modern Life, which had ceased production in 1996. For whatever reason (and we were not alone -- SpongeBob SquarePants wasn't an immediate hit, despite what people think today), we just didn't cotton to the show at first. I remember thinking it was way too childish for me to watch along with my kids, whereas Rocko was quite entertaining for adults. It also seemed a tad silly, with little viewpoint to grab an adult viewer.
Of course, who cared if an adult didn't like the show -- our kids loved it, and their incessant begging to watch it on Saturday nights eventually wore us down, and we gave it a second look. Maybe we needed time to get used to it, but after awhile, we started to see what everybody else had already discovered: a goofy, high-octane, super-charged cartoon that quickly became essential viewing for child and parent. It's hard to describe to somebody who doesn't watch these cartoons with young kids, how absolutely unhinged they become when that catchy little sea-shanty tune comes on, jacking them up.
When trying to explain the popularity of these influential pop culture cartoons, it's usually said that the really big ratings winners get to the top by appealing to parents as well as their children. Maybe, although I defy any parent to watch more than one episode of Rugrats before mentally tuning out, and that show was a huge hit. But certainly SpongeBob SquarePants has become a pop culture touchstone because almost as many adults watch it as children, regardless of whether or not they even have children.
And what appeals to the adults on one level, probably attracts the kids, too. SpongeBob SquarePants is first and foremost, unapologetically silly. Kids love SpongeBob SquarePants's humor that distorts reality, with the repetition of physical gags (SpongeBob's repeated screaming, over and over again to the point of insanity) carried to such an extreme that even they can understand that the conventions of typical cartoon comedy are being perverted for their pleasure. And adults -- well, they know that, too. They can appreciate the adult references to old Hollywood movies (the dead-pan observers in the foreground who get off a smart quip, the overly dramatic music cues, corny montage sequences) and television, while admitting to themselves that SpongeBob running around screaming with his eyes bugging out, is funny - with no apologies.
There's another element to the SpongeBob SquarePants juggernaut that makes it so popular (on a regular basis, multiple episodes show up in the weekly top ten cable Nielsen ratings) -- confidence. There's a professional, confident air about the show (surely fed by its own success) that transfers to the viewer. You know you're going to be taken care of for your entertainment needs, for 11 minutes, by a bunch of pros. The show knows exactly what its range is, and it stays within in expertly, delivering great episodes consistently, week after week.
Of course, all the professionalism in the world wouldn't help if the characters weren't appealing, and they certainly are here. SpongeBob remains the center of attention; an eternal optimist, an exuberant nerd whose perennial sunny disposition drives his grouchy boss Mr. Krabs and his enervated, ticked-off co-worker and neighbor Squidward, absolutely crazy. I suspect kids really connect with the essential niceness in SpongeBob's character, as well as his penchant for constantly screwing up. Adults probably laugh the most at Mr. Krabs, who has the first dollar he ever made, framed and hanging in his office (we've all had bosses like that), and Plankton, the hilariously stentorian-voiced evil genius who dreams of capturing the famous Krabby Patty recipe, and ruling the world. Kids love Patrick, as well, because they realize that no matter how much they get into trouble, they can't be nearly as dumb as Patrick.
Some particular favorites in this second volume from Season Four include Whale of a Birthday, where Squidward sings in a boy-band ("I need four-ply when I cry!"); Chimps Ahoy, where Patrick tells SpongeBob, "The horrible screaming means it's working," for his combination back-scratcher/hair-cutter/nose-picker/ukelele-tuner machine; New Leaf, where Plankton and Mr. Krabs get to have a "buddy picture" short to themselves (check out their make-up phone call after they have a fight); Squidtastic Voyage, a funny parody on Fantastic Voyage (I love how Patrick keeps smashing his axe into everything with no provocation); Hocus Pocus, when SpongeBob thinks his ice cream cone is Squidward (listen to the barbell boy yell when he skids on Squidward's face); Born to Be Wild, where SpongeBob and Patrick quit being "little baby doody-heads," and join a biker gang, and of course, the now-classic, brilliant parody of Bruce Lee's Game of Death, Karate Island, an almost perfect melding of two slacker favorites: sitting on your butt watching cartoons, and sitting on your butt watching karate flicks. If you're wondering if SpongeBob is still as popular today after nearly eight years on the air, during the recent November 9th through the 10th, 2006 Best Day Ever Marathon of SpongeBob SquarePants toons, Nickelodeon had the highest single rated day in their network's history. Although there are rumors out there that SpongeBob will cease production soon, I suspect with popularity like that, it will be a long time before the creative artists behind this hysterical little cartoon close up shop.
Here are the twenty, 11-minute episodes included in SpongeBob SquarePants: Season 4, Volume 2

DISC ONE:


Chimps Ahoy
If Sandy doesn't come up with an out-of-this world invention, she'll be forced to leave Bikini Bottom forever!

Whale of a Birthday
SpongeBob maxes out Mr. Krabs' credit card when he's asked to find a terrific birthday present for Pearl

Karate Island
SpongeBob receives an invitation to take part in a competition on mysterious Karate Island for the chance to be crowned "King of Karate."

All That Glitters
When SpongeBob's trusty spatula breaks mid patty flip, he replaces it with a state-of-the-art "Le Spatula." SpongeBob soon discovers that new isn't always better.

New Leaf
Has Plankton really given up fast food to start a new business selling knickknacks? Or is this another elaborate scheme to steal the Krabby Patty formula?

Once Bitten
When Gary bites Squidward, Squid is convinced he has mad snail disease.

Bummer Vacation
To avoid being fined, Mr. Krabs forces SpongeBob to take time off. But SpongeBob just can't stay away!

Wigstruck
SpongeBob finds an old powdered wig and takes to wearing it everywhere, all the time.

Squidtastic Voyage
Sandy, SpongeBob and Patrick shrink and go on a fantastic voyage inside Squidward.

That's No Lady
When Patrick disguises himself as "Patricia" to avoid trouble, his new persona catches the eye of Mr. Krabs.

DISC TWO:


Hocus Pocus
SpongeBob tries out his new magic kit on Squidward and is convinced he's turned his neighbor into an ice cream cone!

The Thing
After a freak bicycling accident, Squidward is coated in so much gunk, he's totally unrecognizable. SpongeBob thinks he's cute and adopts him as a pet.

Driven to Tears
As the one-millionth customer at the DMV, Patrick is awarded a brand-new boat along with his license! Will SpongeBob's jealousy get the best of him?

Rule of Thumb
An oversight in a royal geneology document reveals that Patrick is heir to a kingly title. And the power of the crown goes straight to his head.

Best Frenemies
Mr. Krabs joins forces with Plankton to inflitrate Bikini Bottom's newest culinary sensation, the Kelpshake, and uncover its secrets.

Born to Be Wild
When SpongeBob hears a ferocious biker gang is coming to Bikini Bottom, he enlists Patrick's help to run the bad boys outta town.

Squid Wood
SpongeBob builds a ventriloquist dummy modeled after Squidward. Soon everyone in town prefers the dummy to the real thing!

The Pink Purloiner
SpongeBob's favorite jellyfishing net is missing! Worst of all, Patrick might be the one who stole it.

Best Day Ever
SpongeBob sets out to have the best day ever with his pals. But things don't go exactly as planned.

The Gift of Gum
On Best Friends Day, Patrick gives SpongeBob his most prized possession, an enormous ball of used chewing gum. SpongeBob is touched, until he becomes totally grossed out!
The DVD:
The Video:
The full screen transfer for SpongeBob SquarePants: Season 4, Volume 2 looks as brilliantly sharp and clear as the first volume did. Colors are deep, rich, and bright.
The Audio:

The Dolby Digital stereo mix is excellent; all of SpongeBob's screeches come through with crystal clarity. And if you're a parent whose teeth set on edge every time that song plays, don't worry; they only play it once at the top of each disc. The rest of the episodes are sans song. Close captioning is available (although not listed in the menus), and can be helpful with some of the pop culture references if you need them (identifying music cues, for example).
The Extras:
There are a couple of extras on this collection of SpongeBob SquarePants: Season 4, Volume 2. First up on disc one are five quick, 30 second Best Day Ever Shorts, featuring some funny bits with SpongeBob and the gang. The shorts are: Crossing the Street, Anything for Baby, Flowers for Sandy, Me Money, and Pie. On disc two, the Best Day Ever Karaoke Music Video is offered, with helpful captions so the kids can sing along. And finally, Behind the Scenes with Pick Boy and SpongeBob is a six minute set of bumpers that features the Nick host Pick Boy invading a recording session of SpongeBob (the actors look uncomfortable), and going out in the street to get viewer reactions. It's fairly silly, but kids like it.
Final Thoughts:
SpongeBob SquarePants: Season 4, Volume 2 has ten more classic episodes from a particularly strong season (Karate Island is one of the best SpongeBobs out there). Nothing grabs kids attention like SpongeBob, and you can't go wrong getting these collections for their libraries. And if they're for you - who cares? We won't tell (because we're watching them, too). I highly recommend SpongeBob SquarePants: Season 4, Volume 2
---
Paul Mavis is an internationally published film and television historian, a member of the Online Film Critics Society, and the author of The Espionage Filmography.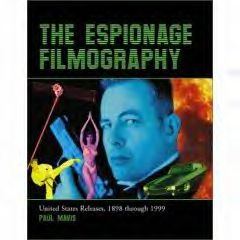 ---
C O N T E N T

---
V I D E O

---
A U D I O

---
E X T R A S

---
R E P L A Y

---
A D V I C E
Highly Recommended
---
E - M A I L
this review to a friend
Sponsored Links
Sponsored Links