Mutual of Omaha's Wild Kingdom - The Definitive 50-Episode Collection
List Price: $44.98 [Buy now and save at Amazon]
---
Walt Disney's True-Life Adventures series of nature documentaries may have been the first films to subliminally introduce America to the concept of ecology and conservation, but it was Mutual of Omaha's Wild Kingdom -- years before there was a mainstream, public consciousness about environmental concerns - that flat out told TV audiences: protect our wild habitats or suffer the consequences. Wild Kingdom was hugely popular when I was growing up (upwards of 35 million viewers at its peak in 1974 - take that, American Idol!), and its host, famed zoologist and adventurer Marlin Perkins, was as well known a television personality in his day as Walt Disney. BCI's mammoth seven flipper disc set, Mutual of Omaha's Wild Kingdom: The Definitive 50 Episode Collection may be strangely titled (it seems to imply there were only 50 episodes produced), but it's a marvelous blast from the past, providing almost twenty hours of thrilling - and educational - adventures.
Marlin Perkins, born in 1905, was a college zoology major who dropped out of school for the chance to work at the St. Louis Zoo. He was hired as a lowly groundskeeper, and worked his way up to become their reptile curator in 1926. Moving on to run the Buffalo Zoo as their director in the 1930s, he then went to the Lincoln Park Zoo in Chicago as their director in 1944. Knowing the value of publicity for a zoo's livelihood, Perkins, between 1945 and 1947, produced several 15 minute programs on Chicago's experimental TV station, WBKB. Perkins would bring in an animal from the zoo, talk about its habits, and chat about the latest happenings at the Lincoln Park Zoo. His audience? About 300 receivers when he first started. But the little segments proved so popular that when NBC finally hooked up a coaxial connection from New York to Chicago in 1949, the Chicago NBC station wanted to impress the big boys in New York with their own local product, and Perkins' soon-to-be titled Zoo Parade, would prove to be a smash hit. Once the show had commercial sponsors in 1950 (Ken-L Ration dog food, and later, Mutual of Omaha), the show went national, airing on Sunday afternoons at 5:00. It lasted until 1957, when it was canceled. Perkins went on to become the director of the St. Louis Zoo in 1962, and almost immediately, with the help of series producer and director Don Meier, struck up a deal with Mutual of Omaha and NBC to produce another wildlife series, this time called Wild Kingdom.
Wild Kingdom premiered on the NBC network on January 6, 1963. It was an immediate hit, and viewership levels grew over the next five years to such an extent that NBC felt the show would be better suited to prime time. Premiering in January, 1968 (as a mid-season replacement), Wild Kingdom's new 7:00P.M. time slot was a perfect lead-in for Walt Disney's Wonderful World of Color. NBC let Wild Kingdom go at the end of 1971, but it soon became a phenomenon in first-run syndication, returning to its Sunday afternoon timeslot in most markets. At its peak in 1974, it was the most popular television show in syndication, beating out Star Trek and Hee Haw. Although quite a few of the syndicated Wild Kingdom shows were simply repackaged network repeats, many new shows were still produced over the years, with the series officially ending in 1988 (not counting the new Wild Kingdom series that airs on cable today). Marlin Perkins would host the show until a year before his death in 1986.
Watching Mutual of Omaha's Wild Kingdom: The Definitive 50 Episode Collection today is obviously an exercise in nostalgia for me, but I suspect those who aren't familiar with it will enjoy it, as well (my kids loved it). As the show wore on in years, there were critics who felt the show exploited animals for dramatic purposes - much like the criticism that was leveled at the Walt Disney True-Life Adventure series. That strikes me as a silly charge, particularly when you consider the crucial role that Marlin Perkins and Wild Kingdom played in bringing an awareness of conservation to mainstream America. Almost every episode in Wild Kingdom has Marlin directly addressing the audience, telling them that if they don't manage what's left of our wild habitat, the amazingly diverse world of animals showcased on the program will eventually disappear. The theme that runs constantly through the show is one of "threat:" threat to natural habitats through encroaching civilization, threat to animals because of loss of habitat, and of course, threat to Marlin and his team from an assortment of enraged animals.
Of course, that was one of the main complaints about Wild Kingdom, that Perkins and his crew were intrusive towards animals in the search for scripted moments for the TV show. Undoubtedly, the crews that were sent out on Wild Kingdom shoots were basing their shots on a predetermined story idea - as Perkins asserted in his autobiography. A story idea would be put forth, usually after somebody on the production team did research on a particular animal or area of the world. Then, a crew would be dispatched to gather footage that fit that broad, general story idea. Once the footage was brought back to the production offices, it was edited and scripted to tell a concise, dramatic, entertaining story, accompanied by Perkins' perfectly pitched narration. Perkins was adamant, however, that no sequences were "staged" in any way to put animals in harm's way, as you can see for yourself when you watch the show. Most of the action sequences that were filmed, particularly the thrilling "capture and relocate" episodes that are so much fun, were tag-along shoots that documented real efforts by other conservationists to help propagate species in protected habitats. These sequences were certainly no more intrusive than the aggressively hands-on tactics of Steve Irwin. It became kind of a national joke for comedians to imitate Perkins' distinctive vocal style, calmly narrating the perils that his sidekick Jim Fowler were supposedly suffering at the hands of vicious animals. But those exaggerations don't actually occur in the Wild Kingdom episodes; the tone of the show is one of serious scientific discovery presented hand-in-hand with thrilling entertainment for the audience.
And quite frankly, what's wrong with these shows being entertaining from a dramatic standpoint? As Roy Disney said quite simply about the True-Life Adventures: if they weren't entertaining, nobody would watch them. Quite often, the nature documentaries that filled the airwaves after Wild Kingdom paved the way were deadly dull affairs, shot with long, long lenses capturing repetitive, prosaic animal behavior, all to the tune of pretentious, downbeat, somnolent narrations which rarely struck notes outside of: "The world is doomed." Not Wild Kingdom; it had a positive message that stated man put us in this situation, and man can get us out of it. Marlin and Jim and Stan Brock are right in the middle of things, and it's exciting. These aren't just naturalists and scientists; they're adventurers (or at least the show does a good job of portraying them that way). Often, Marlin and Jim come off rather like live-action G.I. Joe figures, with all the appropriate toys, like cool Land Rovers, trucks, boats and helicopters, that are needed to get the job done. That's part of the appeal of Wild Kingdom - it's adventuresome. Marlin and his most popular sidekick, naturalist Jim Fowler, are a perfect TV pairing. Perkins, the older, distinguished, mustachioed, avuncular scientist, with that great shock of white hair and vigorous constitution, is perfectly balanced by the boyish, handsome Fowler, the junior member of the team whose agility and quick thinking more than once saved his hide in a tight spot. Seriously, you couldn't have picked a more photogenic pair for television -- it's like they're from Central Casting. And that "casting," if you will (along with their for-real scientific backgrounds), helped make Wild Kingdom the long running phenomenon it was for twenty-five years. I don't think it's a coincidence that the next great TV personality that worked with animals was the charismatic, aggressively hands-on Steve Irwin. TV viewers want a story with their lecture; they'll listen to the message, but you better entertain them in the process. Wild Kingdom does that expertly.
Here are the fifty (!), one-half hour episodes of Mutual of Omaha's Wild Kingdom: The Definitive 50 Episode Collection:
DISC ONE: THE AFRICAN WILD - SIDE A

Gorillas of the Mountains
A look at the life and research of Dr. Dian Fossey.
Gorillas of the Mountains II
The second part of a memorable profile of Dr. Fossey.
Reunion with the Gorillas
A follow up profile of Fossey, who returns to Africa after several years to see if her beloved Gorillas remember her.
DISC ONE: THE AFRICAN WILD - SIDE B

African Game Catchers
Wildebeest, blesbok, and giraffe are captured and relocated in South Africa.
To Catch a Giraffe
Marlin and Jim help relocate giraffes and zebras in Rhodesia.
Hippo
Marlin, Jim, and Stan journey to South Africa to capture the unpredictable and dangerous hippo.
Memorable Moments in the Wild Kingdom
Jim and Marlin revisit some of their most memorable adventures and discoveries.
DISC TWO: WILD CATS - SIDE A

King of the Beasts
Marlin and Jim analyze the behavior of the lion in his natural habitat and in the zoo.
Lion Country
An in-depth look at the greatest of the great cats: the African lion.
Lions Under the Net
Using a new shot from a cannon, Marlin and Stan capture lions in Rhodesia.
DISC TWO: WILD CATS - SIDE B

Cheetah Country
A heartwarming episode about the first weeks in the life of baby cheetahs in Rhodesia.
Lions of the Gir Forest
Marlin travels to India in search of the King of the Beasts.
Prowling Night Lions
Jim and Peter help relocate lions to ensure their survival.
Wonderful Ways of the Wild
Marlin highlights close calls and high adventure throughout his career.
DISC THREE: DANGEROUS ENCOUNTERS IN THE WILD - SIDE A

Hammerhead Sharks of the Seas of Cortez
Baja, California is the setting to study Hammer Head Sharks and other marine life including a 20-foot white shark. An underwater ballet is performed by a giant manta ray.
Sharks of the Blue Waters
Danger ensues while testing a metallic-mesh antishark suit, which provokes sharks into attacking the suit.
Sunken Ships and Sharks
The underwater camera crew journeys to Australia and the Coral Sea where a sunken ship serves as the habitat for numerous sharks and many other forms of sea life.
DISC THREE: DANGEROUS ENCOUNTERS IN THE WILD - SIDE B

Where the Crocodile is King
To Marlin and Jim, Africa's waters mean the chance to film the most exciting dramas and most unusual animals ever captured by the cameras...CROCODILES!
Giants of Dadanawa
Marlin and Stan Brock go on an expedition in the South American jungles where they have a dangerous encounter with an anaconda of giant proportions.
Operation Alligator
Jim and Peter Gros enter the bayous of Louisiana in the dark of night to capture alligators using a spotlight and their loop nooses to subdue the dangerous alligators which measure up to 15 feet long.
Challenge to Survival
As civilization moves step by step into the wild kingdom, all forms of wildlife are forced to retreat. Witness the excitement and action as animals all over the world are captured, tagged and relocated to a safe habitat.
DISC FOUR: MAMMALS OF NORTH AMERICA - SIDE A

Polar Bears of Churchill
To save a species from extinction, 25 polar bears are captured and relocated to protect their own existence as well as preventing a potential threat to a nearby community.
Problem Bears of the North
Jim and Peter Gros journey together to the wilds of Manitoba to observe the steps by authorities to reduce a hazard posed by polar bears that congregate around Cape Churchill.
Under the Northern Ice
Marlin and Tom Allen undergo intensive studies with Canadian experts of adult seals as they swim along massive walls of blue-green ice.
DISC FOUR: MAMMALS OF NORTH AMERICA - SIDE B

Land of the Coati-Mundi
A troop of the Coati-Mundi living in the mountains adjacent to the Sonora Desert of Arizona are under observation in this captivating study of this fascinating animal.
Desert Bighorns of Gypsum Canyon
Marlin helps dart Bighorn Sheep from a helicopter along the Colorado River in an effort to transfer the sheep to the other side of the river to increase their population.
Chincoteaque Roundup
Legendary ponies on the island of Assateague, Virginia are the subject of this most unusual and fascinating round-up.
Why Conservation
In this pioneering episode, the need for wildlife conservation is demonstrated through daring captures of animals at risk of losing their habitat.
DISC FIVE: HUNTERS OF THE SKY - SIDE A

Hunters of the Sky
Observe and learn how birds of prey stalk and capture their victims by zig zagging.
Land of the Falcon
Marlin and Jim travel to the Wyoming prairies to observe the falcons, eagles and hawks dominating the air.
Land of the Condor
High over the mountains of Peru spirals a giant of the skies: the Andean condor. Jim and Marlin join an expedition to catch the giant birds and attach tracking gear on them.
DISC FIVE: HUNTERS OF THE SKY - SIDE B

Miracle of Flight
An analysis of the "miracle of flight" from the soaring condors of the Andes in South America to the backward flying fairy tems of Midway.
Day With the Sandhill Cranes
Marlin observes the spring migration of the sandhill cranes along the Platte River in Nebraska.
Return of the Puffin
On Great Island, St. Johns, Newfoundland, Marlin and researchers will collect 100 puffin chicks from their burrows to be flown to Maine and placed in artificial burrows in the effort to re-establish the puffin to their former breeding sites.
Miracle of Motion
Observe the oddities of animal motion including mammals that fly, birds that climb with their shoulders, lizards that dive and snakes that travel sideways.
DISC SIX: THE AFRICAN WILD II - SIDE A

Chimpanzees of Tanzania
Marlin journeys to Tanzania to observe primate research being conducted among the chimpanzees that live near the shores of vast Lake Tanganyika.
Women in the African Wild
A special wildlife report on outstanding conservation research by three women in the wild kingdom including antelope and monkeys.
Motorcycle Roundup
Jim joins Brian Thring, an African game catcher, to engage in a roundup of wildebeest and blesbok in Zululand. He uses a motorcycle instead of a helicopter because the wildebeest are all too familiar with the helicopters as they have been chased by them before.
Strange But True
Join the odyssey with odd creatures, strange habits and hard-to-believe wonders of the wild.
DISC SIX: NORTH AMERICA II - SIDE B

Winter Comes to Yellowstone
All roads are closed due to winter weather but Marlin and Jim use a helicopter and snow plane to uncover the story of animal life in the frozen Yellowstone.
Big Horn Sheep
Marlin visits a small mountain island in the middle of Flathead Lake in Southern Montana...the home of a large herd of Bighorn sheep.
Wildfire Part 1
A forest fire rages out of control in Montana while Marlin and Stan fly with the Forest Service's smokejumpers to observe and study the behavior of wildlife.
Wildfire Part 2
After days of steady winds, the wildfire has spread. Marlin and Stan attempt to save threatened animals as the flames destroy their habitat.
DISC SEVEN: HUNTERS OF THE SKY II - SIDE A

Pilot
The survival value of a wide range of protective devices used by wild creatures is demonstrated and investigated.
Strange Ways of the Wild
Marlin and Jim set out to determine and separate truth from myth while unfolding many strange but true tales from the Wild Kingdom.
Animals That Time Forgot
In remote corners of the Wild Kingdom, there remain animals that span the bridge of time back into prehistoric eras.
DISC SEVEN: AUSTRALIA'S AWESOME ANIMALS - SIDE B

Voyage of the Great Barrier Reef
Join Marlin and Tom Allen on a voyage planned by Marineland of Australia to one of the world's natural wonders.
Coral Sea Night Drive
Marlin and Tom Allen accompany an Australian curator on an evening expedition to capture the most venomous snake in the world -- beneath the Great Barrier Reef.
Saltwater Crocs of Australia
Marlin joins a biologist on a boat moving up the coastal rivers of northern Australia to observe the saltwater crocodiles which live there.
Land of the Giant Dragons
Marlin closely observes the dangerous and unpredictable land lizard only found on four small Indonesian islands -- the Komodo dragon.
The DVD:
The Video:
This is where the Mutual of Omaha's Wild Kingdom: The Definitive 50 Episode Collection disc collection gets a little sticky. While it's tough for me to complain about seeing a show on disc that I originally watched in black & white (that's right, kids), the full frame video image for this set is only fair. Unfortunately, no restoration has been performed on the filmed elements (unlike the startling, sparkling work done recently on the Disney True-Life Adventures). Amid the scratches and specks are occasional muddy, faded colors tending towards red. Some of the individual episodes looked a little fuzzy and soft, as well. The bit rate could have been a little higher (I noticed some pixilation in some of the darker scenes). And I hate like hell flipper discs. But, considering the nostalgic appeal of these shows, and the fact that most of the episodes still look okay, these are not make-or-break drawbacks.
The Audio:
The English 2.0 mono soundtrack accurately reflects the original television presentation. There is no close captioning option.
The Extras:
Here's another sore point with the Mutual of Omaha's Wild Kingdom: The Definitive 50 Episode Collection box set. There's not one supplemental bonus feature. Not one. Not a five minute documentary on Perkins, not a vintage commercial (I used to love it when Perkins would tie in whatever happened on the show, with Mutual of Omaha segues), not even a booklet with some background on the show. Nothing. Since the episodes are not arranged chronologically, it would have been nice if they could have at least dated them on the disc slim cases. I know BCI is putting a lot of episodes out there for a fair retail price, but the lack of bonus features is a serious marketing mistake. The main buyers of this DVD set will be original viewers of the show - and they want bonuses. Maybe they'll include some in the next "definitive" collection.
Final Thoughts:
When zoologist Marlin Perkins developed Wild Kingdom, he didn't have to put an environmental message on it. He could have just shot a stirring, exciting weekly nature program, and left it at that. But Perkins was a pioneer. He was the first television personality to reach a mass audience in America with the message: our world is fragile, and we need to actively protect it. And if in that process of conservation it's necessary to get the viewer's attention by wrasslin' some alligator in the swamps (or better yet -- let Fowler do it), then so be it. The Mutual of Omaha's Wild Kingdom: The Definitive 50 Episode Collection may not be the best presentation of this classic series, and I know I sounded snarky about some of the choices made by BCI, but Wild Kingdom is such a strong series it's still a worthwile addition to your vintage TV library. I highly recommend Mutual of Omaha's Wild Kingdom: The Definitive 50 Episode Collection.
---
Paul Mavis is an internationally published film and television historian, a member of the Online Film Critics Society, and the author of The Espionage Filmography.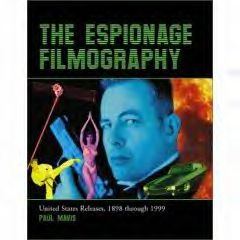 ---
C O N T E N T

---
V I D E O

---
A U D I O

---
E X T R A S

---
R E P L A Y

---
A D V I C E
Highly Recommended
---
E - M A I L
this review to a friend
Sponsored Links
Sponsored Links