Baby Looney Tunes Volume 3: Puddle Olympics
List Price: $14.98 [Buy now and save at Amazon]
---
I understand the impetus behind taking established animated characters and turning them into "babies." I get it. It makes all the little kids out there go, "Awwww........" when they see them, and then they immediately turn to their parents and say, "Buy me one of those!" That has to be the main reason that Baby Looney Tunes were created: for the money. It's cool, though; I don't have a problem with companies making money. And come on, it is kind of cute when they take your favorite characters and transform them into toddlers. Personally, I'm waiting for Baby Sam Peckinpah Anti-Heroes, with cutesie pie Baby Pike 'n' Dutch, Baby "Doc" and Carol McCoy, Baby David and Amy Sumner, and Baby Major Dundee and Captain Tyreen (this review is copyrighted, if anyone is thinking of stealing that brilliant idea). I'm just not sure that the Looney Tunes characters are the best ones for this "baby-fying" genre.
The Looney Tunes characters were without a doubt the most adult-acting cartoon characters out there. With emotions ranging from rage to jealousy to avarice to homicidal tendencies to out-and-out psychosis, the Looney Tunes were cartoon characters adults could embrace, too. And people from my age group grew up on these monstrously dysfunctional characters day in and day out, until they were literally seared into our brains. They exist as whole entities in our subconscious. So it can be a little disconcerting at first when we see them as "Baby" Looney Tunes. It's not so much that they're cuter - they are. It's the fact that now, our favorite malcontents have to jump through the dreaded new hoops of socially responsible cartoon behavior that has generally been the death of most TV animation for the last 15 years.
As a parent myself, I find it almost impossible to argue against teaching our kids good lessons. It's just that those lessons aren't nearly as much fun as the naughty, irresponsible stuff we watched when we were kids. I lived in the afternoon TV world of The Three Stooges (with all the appropriate eye gougings and sledgehammer blows to the head) and the Looney Tunes (where one favorite character, Daffy Duck, could today be legally institutionalized). Nobody cared what the hell we watched (parents and teachers especially), and they certainly didn't look for "valuable lessons" in those stories. Such a notion would have been laughed off by busy parents who knew that kids were just kids; they'll take care of themselves. Of course today, such a notion goes against the grain of established mainstream institutional education (read: indoctrination camps), so we mouth along with the teachers about how important it is that every waking moment of a child's life should be occupied with educational activities (while we die a little bit inside).
Of course, I'm greatly exaggerating (and sort of kidding), but Baby Looney Tunes is a good example of how far stuff has gone the other way for children's programming. I'm not knocking it (well, not too much). It's good to see a show that tells kids what's the right thing to do in certain situations, when not to lie, when to be helpful to others, and all that other socially conscious crap. Seriously, it's great to have those kinds of children's shows today. But does it have to happen to my beloved Looney Tunes, as well? I don't think I'm alone in feeling this way; after all, why do you think Family Guy is such a huge hit right now? Because it's totally wrong. It's totally unacceptable to all the tenants and socially conscious requirements we put on animated shows today. "Educational" is valuable and desirable and all that, but "naughty" is fun.
That being said, Baby Looney Tunes is a delight for the kids, and educational, and all that other garbage. The little kids do love these shows -- although I wouldn't shoot for an audience over the age of five (and you should have a good book laying around for yourself). They're innocent and sweet and they do impart valuable messages that can only help kids in this increasingly complicated world. They're short and to the point (running about eight minutes), and the animation is bright and colorful. The stories are well constructed and the voice work is lively and evocative. There are also several sing along songs included on this DVD which your children will want to play again and again. If your children have seen these before (and it's pretty hard not to; they're on the air all the time), they're going to absolutely love owning Baby Looney Tunes: Puddle Olympics -- Volume 3.
Here are the 8, eight minute episodes of Baby Looney Tunes: Puddle Olympics -- Volume 3:

Time and Again
Grandma teaches the Babies how to tell time. There's a sing along song, Does Your Tongue Hang Low? included on this episode.

May the Best Taz Win
Baby Taz learns about sportsmanship.

Mine!
Daffy takes Grannie's wallet (I'm not kidding), and learns about "finders keepers." There's also a sing along song, Over in the Burrow included here.

Sylvester the Pester
Baby Sylvester wants more attention from Grannie.

Cat-Taz-Trophy
A trophy is at the center of controversy when the Babies make model cars. There's a sing along song, If You're Looney included here.

Duck! Monster! Duck!
Baby Daffy makes up a story about monsters, and scares everyone.

Brave Little Tweety
Tweety is having nightmares, and Grannie and the other Babies are there to help. There's also a sing along song, Foghorn's Talkin' in The Barnyard (I kid you not) included here.

The Puddle Olympics
The Baby Looney Tunes put on their own Olympics -- in a mud puddle.

The DVD:

The Video:
The full frame video image for Baby Looney Tunes: Puddle Olympics -- Volume 3 is bright and sharp, with full, vivid colors.

The Audio:
The Dolby Digital English 2.0 stereo soundtrack is fun and bouncy, with that catchy little theme song. There's a French stereo language track included, as well.

The Extras:
Sadly, there are no extras for Baby Looney Tunes: Puddle Olympics -- Volume 3.

Final Thoughts:
Alright, I was just goofing on them. Baby Looney Tunes: Puddle Olympics -- Volume 3 is actually a lot of fun for very little children, and it teaches them valuable lessons that you're probably too tired to teach yourself. You could do a lot worse than getting your small child this fun compilation. I recommend (for preschoolers only) Baby Looney Tunes: Puddle Olympics -- Volume 3.
---
Paul Mavis is an internationally published film and television historian, a member of the Online Film Critics Society, and the author of The Espionage Filmography.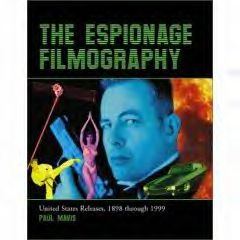 ---
C O N T E N T

---
V I D E O

---
A U D I O

---
E X T R A S

---
R E P L A Y

---
A D V I C E
Recommended
---
E - M A I L
this review to a friend
Sponsored Links
Sponsored Links