Nein! I think I saw one of these Schoolgirl Report German sexploitation films at the drive-in once (there were something like eleven sequels made over the years). It was renamed of course, but I'd recognize that subtle, fey, Teutonic humor anywhere. Impulse Pictures brings us the U.S. DVD debut of the one that started it all: Schoolgirl Report: Volume #1: What Parents Don't Think is Possible, the international box office hit from 1970 that somehow caught the fancy of middle-aged men all over the world. Chock-full of attractive little lieblings, Schoolgirl Report: Volume #1: What Parents Don't Think is Possible would like you to think it's a serious documentary on the changing sexual mores of 1970s German youth, but relax; anyone who's ever been near a documentary will know this is a goof from the first five minutes.
Taking the simple framework of a school advisory board trying to determine if a student who was caught having sex on a field trip should be dismissed (where do I get a permission slip for that!), Schoolgirl Report: Volume #1: What Parents Don't Think is Possible combines some real and faked cinema verite "man on the street" interviews with fictional vignettes about young schoolgirls having sex, to come up with a fairly harmless full-frontal nudie that won't offend you as much as leave you laughing at the silliness of it all. You see, Renate is a naughty little fraulein of 18 who, while touring a local power plant, can't help herself and goes back to the empty bus to have sex with the leering driver. Caught by her prim and proper and stolidly German teacher, Renate's fate is in the hands of the strangely curious school board who are ready to kick her out for corrupting the morals of the other girls. But kindly Dr. Bernauer (Gunter Kieslich), the school psychologist, defends Renate's behavior as perfectly in keeping with the new sexual practices of today's youth. And to prove his point, he apparently spends the better part of an hour and a half detailing various sexual adventures of underaged schoolgirls he has counseled. Fortunately for the audience, no one on the board objects to the Dr. Bernauer taking so much time, to be so thorough, in Renate's defense.
And so, we get several flashbacks that purportedly detail what's all the rage with young German girls when it comes to sex. Despite the film's insistence that what we're going to see is "new" and "shocking," all the stock sexploitation situations are represented, including student/teacher sex, the naughty confessional with a priest, sex with a tutor, masturbation fantasies, nymphomania, threesomes with the pool boy, the "first time" encounter, lesbianism, and so on and so on. None of it is particularly graphic; just when the action starts, Dr. Bernauer's annoyingly soothing voiceover comes on, and stops the whole thing cold (as they used to say on MST3K, too much talking always ruins it).
In an effort to lend credibility to the proceedings (excuse me while I chortle, meine freunde), Schoolgirl Report: Volume #1: What Parents Don't Think is Possible intersperses "man on the street" interviews with supposedly real people, with Friedrich von Thun asking women various embarrassing questions about their sex life. Often playing like those hilarious Monty Python "man on the street" parodies, the von Thun interviews are interesting only in the audience game that ensues, wherein we try to guess which interviews are faked with actresses, and which ones are real. Being the savvy filmgoers that you are, dear readers, you won't have any difficulty figuring out the squares from the actresses (here's a hint: the actresses don't seem dead inside).
While the overall effect of Schoolgirl Report: Volume #1: What Parents Don't Think is Possible is certainly less than its individual parts, it is a fairly good looking film, with some half-way decent production values (the cinematography is quite nice, for this kind of film, with a good feel for the urban German locales), and a modicum of self-awareness in its execution. With an unintentionally humourous musical score that sounds like a cross between Henry Mancini's Elephant Walk, and all the other 1960s cocktail music cues that Austin Powers nakedly ripped off, Schoolgirl Report: Volume #1: What Parents Don't Think is Possible goes down (sorry) surprisingly easy - if that's your thing. Certainly a big plus is the fact that most of the women (who are obviously not underage, despite what the film insists) are quite attractive, something that most definitely wasn't always true with American sexploitation films at the time. And while no one in the audience at the time (which must have consisted of middle-aged men exclusively) thought this was a serious look at teen sex lives in Germany, the producers determination to keep a straight face while they lie to us has to be admired.
The DVD:
The Video:
The 1.66:1 anamorphic widescreen video image (it actually looked a little wider to me, closer perhaps to a 1.78:1), is surprisingly good. There's the occasional scratch or dirt speck, but all in all, it looks fairly good, with no transfer issues I could spot.
The Audio:
The original German language mono soundtrack is entirely adequate for this presentation. Supposedly new English subtitles are available, and they're quite hilarious: "We have thus created an effective and spontaneous documentary." Jawol!
The Extras:
There are no extras for Schoolgirl Report: Volume #1: What Parents Don't Think is Possible.
Final Thoughts:
Some good looking girls, a stupid plot, some nice cinematography, and all the cliches of an early 1970s sexploitation film make Schoolgirl Report: Volume #1: What Parents Don't Think is Possible exactly what you'd think it was: a particularly German waste of time. But hey, these sexploitation films are an acquired taste with some filmgoers, so if you want your nudies with a Prussian lilt to the dialogue, you'll be fine with Schoolgirl Report: Volume #1: What Parents Don't Think is Possible. It's fairly innocuous, and it's kind of funny in a totally unintentional way. Fans of the genre will want to buy it; it's an important title in this genre, and the DVD presentation is pretty decent. If you want to smirk at it, you may enjoy renting it. But all others, skip it.
---
Paul Mavis is an internationally published film and television historian, a member of the Online Film Critics Society, and the author of The Espionage Filmography.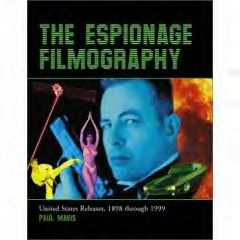 >