Mary Hartman, Mary Hartman - Volume 1
List Price: $29.95 [Buy now and save at Amazon]
---
I like more realistic programs where everybody is happy. Mary Hartman
We heard about Mary Hartman, Mary Hartman before we saw it. Growing up in Northwest Ohio back in 1975, a controversial show like Mary Hartman, Mary Hartman was discussed by your parents in quiet tones before they considered letting you watch it. And even then, the answer was, "No way." So you had to find that "bohemian" friend of yours whose parents either didn't care or were AWOL when it came to monitoring what they did. Our local station carried it in the afternoon, until complaints pushed it back after the 11:00 o'clock nightly news. Which was jackpot for us, because Mom and Dad were totally zoned out by then, and we could sneak a peak at it on our black and white portable, under the covers, with the earplug put in so they couldn't hear.
Sounds ridiculous, doesn't it? But I imagine a lot of kids back then watched Mary Hartman, Mary Hartman the exact same way. Today, the things that get broadcast over the airwaves at 11:00 in the morning wouldn't have made it into a "R" rated movie back in 1975, so I'm sure, at least to new viewers, that Mary Hartman, Mary Hartman may come off as quaint as the Stone family of The Donna Reed Show. But to those who were around in 1975, Mary Hartman, Mary Hartman was the single most controversial show to ever air on TV up to that point, and it caused a sensation with audiences, critics, religious leaders and politicians. Almost everything about it was unconventional. Created by the most controversial TV producer at the time, All in the Family and Maude's Norman Lear, Mary Hartman, Mary Hartman was offered to all three major networks; none of them would touch it because it was deemed far too controversial. Lear, believing in the work, decided to try and syndicate it (sell it directly to local stations), where it would air five days a week, for the full season, with no repeats. It was a smash hit with viewers, and caused an uproar with some critics and religious leaders who felt the show was immoral. Ostensibly a spoof of soap operas, Mary Hartman, Mary Hartman frankly touched on subjects the network soaps wouldn't have dreamed of discussing, such as impotence, masturbation, flashing, venereal disease, and the terrors of waxy yellow buildup on kitchen floors. The citizens of fictional Fernwood, Ohio weren't the glamorous, rich, attractive people that seemed to populate most of network daytime soaps, either. They were decidedly plain and average, with average jobs and average houses. And the heroine of the show, TV-obsessed Mary Hartman, would make a most astounding journey, even within these first 25 episodes, from nearly comatose housewife to outraged, confused feminist.
There seems to be a large contingent of fans who remember Mary Hartman, Mary Hartman as this outrageous, hilarious spoof of soap operas and small town, middle America, where noted Hollywood liberal Norman Lear showed all the rubes out there what boobs they really were. They point to the irony of Mary's (Louise Lasser) zoned-out preoccupation with everything on the TV, particularly her obsession with buying products advertised on the commercials in the hopes that her own life might mirror the fantasies she sees daily on the tube. And they laugh at the satirical, slightly buffoonish "yokels" - in particular Mary's next-door neighbor, country singer superstar wannabe, Loretta Haggers (Mary Kay Place), and her gun-totin', factory-working husband Charlie (Graham Jarvis) - that populated Fernwood. And certainly, Mary Hartman, Mary Hartman does operate on those levels, and wonderfully so.
But when the viewer becomes acclimated to the bizarre nature of the show after the first few episodes, a disquieting seriousness starts to creep in between the marvelously skewed one-liners and the purposefully outlandish and comedic melodramatics. Real emotions and feelings begin to come out of the seemingly broad, cartoonish characters. Tom (Greg Mullavy), Mary's insensitive, emotionally arrested husband (he still wears his high school letterman's jacket, a baseball cap - when that was still considered a kid's hat to wear - and kiddie pajamas) is impotent. And Mary, who can't reach her husband, is just as confused and bewildered about being physically rejected, as she is desperately worried about what will happen to her safe, cocooned world should her marriage fail. But unlike the mainstream soap operas where a "good" wife would suffer in silence if there was a problem with her marriage, Mary rebels. She insists something is wrong with her marriage, and she won't take Tom's evasions at face value. And when Tom, who blithely has an affair with pathetic, lonely bombshell Mae (Salome Jens), Mary is outraged. She's humiliated, she's angry, and she's vengeful, going so far as to almost sleep with Sergeant Dennis Foley (Bruce Solomon), a police officer who's gently, but insistently, pursued Mary. And what's more, she needles Tom about it -- and about his impotence. The scenes of Mary howling in anger and confusion at what Tom has done to their marriage, how he's ruined forever what they had together, is about as raw and honest a set of scenes on marital infidelity as I've ever seen, and a true feminist statement that allows no blame to be put on the wife for a husband's philandering.
Now, of course, head writer Ann Marcus and series directors Joan Darling and Jim Drake make sure we're still laughing, by having Mary interrupting her very real breakdowns with constant kevetching about freeze dried crystals versus drip coffee, or having her endlessly evaluating that pesky yellow waxy build-up on her kitchen floor. But that's the brilliance of Mary Hartman, Mary Hartman; it constantly snaps you back and forth between outrageous, exaggerated spoof, and deadly serious drama. One of the highlights of this DVD collection of the first 25 episodes of Mary Hartman, Mary Hartman, is the multi-episode arc where Mary is kidnapped by mass murderer David Jessup (Will Seltzer). Killer of the Lombardi family (including two goats and eight chickens, which seems to fascinate Fernwoodians much more than the plight of the Lombardis themselves), David Jessup initially takes Mary's daughter Heather (Claudia Lamb) captive, but then accepts Mary as a hostage. As Mary spends hours and hours in the abandoned store front with the killer, poor Davey, who only wants to please people, often tries to reach out and tell Mary the sad story of his growing up. Much of it is hilariously common, but occasionally, his story is horribly sad, and you start to feel sorry for him. That is, until Mary treats him in the same condescending, dismissive manner that his family and everyone else must have treated him throughout his life, and you start laughing again - until it sinks in at how brilliantly Lear and Marcus and the actors have roped you in to this push-me, pull-you world.
While all of the actors are uncommonly good here (Dodie Goodman, as Mary's mother Martha, is like a gift sent from heaven), Louise Lasser really carries the tone of the show on her shoulders, and she's almost supernaturally attuned to her character. As the enervated, zombie-like Mary Hartman, typical housewife from "flyover country" Ohio, Lasser channels Mary Hartman in a most spooky manner. I remember watching Mary Hartman, Mary Hartman when I was a kid, and while I laughed often at the more pronounced comedic scenes, I found the show at times terribly frightening, particularly when Lasser would do her patented, unblinking stare at someone, where she's trying to decipher what the other person is saying through the fog of her own preoccupations. And when normally soft-spoken Mary finally explodes on Tom for his cheating ways, it's a scary, loud, believably unhinged performance. Major TV shows just didn't look or sound like Mary Hartman, Mary Hartman back in 1975. Lear's use of cheap, garishly lit video, the choppy, jerky camera movements, the too-long held, uncomfortably tight close-ups, and the absence of a laugh track, only increased the sense that you were watching something...from Mars. It was almost too real at times (something that couldn't be said for the derivative, sitcom-y Mary Hartman, Mary Hartman knock-off, Soap). Couple that with the totally unpredictable nature of the show, and the rather startling, realistic performances (in-between the obvious mugging), and Mary Hartman, Mary Hartman can, at times, be a very unsettling, creepy viewing experience.
Now, after that build-up, are you ready for the sucker punch? I'm not recommending you buy Mary Hartman, Mary Hartman: Volume 1. That's right. Don't buy it. And it's very simple why you shouldn't: these episodes are edited and incomplete. One of the most disturbing sequences in the first season of Mary Hartman, Mary Hartman involved the Haggers' journey to Nashville, where Loretta and Charlie were sure music superstardom awaited them. On their way South, their car breaks down, and while Charlie attempts to fix the car, two hillbillies right out of Deliverance assault Charlie and suggest raping Loretta. Again, it's one of those scenes in Mary Hartman, Mary Hartman that brilliantly switches from uneasy laughs to stone cold seriousness. And...it's not here in its complete form in the Mary Hartman, Mary Hartman: Volume 1 DVD box set. On episode #21, at the end of the show, upcoming scenes are highlighted for the next Mary Hartman, Mary Hartman (a common practice on the show, to mimic the soaps), including a scene that shows the Haggers with the hillbillies, with one of them telling Charlie they're out for a "little fun." But in episode #22, the Haggers are just leaving Fernwood at the end of the episode; that supposedly upcoming scene highlighted at the end of episode #21 isn't in this episode, nor are the hillbillies or the Haggers shown in the upcoming scenes at the end of #22, either (despite what it says on the DVD slimcase description of this episode, the Haggers don't meet the hillbillies here).
In episode #23, the first time we see the Haggers, the hillbillies are already at the car. They hit Charlie, and suggest they're going to rape Loretta, before they discover she's a singer. Hearing this, they sing a song of theirs to her, before helping Charlie and Loretta to get back on their road trip. Somehow, the whole initial set-up with the hillbillies is missing here - we don't see the car break down, we don't see Charlie and Loretta discuss the status of the car, and we don't see the hillbillies initially approaching and engaging the Haggers. As it appears here on the disc, it's a totally nonsensical scene without any context - if you had never seen the episode before, you would have no idea what was going on here. As well, this scene is followed by a repeat scene from the previous episode, with Mary and Tom discussing their marriage. Now, Mary Hartman, Mary Hartman often repeated scenes at the head of an episode, to catch up viewers who may have missed a show (they'd even use an announcer sometimes to alert the audience to this practice). But they never repeated scenes in the middle of an episode, so something has been scrambled around here in this episode. The next time we see the Haggers is in episode #24. It's a brief, silent shot of Loretta asleep next to Charlie, who suddenly sees a bright light before his car smashes into a station wagon full of nuns (perhaps one of the most controversial - and hilariously sick - scenes in the show, with nuns littered all over the fake highway set, played for laughs). The scenes prior to the accident, where Charlie and Loretta discuss what happened with the hillbillies, Loretta's song about their attackers, and their discussion on whether or not Charlie is too tired to drive, are missing, as well.
Just to make sure my memory wasn't faulty (after all, it's been some time since I've seen reruns of the show), I checked several episode guides to make sure those scenes actually existed, and that I wasn't just imagining them. They did exist. And they're not here in the Mary Hartman, Mary Hartman: Volume 1 box set. Now, I have no idea if Sony edited the episodes, but I tend to doubt it. I can't see a reason why they'd do that, especially considering the intense interest in this cult title; they'd just be asking for trouble from the fans. My guess is that Sony used rerun syndication tapes for the DVD transfers here, and that those tapes may have been edited for time. Now, the episodes on these DVDs time out at about 22 minutes. That's pretty short for 1975. Granted, syndicated shows on local stations were allowed to have more commercials per half hour, but it still seems quite tight. I see no evidence of time compression here, so perhaps the situation with the Haggers/hillbillies edited episode is actually happening on all the other shows, as well. I don't have a photographic memory of the series (the sinister Haggers/hillbillies scene stuck in my head ever since I was a kid), but other fans out there might spot deletions when they see the DVDs. All I know is that particular sequence has been scrambled and edited, and therefore, the series, and possibly other episodes, are not complete here. The fact that the episode summary on the back of the DVD case for episode #22 gets it wrong about the hillbillies as well, makes me think someone at Sony was using an old, correct episode guide for those summaries, and that they didn't match them against the actual shows on the DVDs.
I know there are groups of fans out there for all different titles of vintage TV shows who beg other fans and viewers to support the series by buying the premiere DVD editions - regardless of whether or not there are extras included or if the transfers are good or bad, and so on. They believe if the first season or volume isn't sold in sufficient quantities, the studio won't bring out the rest of the show. I can see the logic in that, but I'm not going to recommend anyone spend money on the first of what could be well over ten volumes of Mary Hartman, Mary Hartman, if the series has been edited or botched in the use of compromised original materials. It's not fair to the original intent of the show to watch it in this state, just as fans of widescreen movies won't buy pan-and-scanned or full-screen DVD releases of those widescreen titles.
Here are the 25, one-half hour episodes of the three-disc box set, Mary Hartman, Mary Hartman: Volume 1, as described on their slimcases:

DISC ONE:


Episode 1
"It's just incredible -- Grandpa Larkin, the Fernwood Flasher, mass murders, goats, chickens and my floor has a waxy yellow buildup," declares Mary Hartman in the premiere episode of this innovative soap opera comedy.

Episode 2
The Fernwood Flasher is exposed. Mary confronts Tom on the sad state of their love life and meets Sergeant Foley, who is very pleasant and helpful.

Episode 3
Heather may know something about the mass murders. Mary and Tom talk bout growing up. The Fernwood Flasher returns -- to the police station.

Episode 4
Grandpa Larkin is released into Mary's care, pending psychological counseling. Mary arouses Tom's ire, but little else.

Episode 5
Tom attempts to prove his manhood to Mary. Mary receives a very upsetting phone call. Grandpa Larkin is set to see a social worker. F.A.T.S.O. takes on the local supermarket.

Episode 6
Mary journeys to the library for some books she hopes will save her marriage. The social worker takes on Grandpa, who questions her motives. Heather locks herself in the closet.

Episode 7
Mary is panicked. Heather has been followed and knows about the Lombardi murder. All is not lost, however: Sergeant Foley is as pleasant as ever.

Episode 8
Heather's newfound notoriety wins her a date. Mary experiences frustration in the laundry room. It's the biggest night ever for Charlie and Loretta Haggers.

Episode 9
Charlie is beaming as Loretta cuts the record of her dreams. The Hartmans share in their excitement, but celebration soon turns to tragedy.

DISC TWO:


Episode 10
Tom yearns for the good old days and lends a helping hand to a damsel in distress. Martha's life seems to be falling down around her. Loretta visits the doctor after a fainting spell in the studio. Grandpa makes amends with his social worker.

Episode 11
Tom awakens in a strange bed and takes static from George. Mary blames herself for the tragedies around her. Martha still has trouble on all sides. Grandpa gets an unexpected visitor at the worst possible time.

Episode 12
Loretta gets some happy news and makes a decision on her trip to Nashville. Cathy turns over a new leaf when she finds the man for her. There's terrific news for Mary.

Episode 13
Pandemonium reigns supreme. Mary must face the mass murderer. George meets Steve (Cathy's dream come true). Grandpa comes home from a date.

Episode 14
Mary is the prisoner of the mass murderer. Tom is feeling guilty, but his explanation causes even more trouble. Mary hears the mass murderer's story, while the police attempt to save her.

Episode 15
Mary's life is in danger. Loretta has an inspiration. David (the mass murderer) negotiates his escape -- with a car salesman.

Episode 16
The tension steadily mounts as the mass murderer's demands cannot be met. Sergeant Foley volunteers for a daring rescue.

Episode 17
A reluctant Reverend Standfast is Mary's last hope. Tom and Mae rendevous and plot to make him "volunteer." The mass murderer gets his way.

Episode 18
Mary is safe. The Hartmans, Shumways and Haggers are jubilant, but Tom and Mary have some things to discuss.

DISC THREE:


Episode 19
Mary makes the front page. Mary tells Tom she knows about Mae. Tom says goodnight to the sofa.

Episode 20
Mary plays hostess to Conway Twitty. Martha and Mary have a heart-to-hands talk. Tom visits his past for advice.

Episode 21
Mary and Sergeant Foley are in his apartment. Charlie and Loretta set out for superstardom. Martha confides in her plants. Tom worriedly searches for Mary.

Episode 22
Mary is reduced to tears by a jealous Tom, who wants to know if she "got even." The Hartmans and Shumways bid the Haggers goodbye and good luck. Charlie and Loretta meet some natives along the road (no they don't -- see above).

Episode 23
Mary is served with a summons by Sergeant Foley, along with a much more personal invitation. Blanche and Leroy discuss the Hartman's problems. Grandpa has his day in court.

Episode 24
Tragedy strikes the Haggers in the form of a bus full of nuns. Mary does her best to comfort Charlie. Neither Tom nor Mary can get any sleep.

Episode 25
Charlie and Loretta are in for some catastrophic news. Tom visits Mae with something important to tell her.
The DVD:
The Video:
The full screen video image for Mary Hartman, Mary Hartman: Volume 1 looks about as good as you're probably going to get. It was always an intentionally ugly show, and it looks far better here than I remember it on TV reruns.
The Audio:
The Dolby Digital English mono track is an accurate representation of the original broadcast presentation.
The Extras:
There are no extras, criminally, for Mary Hartman, Mary Hartman: Volume 1.
Final Thoughts:
Mary Hartman, Mary Hartman is one of the most brilliant, disturbing, and hilarious TV shows of the 1970s -- or today, for that matter. It's endlessly fascinating, with something serious to say about America, television, feminism, consumerism, sexual politics, and waxy yellow build-up on kitchen floors. I can't recommend it highly enough. That's why it saddens me to have to give this DVD set a "Rent It" rating, because the Mary Hartman, Mary Hartman: Volume 1 DVD box set utilizes edited episodes. Rent it if you have to see it (and I understand; I was the same way), but don't buy it until Sony corrects this problem, which will most likely be in that great big megaset they've already probably planned, years down the line -- after you've bought all the individual volumes.
---
Paul Mavis is an internationally published film and television historian, a member of the Online Film Critics Society, and the author of The Espionage Filmography.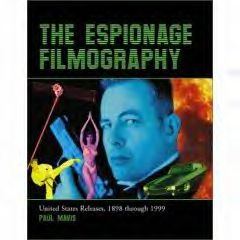 Sponsored Links
Sponsored Links