MGM // G // March 20, 2007
List Price: $19.98 [Buy now and save at Amazon]
---
The Care Bears, as they often claim in The Care Bears Movie, may indeed love everyone. But The Care Bears Movie doesn't. The Care Bears Movie scared the daylights out of my five-year-old daughter and made her cry. That's what The Care Bears Movie did. Forget Harry Potter's supposedly secret pact with the Devil. Forget possible Satanic messages hidden in Disney films. The Care Bears Movie is the real deal.
Mr. and Mrs. Cherrywood run a small orphanage. In the evening, Mr. Cherrywood (Mickey Rooney) is asked by the children to tell them a bedtime story. He proceeds to tell them the adventures of the Care Bear Cousins, who live in a magical cloud land called Care-a-Lot, high up in the sky. As they watch the people down on Earth, the Care Bears reveal their sacred mission: to help other share their emotions with each other. Spying two young children who no longer "care," Friend Bear and Secret Bear zoom down in their Care-mobile, and try and reach out to the disaffected youth. Kim and Jason have decided to put a wall up between themselves and other people, because they're terribly hurt by the death of their parents. While Friend Bear and Secret Bear attempt to make meaningful contact with the children, high above in Care-a-Lot, Grumpy Bear is making final repairs to the Rainbow Rescue Beam, a device to transport people instantly between Earth and Care-a-Lot, to aid, one must wearily assume, the "healing process" for sad people. But it takes Baby Hugs and Baby Tugs, the smallest Care Bears, to get the Rainbow Rescue Beam to actually work. Kim and Jason are transported to Care-a-Lot, and after one syrupy song by the Care Bears, they're magically transformed again into caring human beings.
Meanwhile, Tender Heart Bear, in his Rainbow Roller vehicle (are you sensing a merchandising trend here?), flies down to Earth to help Nicholas, a young magician's assistant who has never had a friend (no kidding - he's a magician). Tender Heart Bear, hiding in Nicholas' trailer, watches as Nicholas opens a box of junk that his employer, Mr. Fettuccini, has bought to aid his circus magic show. Inside the box, a glowing, talking book of spells speaks to Nicholas. The Spirit, an evil entity that inhabits the book, preys on Nicholas' anger and resentment at never having a friend, and convinces him that he should put an evil spell on all the children of Earth, as revenge for his own hurt, and to "teach them a lesson" they won't forget (gulp). The Spirit then enters Nicholas' soul (I'm not kidding), and turns him into a wrathful Agent of Doom, bent on turning the whole world into an uncaring, unfeeling hellhole (which, let's be honest, shouldn't have been much of a stretch for Nicholas and The Spirit).
Up in Care-a-Lot, the Care Bears watch horrified, as Nicholas continues to ravage the Earth, frightfully monitoring their Care Meter, which if it goes to zero, means the world no longer cares, with Care-a-Lot ceasing to exist. As it is, Care-a-Lot is crumbling and breaking apart, which prompts the Care Bears to sail off to Earth in a cloud ship, hoping to find Nicholas and help him. But as fate would have it, they land instead in the Forest of Feelings, a netherworld between Care-a-Lot and Earth, where the Care Bears get to meet all new toys for sale at your local Toys R Us - I mean characters - such as Playful Heart Monkey, Swift Heart Bunny, Bright Heart Raccoon, and Brave Heart Lion. Subjected to scary travails at every turn, including almost getting eaten by a huge tree, plunging off a waterfall, and a vicious attack by a savage bird, the plucky group of Care Bears, using their powerful Care Bear Stare - which are streams of stars and hearts that emanate from their tummies (I am not kidding) - defeat their enemies to confront satanic Nicholas. Do the Care Bears defeat Nicholas? Does the world learn to love again? Does this crappy stuffed Care Bear doll really cost $24.95?
I must say that if I hadn't had my daughter watch The Care Bears Movie with me, and I didn't have to be concerned about her growing level of uneasiness with the increasingly strange, strung-out events that make up the far-out plot, I might have been favorably amused by the almost totally inappropriate intensity of some of the imagery and themes that run through this fevered coke-dream of a kid's movie. Was 1985's The Care Bears Movie perhaps some massive inside joke by some crack-head movie types who wanted to see how much subliminal violence and drug imagery they could pack into a film aimed at little, little kids? If so, it succeeded fairly well, and taken with an eye towards insistent parody, The Care Bears Movie works. My older boys (9 and 13) came around for the finale (my daughter became too scared, and left halfway through it), and they were laughing it up and making jokes at the amped-up antics of the film's villain. Even they recognized that The Care Bears Movie was inappropriately over-the-top - particularly for a movie made for kids much younger than themselves.
Now of course, most parents have had to deal with scary stories and movies that frightened their children. Take Disney's Bambi, for instance. How many parents had to comfort children who were reduced to tears when Bambi's mother was shot and killed? It can be a fairly traumatic experience for young viewers. But it's also a moment of real artistic truth, made not only palatable but also worthwhile by the geniuses at Disney. No such artistic buffer ameliorates The Care Bears Movie. This is a crassly commercial venture, featuring a line of toys inhabiting a 76 minute product tie-in commercial. Now, I've written before that I don't have a problem with companies creating TV shows or movies out of wholecloth, with the sole purpose of selling toys or merchandise. Walt Disney first animated Mickey Mouse not to create "art," but as a means to sell animated cartoons and to make a buck. And later, he virtually created the whole idea of synergy, where a given artistic product was merchandised and cross-referenced eight ways from Sunday, for maximum dollar efficiency. And look at how people view Disney today. Again, I have absolutely no problem with that particular concept.
And it's important to remember that the theatrical success of 1985's The Care Bears Movie (it beat out Disney's massively expensive 70mm epic, The Black Cauldron at the boxoffice) led to their popular TV show, which was a sweet, innocent little series that kids adored. Who cared if that particular show wanted to sell toys; it provided some innocuous entertainment and good memories for its smallfry audience. However, The Care Bears Movie can claim no such "artistic purpose" as Bambi can, and so its totally inappropriate imagery and themes (for its intended audience), all in the service of making a buck, is inexcusable. This movie was not intended for 10-year-olds; it was obviously aimed at preschool children. So the sights of young children transformed into dark-eyed thugs beating each other up, vandalizing property and threatening the Care Bears (after Nicholas' first spell), a screeching, vicious bird attack that made my 5-year-old cower in fear, a hungry tree with a gaping maw of a mouth that almost eats our heroes, a frightening, evil-eyed skull spirit that entices Nicholas to repeat black magic incantations, and finally, the death of the Spirit at the hands of Nicholas as he squishes her head in the evil book, as you hear her bones crack, with green ooze coming out of the pages, is wildly inappropriate for its target viewers. Without even the slightest attempt to legitimize the violence with some sort of artistic validation, The Care Bears Movie becomes not entertainment, but punishment for your young, impressionable child. You can't find a better summation of the possible effect this movie may have on your child, than when you see the faces of Kim and after Nicholas has been "cured." Assuring the sweet little children that he's really alright, Kim and Jason can only manage a stupefied, blank stare at Nicholas; they looked as traumatized as I would imagine many very little children might appear after watching The Care Bears Movie.
The DVD:
The Video:
This is the 25th Anniversary, Limited Edition of 1985's theatrical release The Care Bears Movie, and it does indeed look like it has been digitally cleaned up and remastered for this DVD transfer. Presented in a 1:33 full-frame transfer, the DVD box claims this preserves the aspect ration of the "original production photography." This is true, but the film was projected at a minimum 1.66:1 widescreen ratio, so matting your widescreen TV brings back the original theatrical look to the film. Either way, the film does look bright and colorful in this excellent transfer.
The Audio:
The Dolby Digital English 2.0 mono presentation is fairly uninteresting, but then again, do you really want to listen to those god-awful songs by Carole King and John Sebastian? Spanish and French mono soundtracks are also available, as are English and Spanish subtitles. Close-captioning is also available.
The Extras:
As an extra, an episode of the Care Bears TV show is included, a 23-minute episode entitled Professor Cold Heart and The Care Bears Battle the Freeze Machine. It's certainly more innocuous than the feature film, and entirely suitable for your younger child.
Final Thoughts:
Like some kind of hallucinogenic sword and sorcery head trip, filtered through a butterflies, stars, and rainbow candy-colored land of cute little fuzzball Care Bears, The Care Bears Movie will scare your very small children, and amuse your pot head friends, to no end. If you're on the pipe, I recommend it. If you want something sweet and innocent on DVD for your littlest ones, don't go near it. Skip it.
---
Paul Mavis is an internationally published film and television historian, a member of the Online Film Critics Society, and the author of The Espionage Filmography.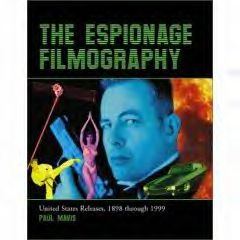 Sponsored Links
Sponsored Links