List Price: $24.99 [Buy now and save at Amazon]
---
I enjoyed watching Wallis & Edward, the 2005 British TV movie about the scandalous love affair between the future King of England, Edward, Prince of Wales, and Mrs. Wallis Simpson, a married, twice-divorced American socialite. It has all the prerequisites of a sedate, intelligent British TV drama that often finds its way onto America's Masterpiece Theatre: gifted British actors, a dialogue-heavy script that emphasizes character over action, an historical setting brought to life with careful set decoration and faithful costumes, and a measured tone and pace born out of stereotypical British reserve. Recounting one of the most famous romances of the 20th century, Wallis & Edward opts to tell its story from the viewpoint of Wallis Simpson, the much-maligned American socialite who was -- and probably still is -- largely seen as the instigator of Edward's abdication of the English throne in 1936. I enjoyed it, but I'm not sure I believed too much of it.
Included on the Wallis & Edward disc is an interview with the screenwriter, Sarah Williams. She's honest to a fault, stating clearly that she of course made up dialogue (as any screenwriter does who's not privy to conversations between historical figures), and that this is her interpretation of those long-ago, famous events. And it's a lovely story she crafts, full of passion and romance, and it makes for good Sunday afternoon viewing. But there are critical aspects of the story left out, most notably, Wallis' motivations for the affair and subsequent marriage, that leaves Wallis & Edward an entertaining, yet ultimately unfulfilling experience.
In 1934, Edward, the Prince of Wales (Stephen Campbell Moore), was the most famous bachelor in the world. His romantic exploits were the subject of speculation in newspapers and magazines all over the globe. So when he very publically took up with Wallis Simpson (Joely Richardson), a married, twice-divorced American, the world began to speculate on the true nature of their affair, while the British public stayed largely in the dark (the British press, out of deference to the Windsors, refused to publish the more lurid rumors of Wallis and her affair with Edward). Wallis' husband, Ernest (David Westhead), was seen as a willing partner in the affair (as screenwriter Williams accurately states in her interview, such open dalliances were quite common among the rich and upper social classes at the time), but the Windsor royal family and the British government, although at first indulgent of Edward's distasteful (in their eyes) choice for a mistress, were later horrified as the realization that Edward was becoming obsessed with the American socialite.
After two years of courtship, according to this particular cinematic take on the story, Ernest, and indirectly Edward, convince a reluctant Wallis to get a divorce in order to marry Edward. While the couple vacations oversees, seemingly oblivious to the newspaper coverage of the scandal, the British prime minister, Stanley Baldwin (Richard Johnson), increasingly doubts that Edward can competently take the reigns as head of the British Empire - a view echoed by Edward's own father, King George the Fifth (Clifford Rose). Returning to England, the couple is mortified to see the press clippings from around the world, particularly since Wallis' reputation was being dragged through the mud (rumors circulated that she was a Nazi spy and an ex-prostitute trained in the brothels of Shanghai). Refusing to heed the advice of practically everyone else - including, this story states, Wallis - Edward insists on marrying Wallis, an impossibility not only because of who Wallis was, but by the fact that Edward as King would be head of the Church of England, which forbade remarriage for anyone whose divorced spouse was still alive (both of Wallis' ex-husbands were still living).
Of course, we know the rest of the story. When Edward sought the help of the British government to obtain a morganatic marriage (a marriage where Wallis wouldn't have become Queen, nor be entitled to any of his holdings), Baldwin and Parliament declined such an act. According to this retelling, Wallis was adamant that Edward not abdicate, but that Wallis, filled with scorn for a hypocritical government that would have allowed him to keep Wallis as a mistress but not as a wife, forged ahead, renouncing his crown, and marrying Wallis after her divorce was final. The couple lived in comfortable exile from England for the next 35 years, traveling the world as one of the first "jet-setters," until Edward's death in 1972. Wallis, increasingly in poor health, lived in seclusion until her death in 1986.
What I found interesting about this particular version of the famous love affair was the overtly erotic tone to many of the scenes between Wallis and Edward. While this particular aspect of their relationship is often glossed over or skipped entirely in other accounts, Wallis & Edward shows two people who are obviously sexually aroused by the company of each other. Much of that erotic undertone is achieved by the marvelously subtle Joely Richardson. As many fans of Nip/Tuck have discovered, she can summon up an uniquely alluring, almost carnal undertow to her performances, as she does here. Moore is quite good at getting across the alternately passionate and naive Prince Edward, who blindly believed that his marriage to Wallis would eventually be accepted by the Windsors and the British public. And the rest of the cast, as is usually the case with such British TV films, are above reproach. The production is lush and convincing, and it's carefully paced and directed by David Moore.
What ultimately levels Wallis & Edward to mere colorful entertainment is a determined insistence on not explaining Wallis' motives for the romance. The character of Edward, by comparison, is clearly delineated. Weary of a hypocritical role as moral standard bearer for a country and government that doesn't expect him to be moral in private, Edward falls in love with Wallis precisely because she's so opposite of anything he's ever experienced before. It wouldn't be much of a stretch to assume that at least part of his obsession with Wallis stems from his subconscious knowledge that his pursuit of her will lead to absolute ruin for himself - and offer a way out of duties he clearly doesn't wish to honor. But Wallis' motives are murky, at best, in Wallis & Edward. Yes, it's obvious she loves him, but there are aspects of the real Wallis' character that most historians and witnesses agree upon, that are conspicuously missing from Wallis & Edward -- most glaringly, her ambition. Did screenwriter Williams fear that her sympathetic portrayal of Wallis would go south if the viewer was exposed to this rather dominant character trait?
Other plot machinations in Wallis & Edward seem entirely too convenient, including the supposed surprise that Wallis and Edward experience when coming back to England, seeing how the world papers have been treating the affair. By all accounts I've read, Wallis and Edward were worldly, intelligent people, who no doubt would have been aware of the storm of controversy they were stirring up with their affair. In fact, many historians suspect that the couple, particularly the fame-hungry Wallis, may have enjoyed the notoriety brought on by their actions. But Wallis & Edward has the lovers coming off like love-sick puppies who are blind to the rest of the world -- even though they're supposedly world travelers who both had extensive experience conducting affairs. Indeed, we never get much of a sense of Wallis' thoughts about Edward -- or her place in history that she most assuredly would have been thinking about -- other than the fact that she loves him absolutely. Such a portrayal makes for good romances, but it very probably strays from historical fact, and it simplifies an historical figure whom I suspect was far more complex than the character on display in Wallis & Edward.
I don't disagree with Williams that for decades, Wallis has perhaps unfairly taken the brunt of criticism for Edward's abdication. However, leaving out Wallis' driving ambition from the Wallis & Edward's Wallis, leaves the door open for a charge of whitewashing the character. As well, there are unsavory aspects of both Edward and Wallis - in particular, their post-abdication activities with Nazi Germany and Vichy France - that would further complicate the essentially positive view that Williams would like us to have of Wallis and Edward. Frankly, I would have found a movie based on Wallis and Edward's life after the abdication far more compelling - and morally ambiguous - than the rather easy, simplified romantic view of Wallis & Edward. Still, Wallis & Edward does provide the familiar pleasures of a typically well-produced and acted historical British TV melodrama, and as such, is worth a look.
The DVD:
The Video:
The widescreen, 1.78:1 anamorphic 16x9 video image for Wallis & Edward is quite nice. Beautifully shot, the DVD transfer showed no signs of compression issues, with a crisp, focused look.
The Audio:
The Dolby Digital English 2.0 stereo mix is straightforward, with no surprises. And as a first (at least for the ones I've reviewed), this Acorn Media DVD actually has...close captioning! Bravo!
The Extras:
There's an interesting interview with screenwriter Sarah Williams included here, along with text filmographies for the cast, text production notes, a production photo gallery, and an historical photo gallery. Some nice bonuses, particularly the informative interview with Williams.
Final Thoughts:
Critically missing a motive for Wallis' actions here, a decidedly simplified, romanticized Wallis & Edward still manages to entertain with two engaging lead performances, a nicely constructed script, and a smooth, assured production. If you enjoy British TV dramas as much as I do, you will no doubt enjoy Wallis & Edward. I recommend it.
---
Paul Mavis is an internationally published film and television historian, a member of the Online Film Critics Society, and the author of The Espionage Filmography.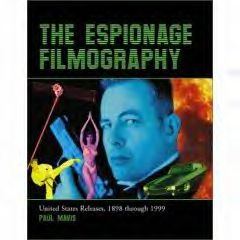 ---
C O N T E N T

---
V I D E O

---
A U D I O

---
E X T R A S

---
R E P L A Y

---
A D V I C E
Recommended
---
E - M A I L
this review to a friend
Sponsored Links
Sponsored Links