Flipper - The Original Series: Season One
MGM // Unrated // April 24, 2007
List Price: $39.98 [Buy now and save at Amazon]
---
Flipper's original run was just a little bit before my cognizant TV watching time, but he was big in reruns when I was little, so I was an early fan of the supernaturally smart dolphin with the easy smile. Of course, I watched him in black and white (yes, kids - there were still people in the early 1970s who didn't have color TVs), so it's a bit of a revelation for me to revisit Flipper: Season One in its original bold, vivid color. This is one good-looking series, shot on 35mm film, on location in Miami, Florida. It's also a very sweet show for young children and parents to watch together. Naturally, young kids are going to be drawn to Flipper's playful aquatic antics, which are liberally sprinkled throughout the speedy episodes. And Flipper's two young co-stars, 10-year-old Bud (Tommy Norden) and 15-year-old Sandy (Luke Halpin) perfectly embody the ideal of early 1960s American children: polite, well-mannered, clean-cut, athletic, rambunctious, unenthusiastic towards shoes and dress clothes (their wardrobe largely consists of cut-off jean shorts), and only occasionally disobedient to their father's wishes - just enough, in fact, to instigate the high-flying adventure of each episode, but not enough to get into real trouble with their understanding but no-nonsense father.
Flipper the television series was inspired by two successful feature motion pictures: Flipper, starring Chuck Connors and Luke Halpin (released in August of 1963), and Flipper's New Adventure, starring Brian Kelly and Luke Halpin (released in June of 1964). The producer of both films, as well as the series, was Ivan Tors, who had hit paydirt with the suspenseful syndicated hit, Sea Hunt, starring Lloyd Bridges, so he was more than familiar with the complexities and difficulties of shooting on the water. The success of the two films, with the second one coming only months prior to the premiere of the TV series, served as excellent built-in promotion for NBC when the series premiered in September of 1964. Debuting on a tough night (Saturday) opposite tough competition (The Jackie Gleason Show had been #15 in the Nielsen's the previous year), nobody at the network or in the press expected much from Flipper, but it turned out to be a solid hit, ending up 25th for the year (and taking a big bite out of Gleason's ratings in the process).
Bud and Sandy's adventures take place largely at their father's place of employment: Coral Key Park marine preserve. Their father, Porter Ricks (Brian Kelly), is the Chief Ranger at Coral Key, and he's responsible for keeping the fish and wildlife in the preserve safe from poachers and careless visitors, as well as frequently aiding the Coast Guard in rescue operations for boaters in distress. A widower (a handy plot device, because a 1964 TV mother would never allow the boys to do some of the things they do here) Porter and the boys live at the Park, in a beach shack right by their own dock. There, Bud and Sandy often visit and swim with their "pet" Flipper, an extremely friendly and intelligent dolphin who stays close to the boys, and who comes when the boys use an underwater horn to call him.
Bud and Sandy, two independent, curious brothers, often help their father with his duties at the Park, but they also have much free, unsupervised time in which to involve themselves in all sorts of adventures - and trouble - in the beautiful, but at times treacherous waters of Coral Key Park. Among their adventures in this first season, the boys find sunken treasure (a couple of times, actually), fight off poachers and sharks, save several stranded boaters, and catch boat looters. This season, an old fisherman named Hap Gorman (Andy Devine, wonderful as always), helps the boys out with their adventures. Bud and Sandy are rather like a waterlogged Hardy Boys, with the added help of their super-intelligent friend, Flipper.
Perhaps more than a little reminiscent of Lassie, Flipper seemingly has the ability to understand the boys and Porter when he's asked to perform seemingly impossible tasks, but he has a particular affinity for younger Bud. While Porter and Sandy initially doubt Flipper's ability to truly understand Bud (they think he may just be playing), both come to realize that Flipper indeed does understand them, and after enough prompting, will do just about anything they want. If a box of blood plasma that's gone over the side of a boat is urgently needed, Bud only has to explain several times what he needs, and Flipper gets the box. When Bud calls Flipper, he actually shows up, regardless of what he may have been doing. And when each episode ends, and everyone is laughing over their previous tribulations, Flipper always appears to "click" enthusiastically as if he, too, is commenting on the action.
Of course, some critics snickered at this underwater Lassie Come Home, but children certainly believed that Flipper truly understood the boys. Part of that comes from the polished production of the Flipper series. Although adults may notice the same reused action shot of Flipper doing his backward tail riding trick, or notice that various shots of Flipper, supposedly doing something in the same sequence, are obviously shot in various different locals or water depths, children most assuredly do not - nor do they really care, I would imagine. I know I never noticed those things when I was a kid, nor would it have bothered me if I had; it's moviemaking, after all, and kids are much more willing than adults to suspend their disbelief. And the pros behind the scenes of Flipper, including producers Ivan Tors and legendary underwater technician Ricou Browning (he was The Creature in the Black Lagoon movies), know how to stitch together the action shots with the exposition scenes to create a relatively seamless whole.
But credit shouldn't be short-changed when it comes to describing Flipper the actor (evidently, he was played by several stand-ins). Whenever the camera is underwater, and we see the incredibly graceful, fluid movements of Flipper, it's really kind of magical. There's a moment in the opening credits, right before the celebrated song starts, when Flipper blasts right by the camera. And just before he passes the camera, he tips his head jauntily at the cameraman. It's such a spectacular moment, such a star moment, that he immediately wins you over with his...dolphin charisma, I guess (curious Flipper often delightfully, unashamedly stares right at the cameraman when being photographed). Out of the water, when Flipper frequently jumps out halfway to converse with the boys and Porter, he's such a natural actor that we can't help but get caught up in the fantasy that this dolphin really is able to understand these people's rather complicated instructions.
Speaking just about the dramatics and storylines of Flipper, I rather liked that old-fashioned notion that boys will be boys, and that children should be allowed to explore and have adventures without constant, hectoring adult supervision. Children were more free with their time and their actions when I was a kid, and Flipper captures nicely that increasingly rare period of time when children could be just that - children, without an appointment calendar, without booked activities to take up every spare moment of time, and without a worried adult looking over their shoulders all the time. The actors are perfectly fine in their roles, with Brian Kelly the confident, ideal (and idealized) father figure (which you will never see again on TV, unfortunately), and Tommy Norden and Luke Halpin quite realistic and unaffected in their parts. They seem like real boys to me, not actors. Many of the storylines of Flipper couldn't be called deep or even original, but that's part of the charm of this first season. This is straight, unadulterated adventure for kids and families, with no pretensions at greatness. There's almost a primitive purity about Flipper's structure, with its square, one-two-three editing and its nicely composed shots, that speaks to the pleasures of old-time professionalism, a professionalism that's missing from much of today's cynical TV junk.
Here are the 30, one-half hour episodes of the four-disc box set, Flipper: Season One, as described on their slimcases:
DISC ONE: SIDE A

300 Feet Below
Porter and the boys receive an urgent distress call from a shark attack victim in dire need of a blood transfusion.
Red Hot Car
Bud and Sandy get caught in an explosive situation when diving to investigate a sunken car.
S.O.S. Dolphin (Series Pilot)
The presence of deadly scorpion fish forces the closure of the park and threatens the life of a scientist attempting to capture them.
The Gulf Between
When a beautiful woman arrives in Coral Key to visit Porter, Bud fears that she's trying to replace his mother.
DISC ONE: SIDE B

City Boy
Sandy and a careless friend find themselves trapped under water in a sunken ship and only Flipper can save them.
Dolphin for Sale
A dishonest fisherman lures Flipper into a trap and plans on selling him to the circus.
Not Necessarily Gospel
Bud delights in the tall tales of Hap Gorman, but he sees the old man in a whole new light after a run-in with some poachers.
Countdown for Flipper
when Flipper is accused of eating a valuable research specimen, it's up to Bud and Sandy to find the true culprit before it's too late.
DISC TWO: SIDE A

Mr. Marvello
A ventriloquist with a nefarious plan tries to convince the boys that Flipper can actually speak, but Bud and Sandy are no dummies.
My Brother Flipper
After Flipper comes to his aid, an elderly diver hiding a secret claims that Flipper is the reincarnation of his brother.
Second Time Around
Flipper helps to restore the hope of a former water-skiing champion who has been paralyzed in an accident.
The Lady and the Dolphin (Part 1)
Fearful that the park may be slated for closure, Porter and the boys try to impress a visiting congresswoman.
DISC TWO: SIDE B

The Lady and the Dolphin (Part 2)
The boys get into some deep water when they take Congresswoman Browning skin diving.
Danger
While on a fishing trip with Hap, Bud and Sandy board an abandoned ship, not knowing that it's about to be blown sky high.
Misanthrope
Someone's been looting boats, and Bud, Sandy and Flipper take it upon themselves to catch the thief.
Flipper's Bank Account
Flipper's discovery of a Spanish doubloon sparks an undersea gold rush at Coral Key.
DISC THREE: SIDE A

Lifeguard
Flipper's ability as a lifeguard is tested when he saves a woman from drowning.
The Day of the Shark
A marine researcher is called in to investigate when a school of sharks invades the park.
Love and Sandy
Sandy is smitten by a pretty girl and agrees to help find her lost seal.
Money to Blow
Flipper finds money in a shipwreck and gives it to Bud, who promptly goes on a spending spree. The trouble is, the bills are counterfeit.
DISC THREE: SIDE B

Flipper's Treasure
Flipper and Bud find treasure -- and trouble -- aboard the wreck of a sunken Spanish ship.
The White Dolphin
Flipper's new friend, a rare albino dolphin, attracts the attention of some unscrupulous locals hoping to exploit the exotic creature.
Teamwork
Bud and Sandy prepare for the annual Coral Key Park swim race, unaware that the water has been polluted by toxic chemicals.
Flipper and the Elephant (Part 1)
Flipper helps to rescue the sinking survivors of a floating zoo, including an elephant and a chimpanzee.
DISC FOUR: SIDE A

Call of the Dolphin
Flipper heeds the call of the wild and heads out to sea, but is that really a school of dolphins that he's hearing?
Flipper's Monster
Flipper is starstruck when a film company arrives at the park to shoot a monster movie.
The DVD:
The Video:
As I said above, when I watched reruns of Flipper as a kid, it was on a black and white portable, so this Flipper: Season One DVD box set is simply a knockout. Color for the full-frame video image is rich and vibrant, with little or no significant damage apparent to the original elements. Often, Flipper: Season One looks as if it was shot yesterday. The location work is fantastic, and it shows up well on this nicely turned out transfer. The only drawback? These are flipper discs (the only time that's been funny to type), and I hate flipper discs. They get scratched. But, they are one way to keep costs down, so....
The Audio:
The Dolby Digital English mono soundtrack for Flipper: Season One accurately represents the original broadcast presentation. It's clear, and you can hear every single happy bleat, click and whirr from Flipper.
The Extras:
Unfortunately, the only extra included on this Flipper: Season One boxed set is a Flipper Trivia Game, a fairly lame text-only multiple choice trivia game that the little ones might enjoy.
Final Thoughts:
A perfect show to watch with your family, or to relive your fond childhood memories, Flipper: Season One looks fantastic here in this four-disc boxed set. The stories are simple and professionally produced, and the actors are nicely grounded and low-key. But the real star here is Flipper, and he's one of the most charismatic TV stars of the 1960s. I highly recommend Flipper: Season One.
---
Paul Mavis is an internationally published film and television historian, a member of the Online Film Critics Society, and the author of The Espionage Filmography.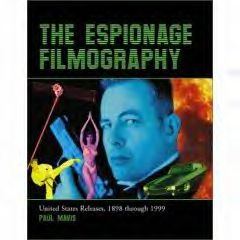 ---
C O N T E N T

---
V I D E O

---
A U D I O

---
E X T R A S

---
R E P L A Y

---
A D V I C E
Highly Recommended
---
E - M A I L
this review to a friend
Sponsored Links
Sponsored Links