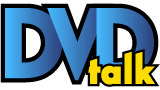 Night at the Museum: Special Edition
Fox // PG-13 // April 24, 2007
List Price: $29.99 [Buy now and save at Amazon]
---
Movie Review:







While it isn't one, "Night at the Museum" often seems like a sequel to "Jumanji" with the sense of menace and danger drained out. The film is the latest from director Shawn Levy ("Cheaper by the Dozen", "The Pink Panther") and while Levy's involvement does not exactly instill a great deal of confidence, "Night" manages to be a decent family feature.



Ben Stiller plays Larry Daley, a recently divorced father who is trying to still see his son, despite being unemployed and in need of money for rent. Seeking out just about anything, an agency worker (played by Stiller's real-life mother) says he's only a potential candidate for one job: working at the American Museum of Natural History as a night watchman. The three guards (Dick Van Dyke, Mickey Rooney and Bill Cobbs) currently working at the museum are being forced into retirement, because the museum has fallen on hard times, thanks to kids being pulled away by other entertainment.



On his first night at the gig, Larry learns that this isn't like any other museum, as the exhibits come to life at night. Exhibits that include a playful T-Rex, various creatures, warriors, mini cowboys and...Teddy Roosevelt (played by Robin Williams, in a performance that's surprisingly restrained, especially considering the chaos often unfolding in the museum scenes.



The main issue with the picture is that while writers Robert Ben Garant and Thomas Lennon (creators of "Reno 911") manage some amusing (as well as some unfunny, it must be said; the two have never managed anything as great as "Reno") one-liners, they have forgotten to add much of a plot for the picture, which largely consists of Stiller running around amidst a lot of visual effects (which in general are pretty good, although some of the blue screen work could use some work.) The film's actual few bits of plot - Larry's romantic interest (Carla Gugino) and Larry's trying to hold the job in order to keep seeing his son - are really not a big part of the picture.



Stiller's performance, while certainly not his best, is at least one of the film's good choices, as Stiller plays it mostly straight, trying (with some success) to be an ordinary guy stuck in an extraordinary situation. Williams, Owen Wilson (as a minature cowboy), Ricky Gervais (as the curator) and others get their moment in little supporting efforts.



As passable a "time waster" as "Night at the Museum" is, one can't shake the feeling that the film had the potential to be a lot more than that. The only time that the picture has a sense of style, wonder or awe is the film's pretty finale, a night chase throughout a snowy Central Park (well, a stage resembling Central Park.) One wonders what Tim Burton could have done with the film, or Alfonso Cuaron. Robert Zemeckis. Chuck Russell. There's a lot of other directorial choices that could have likely brought more to the table than Levy.



Still, "Night" gets some chuckles, offers a great cast who bring decent efforts and some special effects. It's not up to its potential, but "Night" manages to be mildly watchable (although it's absolutely more for kids than adults), despite its faults.




The DVD




VIDEO: "Night at the Museum" is presented by 20th Century Fox in 1.85:1 anamorphic widescreen. The screening copy of the film that was provided offered decent image quality, with some mild artifacting being the main concerns. However, this is still not the final copy and unfortunately, I cannot make any final comments on it, as the final copy will likely offer differing (and hopefully better) image quality.



SOUND: The film is offered with Dolby Digital 5.1 and DTS 5.1 options. Despite all of the hectic scenes in film, the audio tended to be rather front-heavy. Surrounds did kick in at times do deliver sound effects in the museum scenes, but weren't as aggressive as I'd expected, given the material and all the activity in the museum scenes. Audio quality was fine, with a rich, full score and crisp, clear dialogue despite all the chaos of the main museum scenes. The DTS soundtrack sounded similar to the Dolby Digital option.







EXTRAS: Writers Robert Ben Garant and Thomas Lennon provide one of the two commentaries and mainly just riff on what passes by. They take minor details from scenes and just improv bits of humor for minutes at a time, similar to what they do on the commentaries for "Reno". The result doesn't offer much information about the production at all (although, amusingly, they frequently note that the exhibits were inspired mostly not by the American Museum of Natural History, but by exhibits at the The Metropolitan Museum of Art on the other side of Central Park), but does make for some laughs.



The other commentary comes from director Shawn Levy, who provides a more detailed overview of the production, discussing a great deal of the "behind-the-scenes" work (such as visual effects and production design) and working with the film's cast. Thoughts about the movie's pros and cons aside, the commentary provided a good deal of information (although Levy does spend a bit too much time heaping praise on cast and crew) and insight.



The second DVD opens with 17 minutes of deleted scenes, the majority of which offer optional commentary from Levy. Although there's a funny scene with Stiller's character trying to sell a restaurant idea, most of these are small bits that aren't necessary or were dropped to get to the museum faster. A blooper reel offers about 6 minutes of missed lines, screw-ups and other blunders. There's some good laughs found here, although stretches of it are fairly low-key.



"Bringing the Museum to Life" is a 6-minute look at the film's visual effects work, such as the construction and choreography of these scenes. "Directing 101" essentially is a montage of director Shawn Levy making a fool of himself, trying to act out scenes or bits of scene or ideas off-camera. "Monkey Business" is a short piece on working with the film's monkey co-star. "Comedy Central: Reel Comedy" is a 21-minute promotional piece.



Next on the tour, we get the 7-minute "Building the Museum", which is one of the more enjoyable features on the DVD, which looks into the extensive production design work on the film. "Historical Threads" is a 5-minute look at the film's costume work. We also get a 10-minute storyboard-to-scene comparison with intro from Levy. The last second of the second disc offers a more general "making of" featurette that runs 11 minutes, as well as a 10-minute Fox Movie Channel piece that breaks down the making of the initial T-Rex scene in the museum. There's also another Fox Movie Channel featurette that has Levy talking with film students. Finally, we get the teaser and full trailers for "Night", as well as trailers for "Dr. Dolittle" and "Robots".



Final Thoughts: Still, "Night" gets some chuckles, offers a great cast who bring decent efforts and some special effects. It's not up to its potential, but "Night" manages to be mildly watchable (although it's absolutely more for kids than adults), despite its faults. Rent it.



Sponsored Links
Sponsored Links