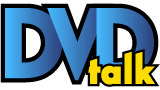 Kitchen Confidential: The Complete Series
Fox // Unrated // May 22, 2007
List Price: $29.99 [Buy now and save at Amazon]
---
Review:







"Kitchen Confidential", if you've never read the book by Anthony Bourdain, is a fun little series with snappy dialogue, a good ensemble cast and solid production values. If you've read the book, the series is going to raise some red flags. Bourdain's "Kitchen Confidential" was subtitled, "Adventures in the Culinary Underbelly" for a reason: it was funny, but the humor was often pitch-black dark comedy. Bourdain's tour of his cooking career and discussion of his drug addiction was seedy, chaotic, occasionally gross, exhausting and, while always fascinating, was never pretty.



Even when discussing his work in the kitchens of upscale restaurants, Bourdain's book makes the job of chef seem brutally difficult and occasionally dangerous. While the restaurant outside is calm and elegant, the kitchen in Bourdain's book is often presented as a battleground where the crew struggles to perfect dishes in rapid time and profanity is taken to remarkable new levels. When David Fincher and Brad Pitt were rumored to be working on a film adaptation of the novel (which would be called "Seared"), that sounded like a perfect fit for the material.



"Kitchen Confidential" as a series for Fox is a completely different dish than the book. Bourdain has been renamed (for what reason I don't know) Jack (played by Bradley Cooper of "Alias"), and starts off working in a low-class Italian kitchen for his girlfriend (Andrea Parker). However, it's not long before he gets called up by restaurant owner Pino (Frank Langella), who gives him 48 hours to essentially get a restaurant - Nolita - staffed and running.



Joining him is Steven (Owain Yeoman), a sous-chef that, in real life, Bourdain described as a "Sergeant Bilko-like character", who had "a criminal mind." While Bourdain often seemed dismayed by Steven's actions in the book, the two clearly complimented one another, making for - as the TV series describes, a "Butch and Sundance" pairing. Although a network series can't present Steven as fully twisted as the book does, Yeoman does a pretty good job portraying the character. Cooper doesn't resemble Bourdain even slightly and plays Bourdain...well, not anything like Bourdain is (he seems more like Rocco Dispirito than Bourdain), but he plays a chef dealing with sudden celebrity well.



"Kitchen Confidential" did not grab the kind of ratings the network was looking for right out of the gate, and the show was over after 4 episodes, leaving 9 unaired. It's too bad, as the series does pick up in the 9 unaired episodes, with Jack taking in Becky (Erinn Hayes, excellent), a chef who doesn't take any crap from the boys' club of the kitchen, but does add both some romantic interest and conflict to the series for a few episodes.



The supporting players, such as John Cho, John Francis Daley (who plays a kitchen rookie), Nicholas Brendon, Bonnie Sommerville (as Mimi, the daughter of Pino who doesn't get along with Jack), Jamie King (as the hostess) and Frank Langella (who's terrific in a small role.) I've hoped that "Kitchen Confidential" would be turned into either a movie or a TV show since I read it. This isn't what I imagined (I think a series accurate to the book would have to be on HBO) but taking it as its own thing and not a totally faithful adaptation of the book, "Kitchen Confidential" is an enjoyable sitcom that could have been a success if it was given more of a chance.



1. 1- 1 19 Sep 05 Exile on Main Street

2. 1- 2 26 Sep 05 Aftermath

3. 1- 3 3 Oct 05 Dinner Date with Death

4. 1- 4 5 Dec 05 French Fight

5. 1- 5 UNAIRED You Lose, I Win

6. 1- 6 UNAIRED Rabbit Test

7. 1- 7 UNAIRED The Robbery

8. 1- 8 UNAIRED Teddy Takes Off

9. 1- 9 UNAIRED Let's Do Brunch

10. 1-10 UNAIRED Praise Be Praise

11. 1-11 UNAIRED An Affair to Remember

12. 1-12 UNAIRED Power Play

13. 1-13 UNAIRED And the Award Goes to...





The DVD



VIDEO: "Kitchen Confidential" is presented in 1.78:1 anamorphic widescreen by Fox. The show looks quite good on DVD, with good sharpness and detail throughout. There are moments of slight grain and a few light instances of artifacting at times, but no edge enhancement or flaws with the source material were seen. Colors looked bright and lively, with nice saturation and no smearing.



SOUND: The show's Dolby Digital 5.1 presentation sounded just fine, although the audio was largely dialogue-driven. Only in the kitchen sequences do the surrounds kick in with some minor ambience. Dialogue remained crisp and clean, with no distortion or other faults.



EXTRAS: Creator David Hemingson, producer Darren Starr and actor Bradley Cooper offer a commentary for "Exile on Main Street" and Hemingson, Cooper and writers Dean Lopata and Karine Rosenthal offer a commentary for "And the Award Goes To..." The commentaries are fun, as the group discusses working with the cast, shooting in the restaurant stage, writing the episodes and especially the food readily available on set. Also included on the second DVD is a tour of the kitchen set, the trailer and a featurette with the actors looking back and discussing how much fun they had working on the series. Bourdain doesn't participate in the extras, unfortunately, as I think his take on the series would have been entertaining.



Final Thoughts: "Kitchen Confidential" is a pretty loose and breezy adaptation of the book, but those who have read the book and can see the show as something separate (or those who haven't read the book at all) will find an enjoyable, fast-paced and occasionally quite funny sitcom with a great ensemble cast. The DVD presentation offers fine audio/video quality and a nice set of extras. Recommended.

---
C O N T E N T

---
V I D E O

---
A U D I O

---
E X T R A S

---
R E P L A Y

---
A D V I C E
Recommended
---
E - M A I L
this review to a friend
Sponsored Links
Sponsored Links