Classic Western Round-Up: Volume 1 (The Texas Rangers, Canyon Passage, Kansas Raiders, The Lawless Breed)
List Price: $26.98 [Buy now and save at Amazon]
---
Universal's excellent Franchise Collection series of low-priced, quality transferred library titles has another winner in the four-film, single-sided two-disc collection, Classic Western Round-Up: Volume 1, which features director King Vidor's 1936's The Texas Rangers, director Jacques Tourneur's 1946 Canyon Passage, director Ray Enright's 1950 Kansas Raiders, and director Raoul Walsh's 1952 The Lawless Breed. Starring such western luminaries as Fred MacMurray, Dana Andrews, Audie Murphy and Rock Hudson, Universal wisely gathered up these entertaining rip-snorters (which probably would have had a hard time finding big sales in single releases) and packaged them together with excellent transfers. These meat-and-potatoes oaters will satisfy any hard-core Western fan, providing a couple of nice double-features for an old-fashioned Saturday afternoon matinee.
---
THE TEXAS RANGERS

Using the old tried and true gambit of having a man on the inside, outlaws Jim Hawkins (Fred MacMurray) and Sam McGee (Lloyd Nolan) hold up stagecoaches driven by Wahoo Jones (Jack Oakie), a fellow bandit and light-hearted clown. After their latest job, the men are almost captured by a posse, and get separated in the night, with Jim and Wahoo setting out to look for Sam. Needing money, they set about to rob another coach, but Wahoo learns that the Texas Rangers are guarding this particular stage, and lucky for them, they call off the job. Figuring on joining the Rangers to use their information for their own criminal exploits, Wahoo eventually comes along to the side of law and order, and succeeds in convincing Jim, as well -- who's helped along with his transition to the civilized world by pretty Amanda Bailey (Jean Parker), the daughter of Major Bailey (Edward Ellis) of the Texas Rangers, and spunky orphan David (Benny Bartlett). But no amount of talk can convince Sam to end his reign as the "Polka Dot Bandit," and it's up to Jim and Wahoo to bring him to justice.
Lavishly mounted, with some slam-bang action sequences, The Texas Rangers benefits greatly from director King Vidor's emphasis on creating a relatively realistic viewpoint of the bandits, and their naturalistic male camaraderie. While Jack Oakie may be an acquired taste for modern audiences, his enthusiastic mugging fits nicely with MacMurray's largely taciturn solemnity. Vidor directs Nolan (excellent as always) as the true villain of the piece, but Vidor makes a point of trying to mitigate his crimes (as well as to make somewhat ambiguous MacMurray's conversion to law and order), giving The Texas Rangers's dramatics a modern feel and tone.
Even the usual Indian-baiting that can be found in westerns from this period is balanced by Vidor's even-handed blame for the troubles on the range. Vidor makes a point of including in the opening narration that "marauding whites" are an equal party to western strife. As well, the Major is given a pointed moment, after a Mexican Ranger is killed sacrificing himself to save the group, declaring that "there never was a finer man." Although the movie is aggressively anti-Indian, statements like the above keep it from being overtly racist. Indeed, Vidor tries to keep The Texas Rangers focused on the grim realities of war between cultures and people as a hazy moral world where give-and-take is common. When Wahoo finds some massacred white men, he states, "Them Indians sure is dirty fighters, ain't they?" to which Jim replies, "What did you expect? This is no picnic we're on." That kind of acceptance of the Indians' right to fight back, and the murderous realities of each side fighting for their own cause, keeps The Texas Rangers surprisingly even-handed, further aided by Vidor's Hawksian attempt to insert gallows humor of professionals plying their trade in death (the shooting contest between Wahoo and Jim, picking off Indians, is at once humorous and sick).
Shot on an obviously big budget (Vidor was a top director at the time, and MacMurray one of the highest paid male stars), The Texas Rangers has that '30s Paramount glossiness that is unusual for most oaters of that time. Vidor knows how to shoot the West, with vistas as impressively framed as anything out of John Ford's oeuvre. As well, Vidor's action scenes are quite spirited, with a fairly violent Indian massacre (with lots of close-ups of arrows going into bodies and tomahawks into heads), a mountain assault by the rangers hampered by large boulders rolled down on them by the Indians (with amazing sound effects of the boulders hitting rocks and men), as well as a singularly spectacular stunt with a man sliding down a sheer cliff, only to grab onto a tall pine at the last second to break his fall. The Texas Rangers is not your typical 1936 western, and its inclusion here on the Classic Western Round-Up: Volume 1 is a welcome addition.
The DVD:
The Video:
Sporting a clean transfer, the original elements of The Texas Rangers still shows some rather large grain, but the velvety cool black and white cinematography, with the gray scale intact (little or no contrasty values) makes for a nice picture. As with most of these Universal Franchise Collections, the full frame transfer is excellent.
The Audio:
The Dolby Digital English 2.0 Mono soundtrack is more than adequate for the job here (I prefer to hear these soundtracks in the original form they were recorded). English and French subtitles are available.
The Extras:
An original trailer is included for The Texas Rangers.
Final Thoughts:
With director King Vidor's emphasis on even-handed aggression and hatred on all sides of the Western struggle, balanced by the need for law-abiding men to transform the wild West into a civilized society (as well as transforming outlaws like MacMurray and Oakie into useful members of that society), The Texas Rangers is a surprisingly weighty, expensive oater from 1936. Hot and heavy gunplay, along with spectacular compositions and stunts, makes The Texas Rangers a still-rousing Western entertainment. I highly recommend The Texas Rangers.
---
CANYON PASSAGE

Business owner Logan Stuart (Dana Andrews), ambitious and always on the lookout to expand his enterprises, is on his way back to the small trading town of Jacksonville, Oregon, where he runs a freight company and one of his general stores. Meeting up with Lucy Overmire (Susan Hayward), he offers to escort her back to her fiancé and his friend, banker George Camrose (Brian Donlevy), a charming but shady character who gambles with his customers' gold dust. Set upon by a large stranger the night before he's to leave for Jacksonville, Logan realizes that the would-be thief was Honey Bragg (Ward Bond), the town bully who Logan suspects killed two miners months before.

Returing home, Logan visits Caroline Marsh (Patricia Roc), an English-born beauty who Logan wishes to marry. She lives with Ben Dance (Andy Devine) and his family in a cabin on the outskirts of town. Lucy, jealous of Logan's love for Caroline, banters with him, making it clear that she's interested in being with him, not George. During a cabin raising for a young couple in the community, the local Indians make it known that although they don't mind the settlers being on the land, building cabins make it appear that they own the land, which doesn't sit well with them. Meanwhile, the townsfolk, more out of boredom than for any adherence to law and order, literally push Bragg and Logan into a fight, which Logan wins. When Logan offers to take Lucy to San Francisco to get a wedding dress, Bragg again attacks him, before breaking off, when he stumbles on a nude Indian girl swimming. He rapes and kills her, setting off an Indian attack on the village. At the same time, George is accused of murder and theft by the town, so it's up to Logan to not only save his friend, but the town he lives in.

Clearly the standout film in the Classic Western Round-Up: Volume 1 box set, Canyon Passage is a marvelously entertaining exercise in the "psychological western" subgenre, shot in glorious, color-drenched Technicolor, and featuring some surprisingly weighty performances by the excellent cast. Director Tourneur, the mastermind behind the atmospheric classics Cat People and I Walk With a Zombie at the height of his powers (he would follow Canyon Passage with the noir classic, Out of the Past), juggles an incredible amount of plot into this speedy western (his first western, as well as his first color film), bringing a driving, almost mesmerizing pull to the proceedings. While the major plot elements are simple (the love triangle, the emerging civilized town, the town bully), Tourneur shows an almost perverse attention to intriguing, off-beat details when drawing the characters who fill that busy plot.

Obviously, Tourneur was taken with the scoundrels of this film, letting Donlevy and Bond create memorably complex villains who uneasily draw on the viewer's sympathies. Donlevy's George, a thief who always looks for the easy way out, is smooth enough to get someone as beautiful as Lucy for his bride, even going so far as to dare his best friend Logan to kiss her, to prove he's better (Logan does, and it's apparent she enjoys it more than George's kisses). Tourneur, in his search for more morally complex characters, refuses to let us know, concretely and definitely, if George indeed did kill the miner for his gold, further making George an uncomfortable character for the audience to root for. Tourneur's treatment of the town bully Bragg is perhaps the strangest in this thoroughly strange film. Bond, giving Bragg a wily, thoughtful intelligence to his stock character, comes off as almost pathetic in his fight with Logan (the film's best sequence). Badly beaten, but not down, he's contemptuous of the crowd that egged on the fight ("You yellow dogs") - as is Logan. And when Bragg is on the run from the avenging Indians for his rape and murder of the Indian girl, Tourneur gives him one final moment of audience sympathy, as he frames his terrified face in a frame filled with blood red autumn leaves (Tourneur's use of color is nothing short of brilliant in this film).

Even the standard lead characters in Canyon Passage get neat little twists and turns to their stock interpretations. The "wandering minstrel" character of Hi Linnet (Hoagy Carmicheal, whose huge hit Ol Buttermilk Sky is featured in the film), acts like a singular Greek chorus, mysteriously popping up in scenes to offer pithy, ironic commentary on the events at hand (with his mandolin at his side, doesn't he remind you of that similar character in that famous spaghetti western, Sabata?). Even Andrews' Logan (Andrews was a most underrated actor) gets to get in on the philosophical act, musing about individuals "choosing one's gods" when discussing the pursuit of gold and money. As he indicates at the end of the film, his devotion to George's friendship - even when George doesn't really deserve such loyalty - comes from "something deeper than reason." Clearly, Tourneur is having a field day here, cramming as much plot, psychology, and action into this standard western plot as allowable within its short running time (the marvelous cabin raising scene must have been screened by Peter Weir for Witness). As good as any psychological Western Lang or Mann directed, Canyon Passage is truly a find.
The DVD:
The Video:
Sporting a gorgeous Technicolor print, Canyon Passage looks stunning here, in a nearly flawless full frame DVD transfer. Colors are saturated and true, and the picture is sharp and focused.
The Audio:
The Dolby Digital English 2.0 Mono soundtrack is more than adequate for the job here (I prefer to hear these soundtracks in the original form they were recorded). English and French subtitles are available.
The Extras:
Unfortunately, there's not even a trailer for Canyon Passage.
Final Thoughts:
Richly dense for a deceptively "simple" western, Canyon Passage is terrifically entertaining, with a complex, intriguing approach to the characters who populate this action-filled western. It's a great find for western fans who look for something extra in their oaters. I highly recommend Canyon Passage.
---
KANSAS RAIDERS

Young Jesse James (Audie Murphy), his brother Frank James (Richard Long), their friends James Younger (Dewey Martin), his brother Cole Younger (James Best), and Kit Dalton (Tony Curtis), decide to join up with the infamous rebel guerrilla group, led by Colonel William Clarke Quantrill (Brian Donlevy). On their way to Quantrill's outfit, the young guns first have to pass through Lawrence, Kansas, where they're almost lynched by the "redlegs" who suspect them of already being a part of Quantrill's gang. However, a Union Captain (Richard Arlen) saves the boys, but warns them of what awaits their fates if they join up with the murdering Quantrill. Jesse, refusing to believe that Quantrill is a murderer, continues on with his group, eventually reaching Quantrill's camp. There, he's welcomed into the guerrilla band, but not before Quantrill sets up a test of his loyalty. Jesse, pushed around by Quantrill's right hand man, Rudolph Tate (David Wolfe), eventually fights Tate, viciously gutting him when he wins the fight. Unbeknownst to Jesse, Tate was a spy for the Union Army, supplying information on Quantrill's movements. Convinced of Jesse's loyalty, Quantrill takes Jesse under his wing, giving him favored status in the gang.
What Jesse refuses to believe - that Quantrill is quite mad, pretending to be a Rebel officer but in reality acting as a murdering thief - is put forth not only by Quantrill's own gang (who are wise to his actions), as well as Jesse's gang, but also Quantrill's woman, Kate Clarke (Marguerite Chapman), who takes a shine to Jesse. Jesse, who recounts how "redleg" Union guerrillas killed his parents, takes on a strong father/son identification with the courtly, firm Quantrill. Even when faced with the certain knowledge that Quantrill is indeed a murderer, Jesse repeatedly goes back to serving him, staying with him when his entire gang abandons him. Quantrill's ultimate fate will decide Jesse's and his gang's fate, as well.
Certainly one of the most historically twisted takes on the James and Younger gang, along with its laughably sympathetic portrayal of Quantrill, Kansas Raiders nonetheless is a fairly breathless actioner with tons of gunplay to smooth over the more outrageous historical inventions of its script. If taken as pure fiction, Kansas Raiders is more than competently directed by old Hollywood pro Ray Enright. Straightforward, cleanly executed, with beautiful lensing and a quick pace, Enright's sure-footed direction makes for a solid entertainment. Predating the Young Guns films by a couple of decades, the young contract actors playing the famous outlaws may not seem realistically hardened and dangerous (Curtis and particularly Long have the most difficulty coming off as hardcases), but they fit in well with the overall intention of the film.
After all, the script would have us believe that the James and Younger killers were just misunderstood boys, full of fun and mischief. The film studiously avoids showing any of them directly involved with Quantrill's later massacres, even though at this point in the film, the gang is fully aware of their own crimes. Sure, the closing narration at the end of the film calls them criminals leading "warped lives," but the filmmakers sure don't show them in that light during the run of the movie. Often playing like a variation on Shane, Kansas Raiders shows a Jesse James who's loyal to a fault to his surrogate father figure Quantrill. Quantrill, always calling them "fine boys," comes off as courtly and principled, but even after Enright allows Quantrill's madness to show through, he's given a fine, pathetic send-off: blinded and left alone save for Jesse, he pushes Jesse out of harm's way and goes out into the dark, guns blazing. Jesse, allowed to have a final romantic moment with Kate, also seems to end the film on a positive note, despite the historical warnings of the narrator. After watching Kansas Raiders, it's no wonder some cowboy-loving kids back in the 1950s became a little confused as to who were the real heroes of the Old West.
The DVD:
The Video:
The Technicolor-soaked vistas of Kansas Raiders looks quite amazing here, with a near-perfectly balanced print used for the clean full frame transfer.
The Audio:
The Dolby Digital English 2.0 Mono soundtrack is more than adequate for the job here (I prefer to hear these soundtracks in the original form they were recorded). English and French subtitles are available.
The Extras:
There's the original trailer for Kansas Raiders included; it's good to see this unrestored, as a comparison to how nice the feature print looks.
Final Thoughts:
Historically wacky, Kansas Raiders still entertains with a terrific volley of gunfire throughout its sprightly running time. Audie Murphy is fine as always, and Brian Donlevy adds another interestingly flawed character to his output. Beautifully shot in bold, primary colors, Kansas Raiders is recommended.
---
THE LAWLESS BREED

Purportedly telling the true autobiographical story of famous outlaw John Wesley Hardin, The Lawless Breed stars Rock Hudson as Hardin. Released from jail after 16 years at hard labor for killing a man, Hardin has written his autobiography. The film flashes back to tell his story, starting with Hardin's run-ins with his overbearingly strict father, J. G. Hardin (John McIntire), a preacher who whips John when he learns of his gambling and gunplay. Hardin, vowing to leave his home, kills a man in self-defense at a local bar, and his life is never the same. Running from the police, he seeks help from his uncle John Clements (John McIntire, in a dual role). Hardin makes an arrangement with the local sheriff to give himself up, but a turn of events results in Hardin being shot in the back by the sheriff, who he then kills in self-defense.
With no way to straighten his life out, Hardin tries to escape the posse that surrounds his house, but unfortunately, the love of his life, Jane Brown (Mary Castle), who grew up in the Hardin house, is gunned down in the crossfire. On the run, Hardin turns to gambling to support his lifestyle with Rosie (Julie Adams), the "dance hall" girl who befriended Hardin, and who now loves him. But even after years of being incognito, fate eventually catches up with Hardin when he's arrested by the Texas Rangers. He's sentenced to 25 years in prison, but gets out in 16. Going to his ranch where wife Julie lives, along with his 16-year-old son, Hardin must face his past - and the legacy he's left to his son.
Probably the least successful of the releases on the Classic Western Round-Up: Volume 1, The Lawless Breed isn't one of director Walsh's more memorable films. Suffering from a rather indifferent script and a poor lead performance by Hudson, there's not much Walsh can do with this formulaic story. There's a lot of talk in The Lawless Breed, with not nearly enough gunplay to support the thin characterizations. McIntire, a great actor, never convinces us that he's playing two different men, while Hudson, of whom I'm a big fan, utterly fails to come across as a hardened criminal. Contract player Hudson was still deep within the morass of junk that Universal heaped on him, being two years away from his breakout role in Magnificent Obsession. He's just not a good enough actor here to pull off the difficult role of a criminal who's in reality (or at least the film's reality) an innocent man. I'm no expert on Western mythology, but I would suspect the story of Hardin here is highly fictionalized. Still, if you're going to make up a legend, couldn't they have made it a little more exciting than the stilted melodrama seen here? A good director and a future good actor can't save this moribund oater.
The DVD:
The Video:
The flawless full frame transfer for The Lawless Breed looks terrific here, with that Universal house style in full bloom. Colors are saturated and deep, with blacks that hold.
The Audio:
The Dolby Digital English 2.0 Mono soundtrack is more than adequate for the job here (I prefer to hear these soundtracks in the original form they were recorded). English and French subtitles are available.
The Extras:
There's an original trailer for The Lawless Breed included here.
Final Thoughts:
Not particularly exciting, with too much talk and not enough good thesping to pull the dull, familiar story out of the dust, The Lawless Breed is the least of the releases here on the Classic Western Round-Up: Volume 1. If it was available separately, I would give it a "rent" rating, for Western and Hudson fans who like to keep current. But being part of this terrific four film round-up, it's a harmless addition.
---
Final Thoughts on the Box Set:
For the suggested retail price, and the quality of the films included here, Universal's latest Franchise Collection, the Classic Western Round-Up: Volume 1 is a must have for Western fans who like their gunplay hot and heavy. Transferred flawlessly to DVD, these library titles offer some unique variations on the standard oater (particularly The Texas Rangers and Canyon Passage), providing hours of entertainment for the classic Western afficionado. Too bad there weren't more extras, but considering that these titles may not have seen the light of day unless they were packaged together, let's just be happy they look so good - for so cheap. I highly recommend Universal's Franchise Collection's Classic Western Round-Up: Volume 1.
---
Paul Mavis is an internationally published film and television historian, a member of the Online Film Critics Society, and the author of The Espionage Filmography.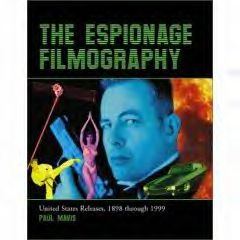 ---
C O N T E N T

---
V I D E O

---
A U D I O

---
E X T R A S

---
R E P L A Y

---
A D V I C E
Highly Recommended
---
E - M A I L
this review to a friend
Sponsored Links
Sponsored Links