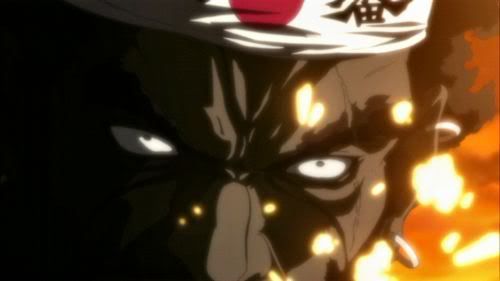 With a budget of roughly $1M per episode, stunning hand-drawn animation and a cast of celebrity voice talent, Takashi Okazaki's Afro Samurai (2007) seemed like a sure bet for anime fans. Combining elements of hip-hop and Asian culture, this stylistic mini-series has been set in "futuristic, yet feudal Japan"; in other words, rocket launchers and cell phones are as commonplace as swords and daggers. Afro Samurai's fusion of popular styles and time periods, as previously seen in Cowboy Bebop and Samurai Champloo, also took the liberty of adding generous doses of Blaxploitation, à la Shaft and Dolemite. Would such a strange concoction work?
After watching the mini-series in its entirety, the answer is a resounding "not really". To its credit, though, Afro Samurai plays a number of its cards right. Filled with colorful characters, violent action sequences and a few twists along the way, those who like their anime bloody and brainless---and believe me, there's nothing wrong with that---should enjoy what's on display. The mini-series' striking atmosphere is rendered well and pops off the screen, planting first-time viewers squarely in the middle of twisted scenarios, deadly brawls and beautiful landscapes. Confrontations are often tense and fast-paced, carrying the story briskly through its 125-minute lifespan.
Afro Samurai follows the strong but silent title character (voiced by Samuel L. Jackson) through a tale of revenge and personal growth. At a young age, his father was killed in a duel with the dastardly Justice (Ron Perlman), so Afro has dedicated his life to training. His sights are set squarely on Justice, who has inherited the title of "Number One" in the form of a sacred headband. Here's the twist: only a fighter who earns the "Number 2" headband has a shot with the champion. Afro meets plenty of colorful friends and foes along the way, including the talkative Ninja Ninja (also voiced by Jackson), a mysterious nurse named Okiku (Kelly Hu) and the deadly, dual sword-wielding Kuma (Yuri Lowenthal). Afro's detours are occasionally interesting on their own terms, but they're primarily designed to build tension for the final duel with Justice. The ending's a bit of a cliffhanger, but a follow-up has yet to be announced.
Unfortunately, there are so many snags along the way (or at the very least, head-scratching moments), it's a difficult world to get lost in. The dialogue is often unintentionally hilarious, villains are ridiculously over-the-top and the mixture of modern and feudal environments just doesn't sit right. Some of these aren't exactly new complaints in the world of anime, but they really make themselves known here. When employing a light, self-deprecating tone (including a few scenes where Ninja Ninja breaks the fourth wall), Afro Samurai feels fresh and enjoyable. When we hear gems like "You will grow up consumed by hatred and will try to revenge your father", it's groan-inducing. Most of this laughable dialogue resembles a bad English dub...until you realize that's the way it's supposed to sound.
At its core, Afro Samurai wants to be a thrilling series aimed at adult anime fans, but it's in serious need of spit and polish. The excellent visuals, strong music (by RZA, of The Wu-Tang Clan) and potent battle sequences are arresting enough, but the thin story and script keep this from leaving a real impression. As it stands, we get a few good ideas---and a generous portion of half-baked ones---wrapped up in fancy packaging. Proceed with caution.
Either way, Afro Samurai is only suitable for mature audiences. The non-stop violence, heavy profanity and nudity provide plenty of over-the-top moments---and surprisingly enough, most of it was left intact during the mini-series' broadcast on Spike TV. The broadcast version is available separately, but this deluxe 2-Disc Director's Cut hopes to sweeten the pot a bit. 15 minutes of footage have been inserted back into this five-part, 125-minute story---mostly in the form of language and violence---but you'll have to shell out twice as much to get it. A bonus disc is also included (as well as some nifty packaging), but it's still a hefty price tag for this lukewarm project.
Quality Control Department
Video & Audio Quality
Presented in its original 1.78:1 aspect ratio and enhanced for 16x9 displays, Afro Samurai looks terrific from start to finish. The stylized, hazy color palette holds up well and black levels are solid, preserving the series' atmosphere nicely. No major digital problems are on display, rounding out the visuals nicely.
Audio is presented in English Dolby Digital 5.1 and 2.0 mixes; the former boasts strong music cues and ample surround activity during action sequences. Dialogue is clean and well-rendered, though it occasionally fights for attention with music and background noise. Unfortunately, no subtitles or Closed Caption support are included.
Menu Design, Presentation & Packaging

Seen above, the animated menu designs are basic and easy to navigate. Each 25-minute episode has been divided into 6 chapters, while no obvious layer change was detected during playback. This two-disc release is housed in a sturdy foldout digipak case with a clear slipcover; all things considered, it's an incredibly sharp presentation and looks great on the shelf. Several promotional inserts are loosely tucked inside, but a proper booklet (with additional art and thoughts from the creative team, of course) would've really been icing on the cake.

One additional note about the packaging: both discs tightly overlap one another in a plastic tray, but there's a small release tab that pries them loose. It's confusing at first, but at least they've been packaged securely.

Bonus Features

Unfortunately, the bonus DVD only includes about 45 minutes of extras, which could've easily fit on Disc 1. First up is "In the Booth: The Voice Talent of Afro Samurai" (14:50), a short featurette with comments by Samuel L. Jackson, Ron Perlman, Kelly Hu, two producers and series creator Takashi Okazaki. It's actually a fairly basic behind-the-scenes piece, touching on the series' origin and development, though we also get a bit of studio footage.

Also here is a five-minute "Music Production Tour" with The RZA (AKA Robert Rakeem Zig-Zag-Zig Digital), who explains how the series' unique blend of musical genres was initially developed. It's a bit too short to go into any major detail, but fans of the hip-hop artist should certainly give it a look.

Closing things out is a collection of Character Profiles (23:41), all featuring audio commentary by co-producer Eric Calderon. This is actually a bit more detailed and involving than expected; Calderon explains the origins and themes behind nearly all of the major characters, paired with a generous assortment of concept art. This final extra is presented in 1.78:1 anamorphic widescreen, while the others are 1.33:1 with non-anamorphic clips. Like the main feature, none of the extras include subtitles or Closed Caption support.

Final Thoughts

Brash, brutal and bloody, Afro Samurai doesn't quite hold its weight in the long run. The stylized animation, colorful characters and music are often interesting enough, but the entire production is bogged down by awful dialogue and a weak story. Those simply looking for action-packed swordfights, ample cussing and a bit of fan service should get their money's worth; everyone else, however, will probably walk away disappointed. Gonzo's two-disc DVD package pairs the uncut mini-series with a solid technical presentation, a few decent extras and slick packaging, but the high price tag may keep casual fans away (unless you're satisfied with the broadcast version, of course). All things considered, Afro Samurai plays a few of its cards right...but only die-hard fans should shell out $40 for this one. Rent It.
---
Randy Miller III is an affable office monkey based in Harrisburg, PA. He also does freelance graphic design projects and works in a local gallery. When he's not doing that, he enjoys slacking off, second-guessing himself and writing things in third person.
---