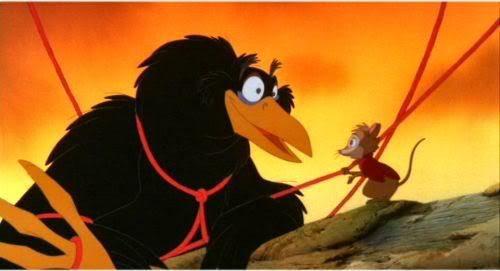 Most family films aren't half as ambitious as Don Bluth's The Secret of NIMH (1982), trading thought-provoking stories for easy jokes, toilet humor and pop culture references. Based on Robert C. O'Brien's Mrs. Frisby and the Rats of NIMH (winner of the 1972 Newberry Medal), Bluth's animated adaptation remains as visually stunning and detailed as ever. The last time I saw The Secret of NIMH in its entirety was roughly 20 years ago, when my elementary school class was granted a viewing in the library on a rainy afternoon. I still remember my fellow students' audible gasps upon hearing the word "damn" during a G-rated cartoon...and being sideswiped by the film's dark, frightening imagery, of course. Needless to say, it went over well.
The Secret of NIMH follows the renamed Mrs. Brisby (to avoid confusion with the flying disc, apparently), a widowed mouse who lives with her children inside a cinder block on a farm. Plowing season is fast approaching, but her son Timothy's pneumonia has severely slowed their moving progress; in desperation, Mrs. Brisby visits several friends and strangers to ask for help. Eventually, she's guided by The Great Owl (below right) to visit a colony of rats that live under a rose bush by the farmhouse. These rats aren't your ordinary house pests, however: instead of chewing through food stockpiles, they steal electricity from the farmers. A series of mysterious circumstances has accelerated their learning abilities, allowing them to read and understand more complex thoughts and ideas. They dream of living independently, away from the farmhouse, but all Mrs. Brisby wants is their help to escape impending doom.
If the previous paragraphs provide any proof, it's obvious that The Secret of NIMH carries itself a bit differently than most animated features. The film's hand-drawn animation is an obvious highlight, as are the intricate visual effects and colorful characters. Fluid movement and vibrant backgrounds are culled equally from reference photos and imaginations, creating a half-real, half-fantasy world that's easy to get lost in. Though The Secret of NIMH's somewhat tacked-on coda doesn't end our story on the strongest of notes, the film's striking third act is effective in all other departments. Those who like a fair balance of intrigue, drama and a bit of comedy relief (mostly provided by Jeremy the crow, seen at top) will enjoy this carefully-crafted feature. Though it's probably not recommended for the youngest of audiences (despite what the brightly-colored cover artwork might lead you to believe), The Secret of NIMH is a perfect choice for those who believe that CGI isn't the only effective way to animate a story.
The excellent voice work by Elizabeth Hartman (Mrs. Brisby), John Carradine (The Great Owl), Hermione Baddely (Auntie Shrew), Dom DeLuise (Jeremy) and others elevate their characters to more memorable heights. While many of the major cast members have passed away in the last 25 years, director Don Bluth and animator Gary Goldman serve as active participants in this most recent DVD release of the film. It's not like we need any further convincing from either one, however: The Secret of NIMH was obviously a labor of love for those involved. Long hours were put in by the production team, who were operating under tight financial constraints---especially during the final stretch, when some worked in excess of 100 hours per week. Luckily, their efforts produced a terrific film.
Interestingly enough, The Secret of NIMH is heavily rumored to be released on Blu-Ray disc in the near future, though no official date has been set as of this writing. In the meantime, this two-disc "Family Fun Edition" should satisfy fans of the film. The spruced-up visual presentation includes two separate aspect ratios, while a small collection of bonus features also helps to support the film nicely. Let's take a closer look, shall we?
Video & Audio Quality
Presented in its original theatrical 1.85:1 aspect ratio and enhanced for 16x9 displays, The Secret of NIMH looks relatively good from start to finish. The film's subdued palette boasts strong colors and solid black levels, though a fair amount of softness and grain is evident during several sequences. Most digital problems are kept firmly under control, though a few instances of digital combing and compression artifacts can be spotted along the way.
We also get the film in its other "original" 1.33:1 aspect ratio (also on Disc 1, oddly enough), but don't be fooled by the selection screen: this isn't a pan-and-scan presentation. Though a few scenes appear to be cropped a bit on the sides, most compositions have been presented "open matte" as originally drawn [sample comparison]. It's also worth noting that this 1.33:1 presentation looks marginally sharper than its widescreen counterpart (for obvious reasons) and thus more consistent, but the inclusion of both should please those on either side of the fence.
The audio presentation is much more cut-and-dry, as The Secret of NIMH includes a Dolby Digital 2.0 Surround mix that preserves the atmosphere well. Dialogue comes through clean and clear (if not slightly thin, though it's never distracting), while sound effects and music cues sound natural from start to finish. Spanish and French mixes are also included during the main feature only, as well as optional English and Spanish subtitles.
Menu Design, Presentation & Packaging

Seen above, the animated menu designs are basic and easy to navigate. The 82-minute main feature has been divided into a generous 24 chapters, while no obvious layer change was detected during playback. This two-disc release is housed in a black hinged keepcase and includes a kiddie insert and foil-enhanced slipcover.

Bonus Features

This two-disc set proves to be much thinner than one would expect, but at least we get two engaging extras. Our centerpiece is a feature-length Audio Commentary with director/producer Don Bluth and animator/producer Gary Goldman, who talk at great length about the film's production and how it holds up today. Though Bluth and Goldman are unfortunately watching a rougher print of the film---as the complete restoration was not yet finished at the time of the recording---they also share plenty of secrets about the film's visual effects (referred to as being done "the hard way"). Overall, it's a thoroughly satisfying track that fans should appreciate.

Disc 2 includes "Secrets Behind the Secret" (14:25, presented in 1.33:1 format), a brief retrospective featurette with Bluth and Goldman. There's a modest amount of overlap between this and the audio commentary, but fans of NIMH will certainly want to have a look. Also included here are a few Games for the kids, but that's all she wrote. It's a shame we couldn't get a few art galleries, additional interviews, the film's original trailer or even a restoration demo, but at least there's been some effort here. No subtitles or captions have been included for these extras.
The Secret of NIMH is undoubtedly one of the finest animated films of its era, combining fluid animation with a thoughtful, engaging story. Though I hadn't seen it in its entirety since childhood, the film's timeless appeal has helped it to age gracefully---and if that weren't enough, this two-disc upgrade supports the main feature quite well. Though the extras aren't exactly plentiful, the Bluth/Goldman audio commentary is satisfying and the technical restoration (which includes two evenly-matched aspect ratios) is another notable highlight. Owners of the original disc should consider this an easy upgrade, while the reasonable price tag makes this "Family Fun Edition" a solid blind buy for new viewers as well. Highly Recommended for animation lovers of all ages. Enjoy it!
---
Randy Miller III is an affable office monkey based in Harrisburg, PA. He also does freelance graphic design projects and works in a local gallery. When he's not doing that, he enjoys slacking off, second-guessing himself and writing things in third person.
---