Has there ever been a sweeter, gentler, more kind and caring cartoon character than Casper, the Friendly Ghost? I can't think of one. Oh, I know that many find him too cloying and saccharine, but I remember quite clearly as a young child loving him (just like his famous theme song says) precisely because he was so different from my other cartoon favorites. Of course, when I wanted some insane violence I'd switch the channel to a Warner Bros. Bugs Bunny or Daffy Duck. And old Disney shorts played like treasured gems that you somehow just knew were the top of the line in animation, even if you were too young to know exactly why. But Casper was something wholly original in cartoon fare. You always knew that the plots were going to be remarkably the same, and you always knew that Casper would never say an unkind word, or do anything to harm anyone. All kids feel lonely at times, and the Casper shorts brilliantly tapped into that sweet, sad feeling that every child has experienced when they've felt left out or unloved.
Casper, the Friendly Ghost was originally created by Seymour Reit and Joe Oriolo as a query for a children's storybook. Later sold by Oriolo to Paramount Pictures, Casper first appeared in Paramount's Famous Studio's (their animation unit) Noveltoon anthology series, arriving on screens in The Friendly Ghost in 1945. A rather morbid short (Casper tries to commit suicide at one point), it still proved popular enough for two more shorts to appear before Casper was spun off into his own series of theatrical shorts in 1950. In 1957, Alfred Harvey of Harvey Comics purchased the rights to Casper (he had already been publishing Casper comic books since 1952). The Casper shorts that appear on Casper, the Friendly Ghost: Best of Casper - Volume 1 are the post-1950 to 1959 Casper theatrical shorts that Harvey Comics syndicated to TV in 1962 under a new blanket title, HarveyToons (this new HarveyToons logo is pasted on at the beginning of all the Casper, the Friendly Ghost: Best of Casper - Volume 1 shorts).
Staying remarkably similar in plot and execution, the typical Casper cartoon involves Casper, upset at the prospect of being a ghost (because he never, ever wants to scare anyone) and lonely because no one will be his friend, setting out into the world, innocently engaging people, only to find them running away screaming when they realize the polite little boy talking to them is in actuality a ghost. Despondent, Casper then runs into either a small boy or girl who's lonely, too, or perhaps a small animal who needs help. These misfits immediately sense Casper's innate goodness, and welcome him as a friend. There are times when his mean uncles, The Ghostly Trio (usually Fatso, Stinkie and Stretch) try and scare away Casper's new friends, but Casper always triumphs over these prank-playing, bullying relatives. Other guest stars occasionally show up, including Casper's mean little cousin Spooky, and the friendly little witch Wendy (rather disingeniously, Wendy is featured on this DVD cover, but doesn't appear in any of the shorts).
I think the reason these cartoons had such staying power (they had a healthy theatrical run, right before TV ended theatrical animation shorts, and then played for decades on TV), is because they're so repetitive. Children love to read or see the same story over and over again (how many of you parents have read the same bedtime book twenty times or more, or put in a kid's video or DVD that you've memorized from repeat viewings?). And Casper, through the almost rigidly adhered-to plot line, certainly provides that repeated experience for the child. As well, Casper's almost saintly good nature, and his desire only to have someone play with him, is a like a circuit cable plugged directly into a young child's heart. Every child has experienced those feelings that upset Casper so; what little child, even one with many brothers and sisters, hasn't moped around the house, wishing someone would play with him? Casper's frequent visual introduction - he's at a window, wistfully looking outside, wondering why he's so lonely - could be the mantra of all very little children who at one time or another, felt left out and lonely on a rainy afternoon when nobody could play.
But just so we don't go too maudlin here, it's important to remember that the Casper cartoons are still pretty funny, too. Never known for wacky or outrageous humor, the Casper cartoons still deliver plenty of laughs (and a surprising amount of relatively violent slapstick) which will keep the kids amused. The first gag that usually shows up in a Casper cartoon is when a human (usually an adult representing some kind of authority figure) first realizes Casper is a ghost, whereby they freak out, exclaiming "It's a ghost!"before running off. The animators are surprisingly inventive on varying this standard gag, with the human figures frequently violently abstracted (popping out eyes, limbs grotesquely stretched out as they scramble for a foothold to run away) prior to their exit, which usually involves some sort of collision with a wall, fence, or door. As well, frequent appearances by his cousin Spooky or uncles The Ghostly Trio provide plenty of chances for the animators to slip in some cruel, funny physical gags into the normally placid Casper shorts. However, it's always the kindness and gentleness that children respond to most strongly in a Casper short, not only in Casper's demeanor, but also in the visual gags that the Famous Studio animators dreamed up. There's a moment in 1956's Fright From Wrong, where Casper gently floats in the air, flying with some happy, playful blue birds. It's such a lyrical moment, further amplified when the animators show the bluebirds flying through Casper (to his accompanying giggles), perfectly encapsulating the quiet, sweet nature of the Casper cartoons.
Here are the 10, five to six minute cartoon shorts included in Casper, the Friendly Ghost: Best of Casper - Volume 1, as described on the DVD cover:

True Boo (1952)
Casper pretends to be Santa and makes Billy toys out of household items.

Boo Ribbon Winner (1954)
Casper saves a greyhound race winner from the pound.

Good Scream Fun (1958)
Casper finds an ostrich, which eats everything.

Fright From Wrong (1956)
The Ghostly Trio force Casper to take mean pills.

Zero the Hero (1954)
Casper helps a watchdog hone his sense of smell.

Ground Hog Play (1956)
Casper befriends groundhogs in another comic strip.

Boo Hoo Baby (1951)
Casper makes friends in an orphanage.

Spooking About Africa (1956)
Casper cures a sneezing elephant in Africa.

Puss 'N Boos (1954)
Casper rescues two unwanted kittens.

Hide and Shriek (1954)
Cousin Spooky comes to stay with Casper.
The DVD:

The Video:
The full frame transfers look really quite good here on the Casper, the Friendly Ghost: Best of Casper - Volume 1 DVD collection. Colors are deeply saturated, and most of the prints are free from major damage. There are one or two older shorts, particularly Boo Hoo Baby, that are contrasty and dark, but overall, these Casper shorts look amazingly good.

The Audio:
The Dolby Digital English mono track accurately reflects the original theatrical and broadcast presentations. There are no subtitles or close-captioning options.

The Extras:
Described as "bonus" cartoons picked by Casper himself, two additional Casper shorts are included:

Red, White and Boo (1955)
Casper uses a time machine to make friends in the past.

Pig-A-Boo (1952)
Casper saves The Three Little Pigs from the Wolf.

There's also a nice option of hearing Casper's original classic theme song when you choose the "Play All" option on the menu. For subsequent cartoons, you just hear the abbreviated HarveyToons "Casper" music cue.

Final Thoughts:
Since these Casper cartoons have been featured in other Classic Media DVD collections, as well as the HarveyToons: The Complete Collection DVD box set, there's no need to double-dip if you already have those particular shorts. However, if you're looking to introduce your child to the adorable, sweet Casper, the Casper, the Friendly Ghost: Best of Casper - Volume 1 is an excellent way to do so. Cheaply priced, with a manageable number of shorts that should just hold your child's attention for an hour or so, the Casper, the Friendly Ghost: Best of Casper - Volume 1 offers excellent transfers of these delightful, gentle cartoons. I highly recommend Casper, the Friendly Ghost: Best of Casper - Volume 1.
---
Paul Mavis is an internationally published film and television historian, a member of the Online Film Critics Society, and the author of The Espionage Filmography.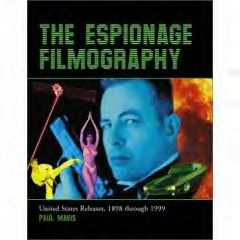 >