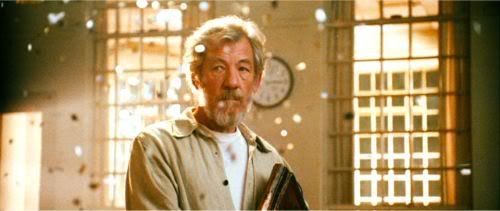 It's a far cry from the best of what fantasy has to offer, but Joshua Michael Stern's Neverwas (2005) isn't a bad little diversion. With a surprisingly well-rounded cast including Aaron Eckhart, William Hurt, Jessica Lange, Sir Ian McKellen, Nick Nolte, Brittany Murphy and Michael Moriarity, those looking for something along the lines of Bridge to Terabithia, Finding Neverland or even The Chronicles of Narnia should find this slight but well-meaning story good enough for a weekend viewing. Still, the names of the cast---combined with the fact that it took two years for the DVD release---should certainly raise a few red flags, so it's probably best to not begin Neverwas with the highest of expectations.
Our story revolves around Zach Reily (Eckhart), a psychiatrist seeking employment at the Millwood Clinic. Having witnessed the suicide of his father (the beloved author of a fantasy novel titled "Neverwas") at an early age, Zach's looking for answers as he grows older---and since his father was a patient at the very same clinic during his final years, what better place to start digging? Interestingly enough, the book's other-worldy atmosphere seeps into our story from time to time...especially after Zach meets patient Gabriel Finch (McKellan, at top), who informs him that his father's story is rooted in reality.
Such a balance, of course, should be carefully treated: after all, two parallel stories can transform an otherwise linear film into something much more engaging. Sadly, the fantasy elements of Neverwas take a noticeable hiatus during several stretches, paving the way for plodding, forced romantic subplots and obnoxious supporting characters. Many fantasy films have juggled such elements with ease and grace---but as the story trudges along, most seasoned audiences will see right through it.
Still, there's a certain charm that keeps Neverwas from being a lost cause. Though many of the bigger names are oddly given little more than glorified cameo appearances, the cast uniformly does a serviceable job with the limited material. The score by Phillip Glass also deserves special mention, providing a haunting backdrop without calling too much attention to itself.
Presented on DVD by Miramax, Neverwas arrives with little fanfare and not much to back up the main feature. Though the technical presentation gets the job done, a complete lack of bonus features weighs heavily against this release. With a bit more creator input, perhaps we'd see things that don't make themselves readily apparent; as it stands, first time viewers may feel they've been left high and dry. Let's take a closer look, shall we?
Quality Control Department
Video & Audio Quality
Presented in its original 2.35:1 aspect ratio and enhanced for widescreen displays, Neverwas looks good from start to finish. The film's warm, autumnal color palette is bright and strongly saturated, though some of the finer details suffer from this artistic choice. Blacks are generally deep throughout, while digital problems (edge enhancement and pixellation, for example) don't seem to be an issue at all.
Only the original Dolby Digital 5.1 mix is included, though it sounds perfectly fine for a dialogue-driven film. Dialogue is clean and clear, but only the music typically enters the rear channels at all. Optional English captions, as well as French and Spanish subtitles, have been included during the main feature.
Menu Design, Presentation & Packaging

Seen above, the animated menu designs are basic and easy to navigate. The 104-minute main feature has been divided into a scant 12 chapters, while no obvious layer change was detected during playback. This one-disc set is housed in a standard black keepcase and includes no inserts.

Bonus Features

None at all, save for a few Sneak Peeks of upcoming Miramax projects. A commentary or interview with the director and cast might've been interesting, but the film's direct-to-DVD shuffling most easily explains the lack of attention.

Final Thoughts

Neverwas isn't exactly a terrible film by a long shot, but there's simply not enough spark here to separate it from the competition. Though the cast does a decent job and the film's glowing visuals carry some of the weight, the film's limited replay value doesn't exactly make it blind buy material. Combined with a solid technical presentation but a complete lack of bonus features (and a ridiculously high price tag), most audiences should consider Neverwas a better weekend candidate than a durable addition to the shelf. Rent It.
---
Randy Miller III is an affable office monkey based in Harrisburg, PA. He also does freelance graphic design projects and works in a local gallery. When he's not doing that, he enjoys slacking off, second-guessing himself and writing things in third person.
---