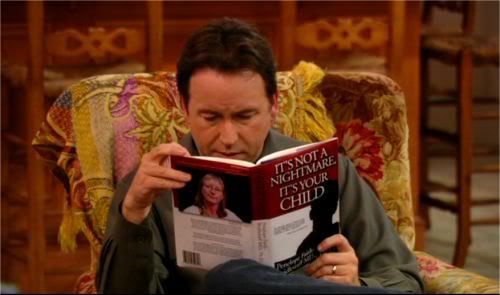 Sitcoms have remained generally the same through the years, following (and occasionally bending) pop culture trends and restrictions while employing one simple formula: keep things light, breezy and gloom-free, so our characters' lives can return to normal within 22 minutes. Animated efforts like The Simpsons and The Flintstones took us to more surreal atmospheres, but they still revolved around a semi-familiar family dynamic. Only a select few have attempted to twist the sitcom formula a bit (Arrested Development and Seinfeld, for example), while most have simply floated by with memorable characters and love triangles. Not that there's anything wrong with that.
John Ritter certainly made his mark on television during the long-running sitcom Three's Company, combining natural charisma with a generous dose of double entendres and physical comedy. After a less successful spin-off, smaller TV appearances and a handful of movie roles, Ritter returned to the small screen in 8 Simple Rules for Dating My Teenage Daughter (2002-2005), a sitcom loosely based on W. Bruce Cameron's book of the same name. Unfortunately, Ritter's untimely death in September 2003---just as Season 2 was finding its bearnings---stopped the series in its tracks, resulting in a drastic change in tone and, of course, central characters.
For this reason, viewing Season 1 in hindsight is a bit of a challenge. Having not been overly familiar with the series during its original run, these 28 episodes unfold more like final chapters than the beginning of a series that lasted for two more years. As with most debut seasons, 8 Simple Rules... (as it was eventually renamed) takes several episodes to really find a rhythm, but the natural charisma of Ritter helps to anchor the series nicely. Ritter plays Paul Hennessy, a middle-aged father, former sports writer and columnist who currently works from home. Paul's wife Cate (Katey Sagal) has taken a nursing job, leaving him in charge of their three children during the day. Bridget (Kaley Cuoco) is the oldest daughter, a blonde mallrat focused on fashion and boyfriends; Kerry (Amy Davidson) is next in line, an artistic-minded girl who dishes out sarcastic remarks freely; Rory (Martin Spanjers) is the youngest child and only son, who regularly picks fights with his sisters between video game marathons.
As if it weren't obvious enough, the strengths of 8 Simple Rules... don't lie in the "original character" department. We've seen versions of these kids and their parents countless times before, either in our own families or on earlier sitcoms. Still, there's a certain polish on display---even in the first few episodes---that breathes a slight air of realism into the Hennessys and their social interactions. The laugh track reminds us that we're watching a sitcom, but the performances are often sincere enough to maintain the family illusion. Certain episodes are punctuated with syrupy flashback sequences, typically to show how the kids have grown up; most aren't too maudlin, but they only hit the mark when used sparingly.
As far as the stories go, we also tread through plenty of familiar territory. Stronger episodes are few and far between early on in the season, as most of the time is spent developing the family dynamic and introducing a few regular supporting characters. Even as the series finds stronger footing as the season bears on, don't come looking for clever plot twists: for the most part, the generation gap remains the show's main focal point. One particular standout is "Come and Knock on Our Door" (Episode 16), a nicely layered tribute to Three's Company that ties in perfectly with the existing storyline. Other highlights include "Son-In Law", "By the Book", "Give It Up" and "Kerry's Big Adventure". There aren't any genuinely bad episodes to be found, but some are simply a bit more predictable than others.
It certainly took long enough to reach DVD, but fans of 8 Simple Rules... should be generally pleased with Buena Vista's DVD efforts. All 28 Season 1 episodes have been herded together on three discs---and while the extras aren't anything special, the technical presentation and rock-bottom retail price are easy highlights. This isn't the best that TV on DVD gets, but these 28 episodes stand as a decent prologue to the three-year story of the Hennessys...literally. Guest star hounds will want to keep their eyes peeled for Cybill Shepherd, Nick Carter and Jason Priestley.
Complete Episode Listing
(28 episodes on three single-sided discs)
Disc One
1. Pilot
2. "Wall Of Shame"
3. "Bridget's First Job"
4. "Wings"
5. "Son-In-Law"
6. "Cheerleader"
7. "Trick or Treehouse"
8. "By the Book"
9. "Two Boys for Every Girl"
Disc Two
10. "Give It Up"
11. "Paul Meets His Match"
12. "All I Want for Christmas"
13. "Rory's Got a Girlfriend"
14. "Career Choices"
15. "Kerry's Big Adventure"
16. "Come and Knock on Our Door"
17. "Drummer Boy (Part 1)"
18. "Drummer Boy (Part 2)"
19. "Cool Parent"
Disc Three
20. "Every Picture Tells a Story"
21. "Kerry's Video"
22. "Good Moms Gone Wild"
23. "Career Women"
24. "Queen Bees and King Bees"
25. "Bake Sale"
26. "The Doyle Wedding"
27. "Sort of an Officer and a Gentleman (Part 1)"
28. "Sort of an Officer and a Gentleman (Part 2)"
Quality Control Department
Video & Audio Quality
Surprisingly for a sitcom nearly five years old, 8 Simple Rules is presented in 1.78:1 anamorphic widescreen and looks great. Apparently, this was one of the earlier shows that was also broadcast in HD from the very start, so it's nice to see the aspect ratio preserved. This isn't a visually ambitious and carefully composed production, but fans should be pleased overall: colors appear natural if not slightly oversaturated, while black levels are generally solid. Simply put, 8 Simple Rules looks just fine on DVD.
The audio is a bit more cut-and-dried, as this first season is presented in a front-heavy Dolby Digital 5.1 mix. Dialogue is clean and clear, while music and background noises typically don't fight for attention. Certain segments sound a bit hollow, but this doesn't appear to be a fault of the DVD's audio mix. Optional English, Spanish and French subtitles have been included during the episodes.
Menu Design, Presentation & Packaging

Seen above, the plain-wrap menu designs are basic and easy to navigate. Each 23-minute episode has been divided into roughly 4 chapters, while no obvious layer changes were detected during playback. Disc 1's main menus are prefaced by a generous handful of annoying trailers. This three-disc set is housed in a clear, standard-width keepcase and includes a promotional insert. All things considered, it's about as compact and practical as DVD packaging gets.

Bonus Features

Since we're getting 28 episodes on this three-disc set, it's no surprise that the bonus features are slim. Given the death of John Ritter shortly after this season, one would expect a few retrospective interviews or other such featurettes---so unless they arrive the next time around, we'll have to settle for what's on the Three's Company sets. For now, the lone extra here is a collection of Bloopers (9:56) presented in 1.33:1 with optional English subtitles; it's certainly worth a few laughs, as Ritter and company remain in good spirits during line flubs and missed marks. Though more bonus material couldn't have hurt, it's tough to complain for the rock-bottom retail price.

Final Thoughts

It's not exactly ground-breaking television, but the debut season of 8 Simple Rules... shows a promising series that wouldn't remain the same for much longer. For now, the simple and relatively familiar stories will entertain fans of John Ritter and modern family sitcoms, whether you're the middle child or the father. Buena Vista's three-disc package presents all 28 Season 1 episodes in a compact package, boasting a solid technical presentation while skimping on the bonus features. Still, the surprisingly low retail price should easily tempt old and new fans alike, ensuring that this relatively underrated series will enjoy a second life on DVD. Recommended.
---
Randy Miller III is an affable office monkey based in Harrisburg, PA. He also does freelance graphic design projects and works in a local gallery. When he's not doing that, he enjoys slacking off, second-guessing himself and writing things in third person.
---