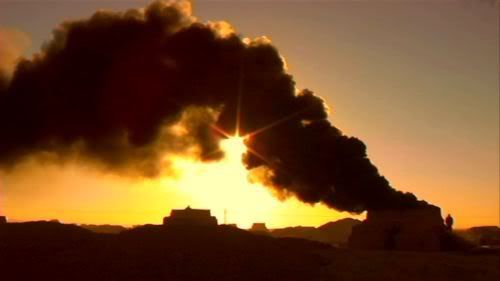 Compact and dramatic, James Longley's Iraq in Fragments gives us a surprising amount of access to a country in turmoil. Armed with only two relatively inexpensive cameras, one Apple G4 laptop, roughly 1.5 TB (yes, TB) of hard drive space, 300 digital video tapes and plenty of courage, Longley shows us three distinct portraits of the war-ravaged environment in just 93 minutes. As director, cameraman, composer and sound technician, Longley recorded roughly 30 minutes of footage daily for nearly two years, often editing and time-coding footage for translation while still in the field. It's a substantial achievement in solo documentary filmmaking---but if that weren't enough, this three-part story unfolds in a poetic, emotional and involving way.
Part 1, "Mohammed of Baghdad", is told from the perspective of an 11 year-old boy living in a dilapidated Sunni neighborhood. Mohammed is still in first grade after failing several times, since his attention is focused on working in a local auto repair shop to support his family. He holds his boss in high regard, even though he's beaten and verbally abused for his trouble in school. His father is currently in prison for speaking out against Saddam---and though we shouldn't be surprised, Mohammed is scared of the current conflict and occupation of his country.
Part 2, "Sadr's South", is a violent and abrasive look at the Shi'ite religious group led by Moqtada al-Sadr. There's some truly heart-stopping footage here, including a violent Shia raid on a marketplace brought upon by sinful sales of alcohol. Rejecting the idea of Western democracy, the Shi'ite people are depicted as fundamentalists, pure and simple. Tensions in the Baghdad neighborhood led Longley to head north after roughly one year of shooting, so it's no surprise that his tenure here didn't last as long.
Part 3, "Kurdish Spring", is easily the most serene and passive of the chapters. We meet a northern Iraqi family whose son tends sheep and works in hot brick ovens, earning his wages in lieu of school and religious rituals. The family dreams about the concept of true democracy, hoping for their future independence from the general Iraqi population. It offers a hopeful conclusion to the current occupation. Still, there's a sense of sadness: the young boy dreams of success brought upon by education, yet the weight of supporting his family has put his dreams on the backburner.
Longley's footage is beautifully shot, but it's the narrowly objective structure and style that really helps Iraq in Fragments stand out. Narration is strictly provided by the subjects at hand; combined with the revealing access and startling situations, first-time viewers will wonder just how the director pulled it off. Recorded between 2003 and 2005 (just after the occupation began, though Longley took a separate trip the year before to take still photos), Iraq in Fragments tells its story with a quiet grace, revealing real people instead of simple statistics. Nominated for a Best Documentary Oscar, this critical favorite truly exemplifies "Reality TV".
Quality Control Department
Video & Audio Quality
Presented in its original 1.85:1 aspect ratio and enhanced for widescreen displays, Iraq in Fragments looks very good for a one-man, low budget documentary. The warm color palette is natural but slightly oversaturated, while black levels are typical deep and consistent. Certain segments suffer from softness, digital noise and mild pixellation, but this is undoubtedly due to the source material and can easily be forgiven.
The Dolby Digital 5.1 mix (also available in 2.0 stereo) also gets the job done, creating a surprisingly potent atmosphere during this dialogue-driven film. Most segments are firmly anchored up front, though bustling crowd sequences, conflicts, and background music cues help to fill the soundstage nicely. Optional English and French subtitles are included during the main feature only.
Menu Design, Presentation & Packaging

Seen above, the animated menu designs are basic and easy to navigate. The 93-minute main feature has been divided into 18 chapters (though no index menu is provided), while no obvious layer change was detected during playback. This one-disc release is housed in a standard black keepcase and includes no inserts.

Bonus Features

The main attraction is a Video Interview with director James Longley (19:48, presented in 1.66:1 letterboxed widescreen), hosted by film critic Robert Horton. Among other topics, we learn a bit about the film's early steps, the mounting difficulties during production and some of the equipment used during this one-man expedition. This is a fascinating chat overall; though Horton generally plays it safe and doesn't have the most enthusiastic delivery, the director fields his questions quite nicely. Also included is the film's original Trailer (2:17), presented in anamorphic widescreen with forced subtitles. An audio commentary, photo gallery or a few deleted scenes would've been especially interesting, but at least we're given a few scraps to chew on after the main course.

Final Thoughts

Easily one of the better documentaries of 2006, James Longley's Iraq in Fragments does a fine job of sifting through the mess to present a detailed, finely tuned account of Iraq's crisis via three different perspectives. Longley's footage is a miracle in itself, as it truly looks and sounds like the work of a complete production team. The technical presentation is solid enough, but a lack of more substantial bonus features---especially an audio commentary and bonus footage---takes the overall package down a notch. Still, this is a polished and engaging release that documentary fans will enjoy, though anyone interested in life outside their own borders should consider Iraq in Fragmentsworth hunting down. Firmly Recommended.
---
Randy Miller III is an affable office monkey based in Harrisburg, PA. He also does freelance graphic design projects and works in a local gallery. When he's not doing that, he enjoys slacking off, second-guessing himself and writing things in third person.
---