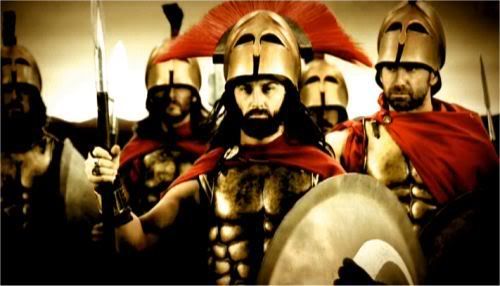 Now that Zack Snyder's 300 has conquered the box office and lumbers to DVD next week, it's no surprise that a few thematic look-alikes have popped up here and there. Enter Last Stand of the 300: The Legendary Battle at Themopylae, a 90-minute documentary produced by The History Channel...and conveniently released on the same day. It doesn't look or sound as good by any stretch, but those behind Last Stand are hoping that fans of Leonidas and the Spartans will shell out $20 for the fact behind the fiction. It certainly brings enough pomp and circumstance to the table, but is this stylized, CGI-riddled documentary good enough to hold your attention?
In short: yeah, pretty much. On the surface, Last Stand of the 300 dissects the bloody brawl at the Hot Gates and examines the events that led up to it. Peppered with comments by authors and historians, this newly-produced documentary also features modest use of CGI and actors to re-create portions of the conflict. From maps of the ancient landscape to illustrations of battleships and weapons, there's a good amount of raw information served up. The attention to detail regarding the navy battle is especially enlightening, especially since most summaries of Thermopylae regard it as more of a secondary event to the ground battle. Also worth noting are the events leading up to the conflict, as Xerxes' motivations provide more of a well-rounded perspective than a simple "us vs. them" mentality.
Unfortunately, the documentary chooses to ape Snyder's big budget production in other areas. The CGI re-enactments of the battles typically come up short, resulting in a lower-tier cornucopia of background extras and muddy backgrounds. Slow-motion is thankfully absent from the proceedings, but the stylized color palette and overall production design---right down to the DVD's cover art, mind you---reeks of a cheap cash-in to 300's wild success. The information is certainly here in spades (and quite well organized, overall), but casual viewers may have trouble wading through less polished areas to get to the good stuff.
Either way, The History Channel's DVD package isn't overly impressive in most respects. The technical presentation---while slightly flawed---isn't half bad, but a complete lack of bonus material makes Last Stand more of a rushed novelty than a genuinely well-rounded release. Any barebones disc is a tough sell at $20---and while The Last Stand is a fine effort in its own right, it's not necessarily a keeper. Let's take a closer look, shall we?

Video & Audio Quality
Presented in what appears to be a 1.78:1 aspect ratio, Last Stand of the 300 hasn't been anamorphically enhanced for widescreen displays. Whether or not this is due to the source material or CGI resolution, it's still a fairly decent visual presentation that doesn't disappoint. Interview footage is generally crisp and clear, while most of the CGI sequences have been washed with a muddy, subdued color palette. Edge enhancement and pixellation aren't a major problem, though it's easy enough to spot jagged edges and slight color bleeding from time to time. It certainly won't knock your socks off, but Last Stand doesn't look half bad for a documentary.
The audio is presented in a fairly aggressive 2.0 Surround mix; dialogue is generally crisp and clear, while action sequences feature good separation and clarity. Music and sound effects are bold without overpowering everything else. Optional subtitles have not been included, though Closed Captioning is available.
Menu Design, Presentation & Packaging

Seen above, the plain-wrap menu designs are basic and easy to navigate. The 96-minute main feature has been divided into a dozen chapters, while no obvious layer change was detected during playback. This one-disc release is housed in a standard black keepcase and includes a promotional booklet.

Bonus Features

Unfortunately, no extras have been included here. The main feature is fairly solid on its own terms, but some may be reluctant to spend $20 on a non-anamorphic, barebones documentary. Netflix, anyone?

As a stand-alone documentary, Last Stand of the 300 is a capable effort that should entertain and inform history fans. The interviews and map illustrations are the easy highlight here, as the limited CGI and re-enactment footage often feels a bit too corny for its own good. Unfortunately, The History Channel's DVD package doesn't exactly shine in any department, offering a fairly standard technical presentation and absolutely no bonus material. With such limited replay value, The Last Stand isn't exactly a keeper, but it's certainly good enough for a weekend viewing. Rent It.
---
Randy Miller III is an affable office monkey based in Harrisburg, PA. He also does freelance graphic design projects and works in a local gallery. When he's not doing that, he enjoys slacking off, second-guessing himself and writing things in third person.
---